Daoud* is 24 years old. After arriving from the Comoros two years ago, this shy young man started studying management at a private university in Tunis. "I chose to come and study here because Tunisia has a very good reputation in my country. Today, I regret my choice", he confides. The reason is the endless administrative procedures, the harassment at the police station and the overall feeling of being "neglected" by his host country. 
For more than a year, Daoud has been hoping for his permanent residence card, a golden ticket for any foreigner living in Tunisia. He was first given a temporary residence permit, valid for only three months, the time given to the intelligence services to investigate any applicant, before a permanent residence permit can be granted. 
"Each time my temporary card expired, I went back to the police station. My permanent card had still not arrived, and I was given no explanation." After a year, Daoud realised that he would never receive it, like the majority of his fellow countrymen living in his neighbourhood, in Bab Souika. Following the advice of a friend, he decided to move to another police station. But the steps turned out to be even more cumbersome and tedious than the ones before. 
"I am not here to roam around, I am here to study. Since my temporary card expired, I have been living illegally. What if the police catch me?"
On February 6, the Association of African Students and Trainees in Tunisia (AESAT) denounced the arbitrary arrests and reported "raids [...] on black-skinned foreigners" in various neighbourhoods of Tunis, notably Ariana. Within the highly precarious context for sub-Saharan people in Tunisia, obtaining a permanent residence permit is more than ever a question of security.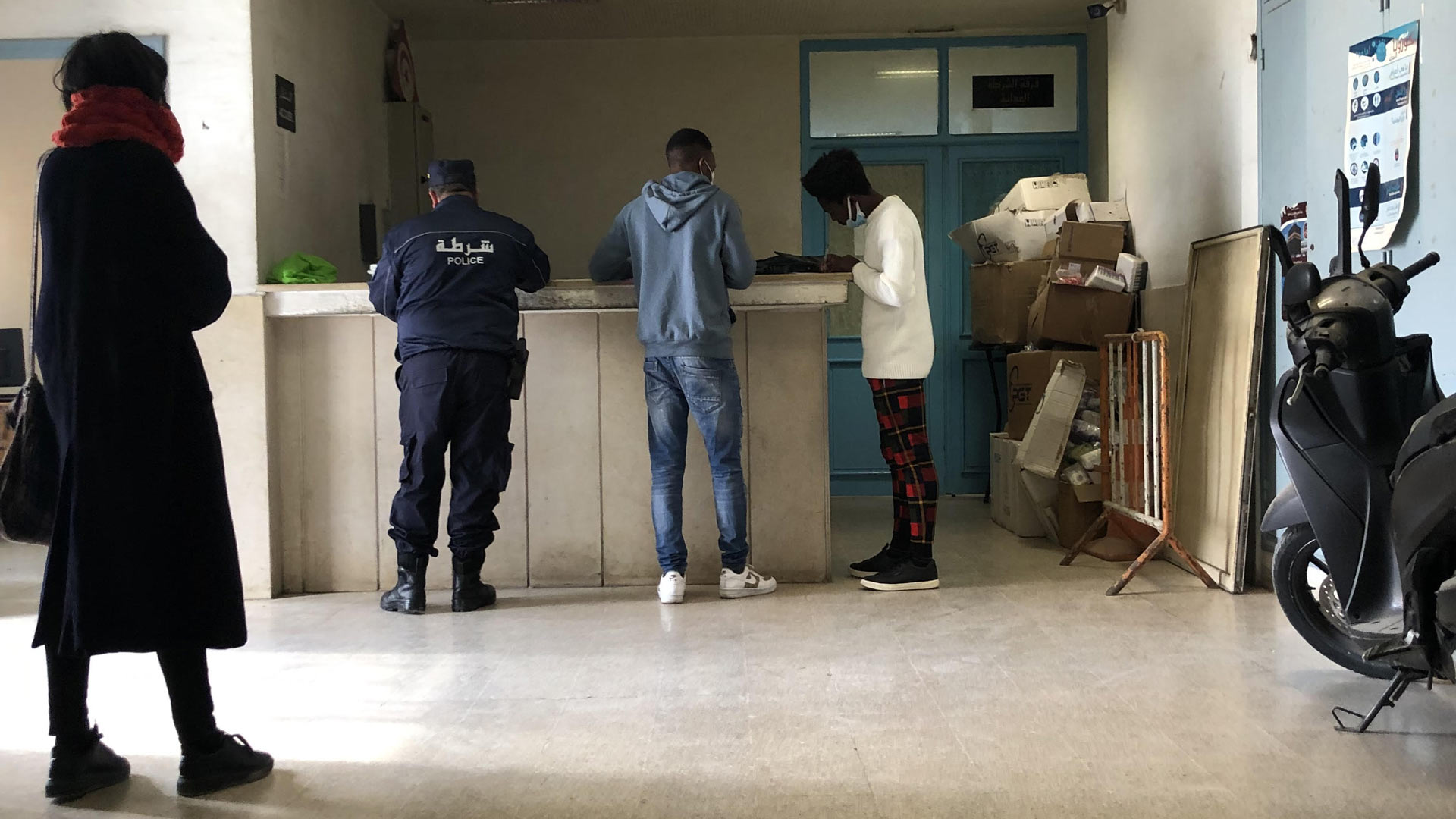 At a police station in Greater Tunis, Sub-Saharans fill in documents to complete their application for a residence permit, February 2022. Credits/Inkyfada
Waves of arbitrary arrests and DNA sampling
"I was waiting for the metro to meet my brother who had just arrived in Tunisia. That's when several policemen stopped me and asked for my papers. Everything was in order, but they violently pushed me into a van and took me to the station", says Samuel*, a Congolese student in Tunis. 
When he arrived at the Ariana police station, he discovered that about fifty other sub-Saharan nationals had been waiting there for several hours. Samuel was aware that for some time the police had been "rounding up" black-skinned foreigners in a brutal manner, in search of illegal migrants. 
However, the police were not interested in his valid papers. "They took our fingerprints and saliva for DNA testing. Then they photographed us as we held a sign with our names written in Arabic and French."
"It's humiliating and racist. It was like being in a movie."
Over the past month and a half, AESAT has recorded nearly 300 arrests like Samuel's. At their university doorstep, in their homes, at the grocer's, the facts are always the same: "our students are taken to police stations where they are brutalised [...] and subjected to humiliating treatment", warns Christian Kwongang, president of AESAT. No official explanation has been given so far. When questioned, the police simply cite "census" as the reason. The Ministry of the Interior has not responded to inkyfada's inquiries. 
"This registration is illegal", says a lawyer close to the case. "Firstly, because a census, if it is to be done, cannot be done at the police station. It has to be done by a special bureau." He maintains that as long as these methods have not been publicly communicated, they are outside the law. "According to many international texts, this kind of sampling cannot be done without being explicitly provided for by law at the time of the event." 
"It's shameful, and the authorities know it, that's why they keep it secret. How can DNA be taken from people who are legal and who have not committed any crime?" says Rawdha Seibi, a member of the Tunisian association for the support of minorities. 
During a press conference held at the SNJT on 10 February, AESAT said it was "ready to assist the authorities, while respecting the dignity of students" if new registration rules were to be announced.
Every police station has its own law
"I'm afraid", confides Daoud, the young Comorian graduate. As the days go by, uncertainty grows and his fears increase. He has been going to the new police station for more than a month now, but his efforts to obtain his residence permit are still far from successful, and definitely not for lack of trying. 
After his change of address, the young student discovered that the rules of the new police station were different from the previous one. The documents requested are not always the same, nor the number of copies required: "They make me come back every day, asking for new documents each time. I can't take it anymore, why don't they just list the missing things all together?" Despite the existence of a list on the portal of information and administrative communication in Tunisia ( SICAD), the various testimonies show that these documents do not apply to all police stations.
However, a legal framework does exist: the 1968 law concerning the status of foreigners in Tunisia as well as its implementation decree. "The problem is to know the precise rules", commented a lawyer. Moreover, "this law does not take into account the actual dates for obtaining academic certificates and the slowness of the administration". The one-year residence permit, which is very often delayed, is in fact only effective for a few months in the end. 
In the foreigners' office at a police station in Tunis, things have become even worse for sub-Saharan Africans since the arrival of the new station chief a few months ago. In order to combat false rental contracts, which according to this new station chief are circulating among "Africans", he is now imposing a compulsory visit to the general police station, where both the tenant and the landlord must present themselves and ask for a hand-written certificate to be issued. 
Daoud's landlord agreed to accompany him on this three-day process: "We were made to wait for hours, then they referred us to the municipality, which told us to go back to the police station. My landlord is very old, and these trips back and forth made him very tired", says the young student. 
Even the employees at the residence permit office are tearing their hair out: "It complicates the procedures a lot, it takes much longer". This measure is only required for people from sub-Saharan countries, as is the collection of fingerprints and saliva.
"It's a new law", the women at the foreigners' office try to justify. However, there is no legislative framework allowing for differential treatment according to nationality. 
At another police station in Tunis, a female employee connivingly explains that this is the "little secret of police stations". These new "registration" measures are said to be put in place in response to "thefts and crimes" committed by sub-Saharan people.
"This is institutional discrimination, nothing else", commented a lawyer close to the case.
Discrimination and mistreatment 
"At the police station, I am always very badly received. They make me feel like a criminal, even though I'm doing everything I can to be legal in this country", Daoud laments. Mockery in Tunisian (a language he does not yet master), unanswered questions, forced waiting, the occasional shouting... The forms of mistreatment are many and varied. 
All these hours spent at the police station have meant countless mornings of missed classes for the young student. After three absences, his university reserves the right to cancel his whole academic year. "Fortunately, they were understanding and I was not penalised in the end."
In the foreigners' office, Kaouther* has just collected several dozen temporary residence permits that have just been validated by the station chief. She is sorting: sub-Saharans on one side, the rest of the applicants on the other. "Your card is ready', she says to a French national. The Sub-Saharans, on the other hand, will have to wait a month, the maximum time limit for issuing a temporary card, without having to provide any explanation for the additional time. 
Petty bribery and corruption are also commonplace. A young Libyan singer, recognised by the employees of the police station, went to the foreigners' office empty-handed, without documents. He was told to come back shortly before they close to "sort it out". 
For some police station employees, the differential treatment and racism towards Sub-Saharan Africans is assumed, even asserted: "Do you want the Africans to steal from us, to kill us? It's better this way". 
A lawyer close to the case says that sub-Saharan applicants have already been made to believe that their application has been accepted. "They are made to sign a document in Arabic. This document mentions the refusal of the residence permit and the obligation to leave the territory within eight days. As they do not understand what is written, they sign it."