The spectacle of Bousalsla market has played out similarly every Sunday for many decades. An intergenerational chorus of male vendors envelopes the parking lot in an endless, cacophonous song; " Let's go ladies! God bless my first customers!" Streams of determined shoppers perform a frenetic dance to reach cheaper clothes and vegetables in the lower section or to higher-end clothes and a flea market in the upper section. The scenery flashes from red to blue as the sunlight pierces the weathered plastic tarps covering the channels throughout the pop-up village. 
A few years ago, a surprising scene change occurred, so swiftly transforming the market that local residents can't agree on when it took place between the years of 2012 and 2016: a group of women primarily from Côte d'Ivoire had joined the market ecosystem.
Every Sunday thereafter, on the raised sidewalk that divides the market's upper and lower sections, the women secured their spots by covering one side of the path with small squares of fabric on top of which they sold hand-packaged bundles of spices, doughs, medicinal herbs, and other goods from the places they call home. 
Since measures taken to prevent the spread of COVID-19 were taken, the Bousalsla market has been closed. For several weeks, only spring weeds have popped up where tents and booths once did, and these women, as well as many other sub-Saharans, have been left to fend for themselves without sources of income, social safety nets, or legal protections. Inkyfada speaks with three Ivorian saleswomen and two of their customers to learn what this market meant to them and how confinement has impacted their lives and their plans for the future.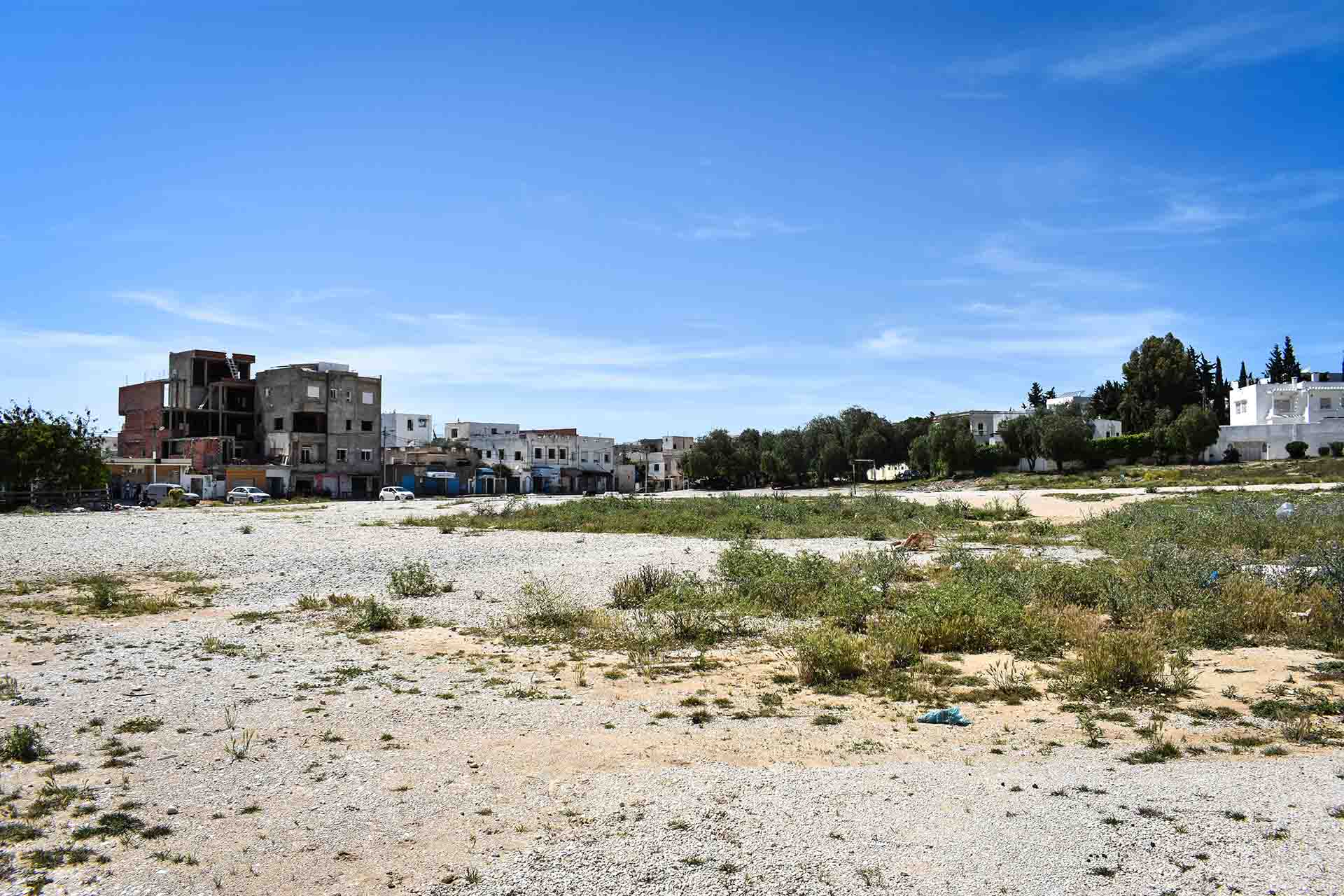 Sunday, April 26, spring plants grow in the upper lot of the market after weeks of being closed. Photo credit: Yasmin Houamed
Starting Off Self-Employed
Estelle* started selling at Bousalsla's market in February, one month after arriving in Tunisia and moving to the neighborhood - one of the major residential hubs for sub-Saharans in Tunis. She remembers how the idea came to her in a flash after meeting Ivorian women selling products familiar to her at the market. She recalls feeling encouraged and asking herself, "why not me too?" She rushed home, called her sister who was set to join her in Tunis two weeks later, and listed off products for her to bring from Côte d'Ivoire.
" It was perfect," she remembers of her first day selling. She reached the market at 7am with her baby wrapped snugly to her back and her products bundled up in a large scarf. She found an open spot next to two Ivorian women whom she now calls her comrades; they welcomed her only briefly before returning to their setting-up.
On her scarf, Estelle carefully laid out bundles of dried okra, plakali (cassava dough), attieke (fermented cassava), bissap (hibiscus) tea, shea butter, and other cosmetic items. After her first day, the 27-year-old mother of three proudly returned to her children and husband with nearly 100 dinars in hand. " I thought if I could continue, this will really help me," she recalls.  
However, on her ninth Sunday heading to the market, she spotted police from afar and vendors reluctantly packing up to leave. The Tunisian government had just announced six weeks of home confinement. 
Estelle was obligated to turn back around and return to the small house she still shares with 5 other adults and her three children. " Nothing is going well now," she says regretfully. The promise of a prosperous life in Tunisia fades with each passing week.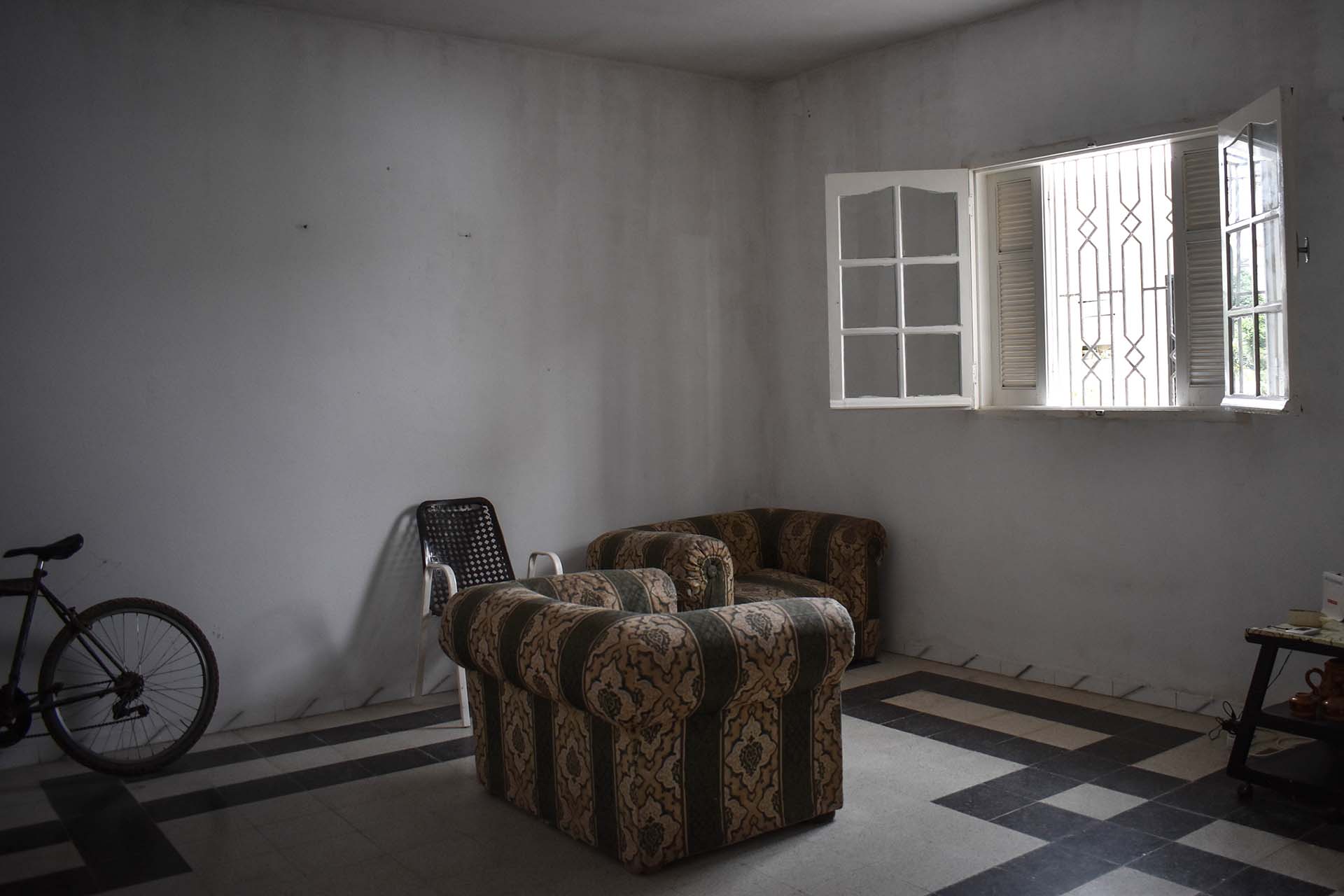 A typically bare living room in the Bousalsa, where settling in is a luxury. Photo credit: Yasmin Houamed
Léna*, 33, also found her first work in Tunisia at the Bousalsla market. In May of 2019, she left her home and two children in Côte d'Ivoire and arrived in Tunisia with a dream of becoming a licensed caregiver. Her aunt had previously lived in the country and had encouraged Léna to go: " She told me it's nice, the least racist out of the Arab North, and to not bring many clothes because they're easy to buy for cheap." Léna followed her aunt's advice and filled two suitcases with her favorite Ivorian items: peanut paste, spice blends, ignames (yams), plantains, red palm oil, West African ginger, and cosmetic products.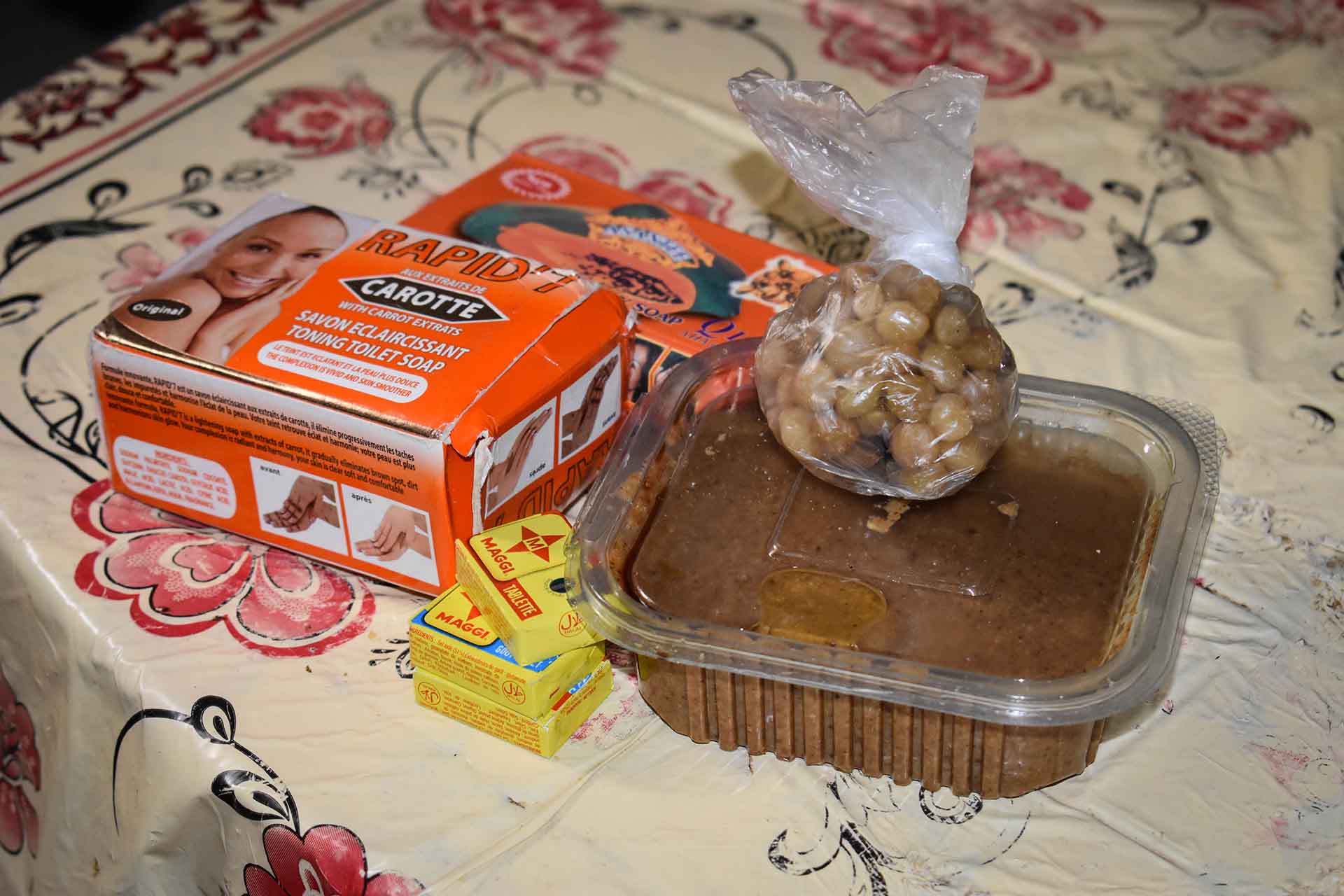 Soaps, seasoning cubes, peanut paste, and cassava balls brought from Côte d'Ivoire. Photo credit: Yasmin Houamed
The mother-of-two was hoping to work as a nanny to save up for her studies, but finding the right family proved harder than she thought. Her network of Ivorian nannies encouraged her to sell her items at Bousalsla while she looked for work. She learned that this is how many sub-Saharan women have survived their first few months in Tunis, until their stock runs out. 
On her first morning at Bousalsla, Léna was directed by a Congolese woman to an available spot in the line and told to pay three dinars to a Tunisian man for the upkeep of the marketplace. Léna had some experience selling in markets in Abidjan and recalls fitting right into her position at the Bousalsla market. However, she was surprised by the fact that almost all of the Tunisian vendors were men and explains that the dynamic was the opposite of what she knew from home. 
" Where we come from, if you see men selling at the market, more often than not they're non-Ivorian Africans... they're foreigners. Where we come from, women are the ones who sell at markets. But in Tunisia, it's more men who do business like this, that's the difference."
Léna was able to live off of her Sunday earnings until her products ran out three months later. Through a friend of a friend, she eventually secured a job as a live-in nanny for a Turkish family, but after just seven months, with the threat of COVID-19 approaching, the family left the country, and Léna has been jobless since. She shares an apartment with four other Ivorians who she says are all " very bored and eager to get back to work." " We follow the rules and stay at home. We use a lot of chlorine and wear gloves when we go out. It's not easy, but we hope everything will get better."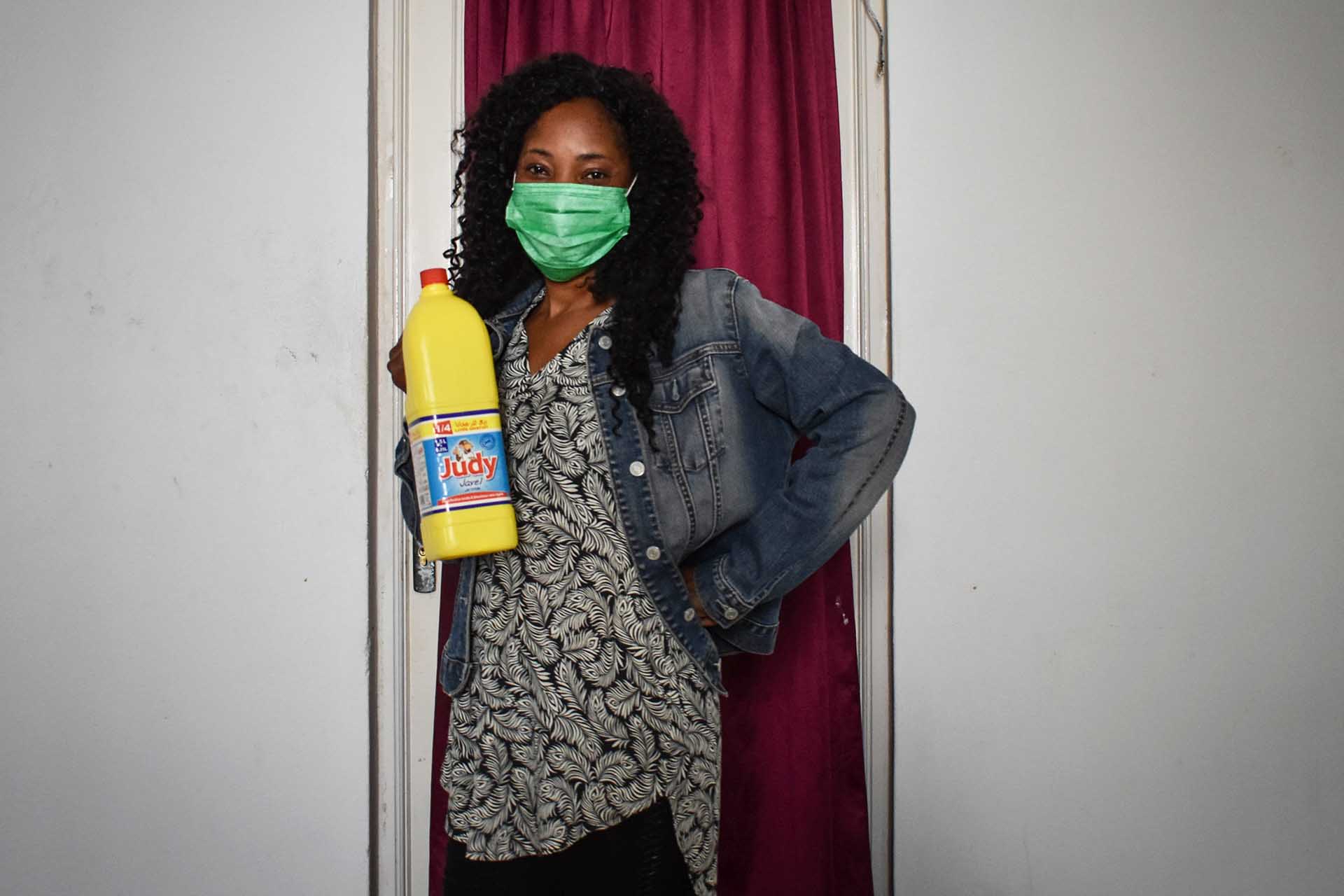 Miriame*, an Ivorian resident of the neighborhood, poses with a bottle of bleach; " My best friend in Corona times," she jokes. Photo credit: Yasmin Houamed
Importing Opportunity
Rachelle* is in her mid-thirties and lives with her 16-month-old daughter and two roommates. She says she got the idea to become Bousalsla's first Ivorian wholesaler when she was expecting her child and struggling to keep up with the housework jobs that she had been doing for three years around the neighborhood. She saw an opportunity after observing how her Ivorian friends who sold at the market waited anxiously for someone they knew to come up from Côte d'Ivoire and replenish their stocks. With the money she had saved, Rachelle decided to provide this service instead.
She bought a ticket to Abidjan, shopped for days, and returned with a few plastic packages filled with common Ivorian products. After a successful first trial, she repeated this laborious restock process a number of times. At customs, Rachelle claims she has at times had to pay double the original price of some items, particularly cosmetics; " they told me if I didn't have the money they would take the items, but I could have them back when I bring the money." She doesn't go into more detail, concluding that " they make it very difficult for me."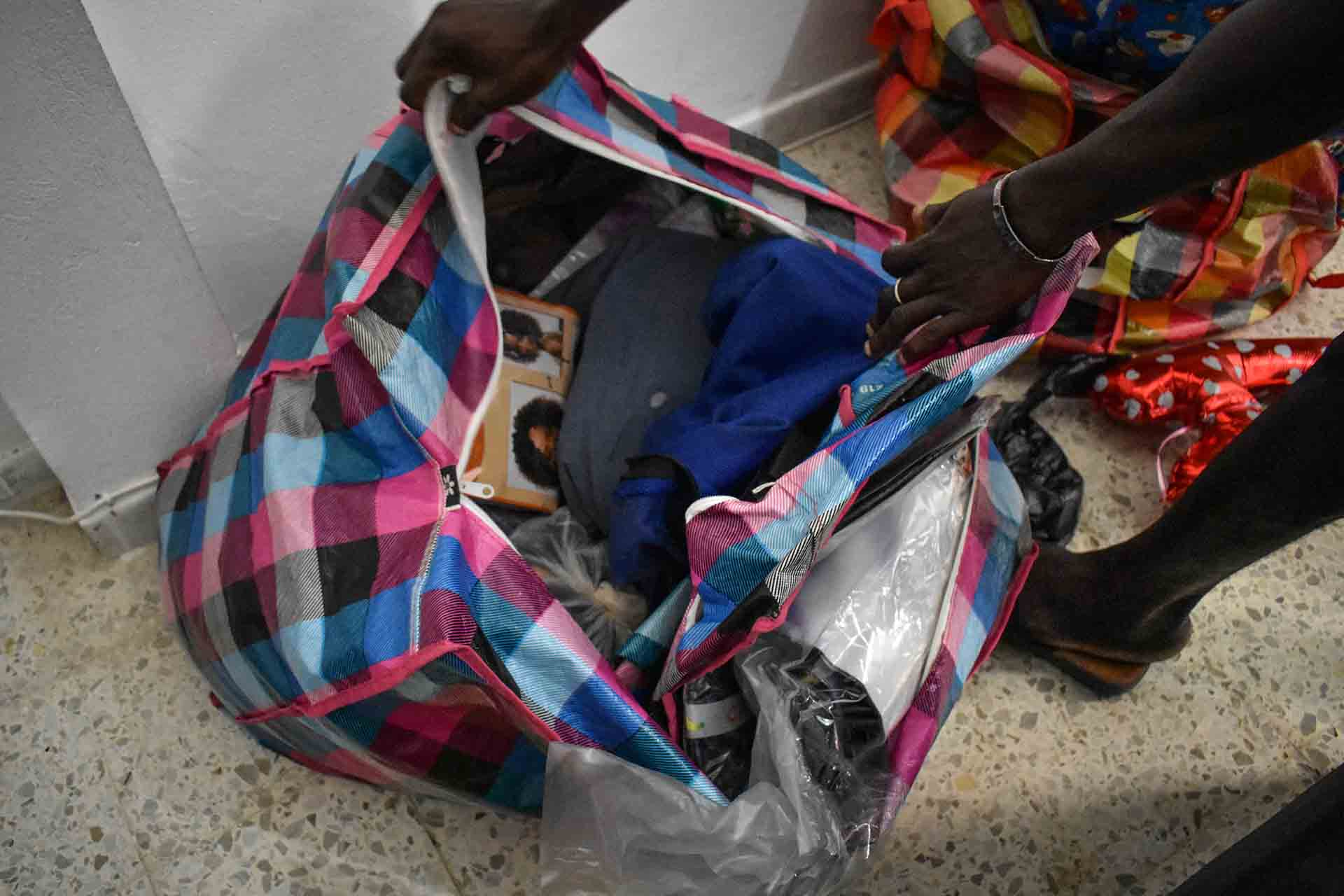 The last bags of Ivorian products that Rachelle brought from Abidjan. Photo credit: Yasmin Houamed
Over the past year, her client base has expanded to serve women from Cameroon, the Congo, Ghana, and Senegal. While most of her clients buy products for personal use or to resell at the market, a growing number of women buy from Rachelle to support their own business projects, which are increasingly visible in this atypical neighborhood shared between Tunisians and non-Tunisians. One of her customers, Monique, is known in the neighborhood for being the first sub-Saharan woman to rent her own locale for a hair salon. She says that more and more Tunisian women have started getting their hair and nails done by sub-Saharan women using imported products. " I don't think I could have opened a business in the neighborhood when I came in 2013," Monique says, admitting that the non-Tunisian vendors at the market have helped encourage businesswomen like her who face nearly impossible odds of gaining official status in the country.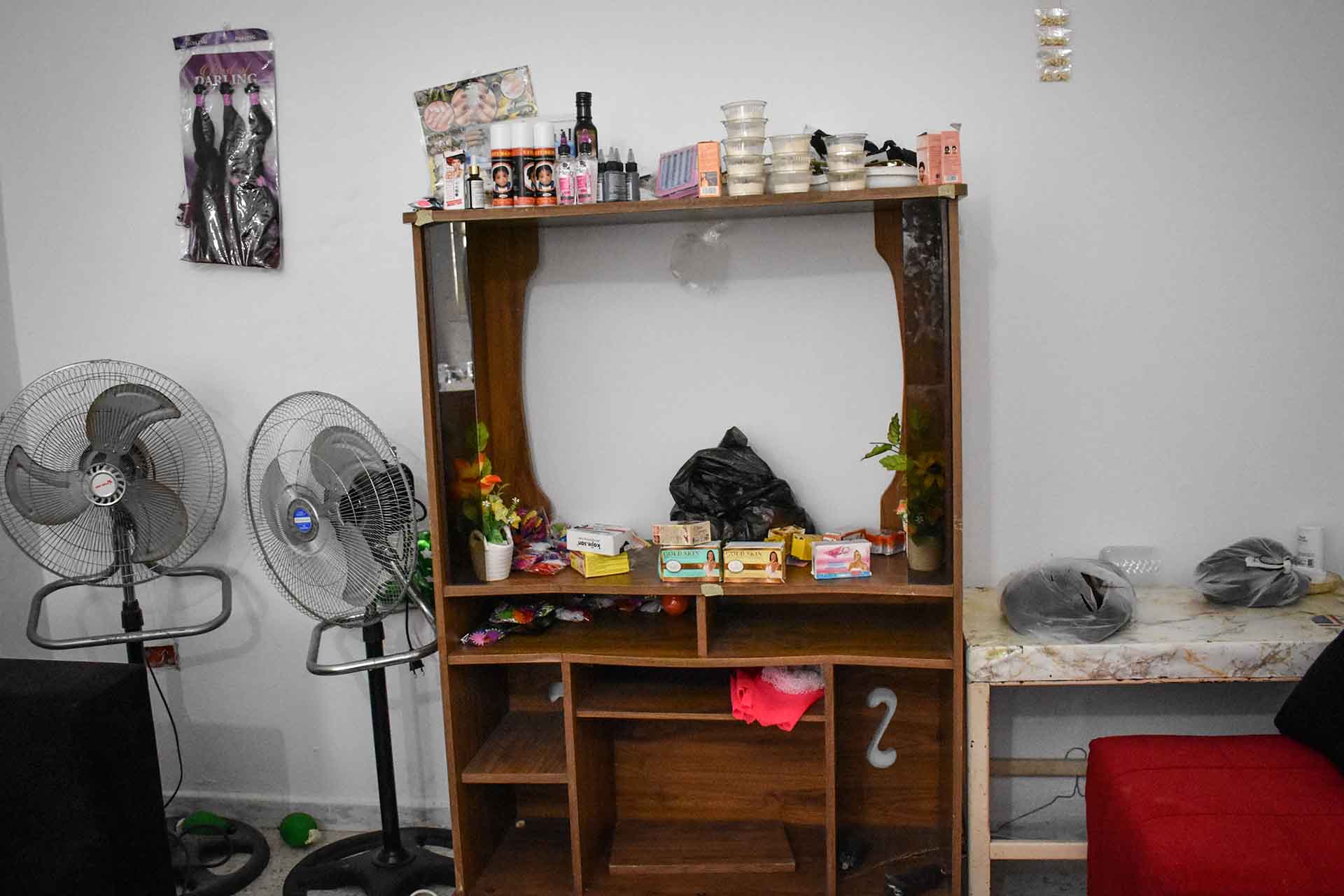 In Rachelle's living room, a cabinet displays the few beauty products she still has to sell. Photo credit: Yasmin Houamed
At Rachelle's apartment, which she has not left since confinement was announced in late March, only a few products remain stacked on shelves and cabinets with bits of tape marking their prices in dinars. " What I have now is not sufficient, but I can not go out to seek help because of my child. I couldn't live with myself if she got sick." Rachelle says she is lucky to have roommates who help look after her and her child.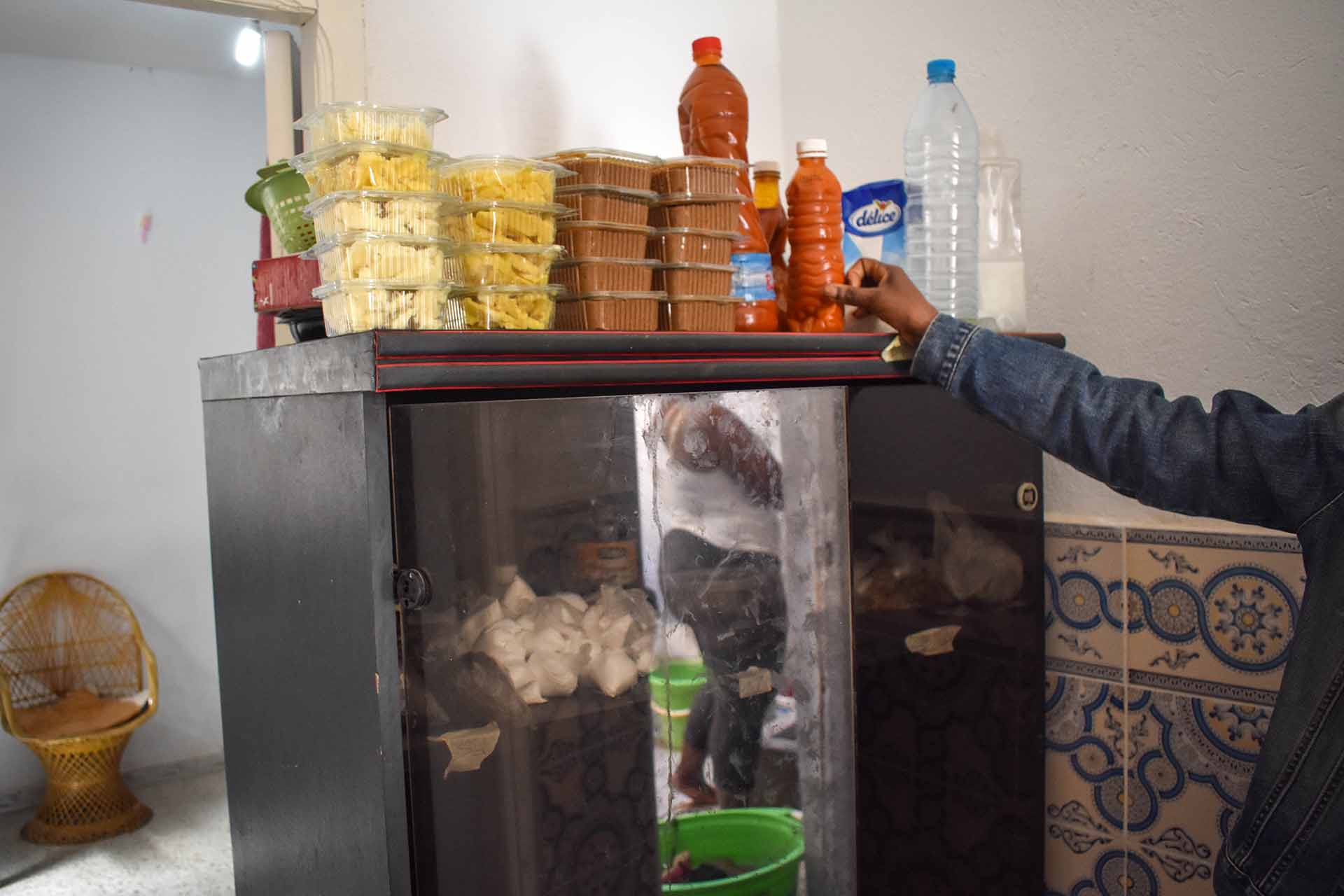 Shea butter, peanut paste, red palm oil, and bags of cosmetic powders for sale. Photo credit: Yasmin Houamed
A Taste of Home 
Miriame, 37, and Ibrahim*, 28, used to accompany one another to Bousalsla's Sunday market before splitting off to the local church and mosque, respectively. Back in Côte d'Ivoire, the two lived far apart, Miriame in the Christian South and Ibrahim in the Muslim North. But in Tunis, the two are neighbors and share many of the same experiences. During confinement, they see each other on occasional walks around the neighborhood, during which they often talk of Miriame's two teenage children in Abidjan or Ibrahim's next steps in what he calls his " pursuit of adventure." 
Miriame and Ibrahim sit outside of Miriame's apartment. Photo credit: Yasmin Houamed
They both say that the Ivorian vendors play an important role for them in Tunis, where life isn't as comfortable as they had been led to believe.
" People back home tell you life here will be paradise, that you will make more money than there, but in reality it's really difficult here," says Miriame, who came to Tunis in October 2015 after being encouraged by someone she felt was like a " little sister " to her in Abidjan, but a " stranger" once she arrived. 
Ibrahim was one of the many Ivorians that the two know of who were scammed in their first weeks in Tunis. Robbed of more than one month's salary by the brother of a friend he'd grown up with in Côte d'Ivoire, Ibrahim had to start over from nothing. Miriame says she's learned to keep to herself after five years of working in Tunis and admits that " even in the black African community, people walk over each other for money." Ibrahim, on the other hand, swears by a growing solidarity between sub-Saharans in Tunisia, especially following the murder of an Ivorian man in December 2018, which was strongly suspected to be racially-motivated.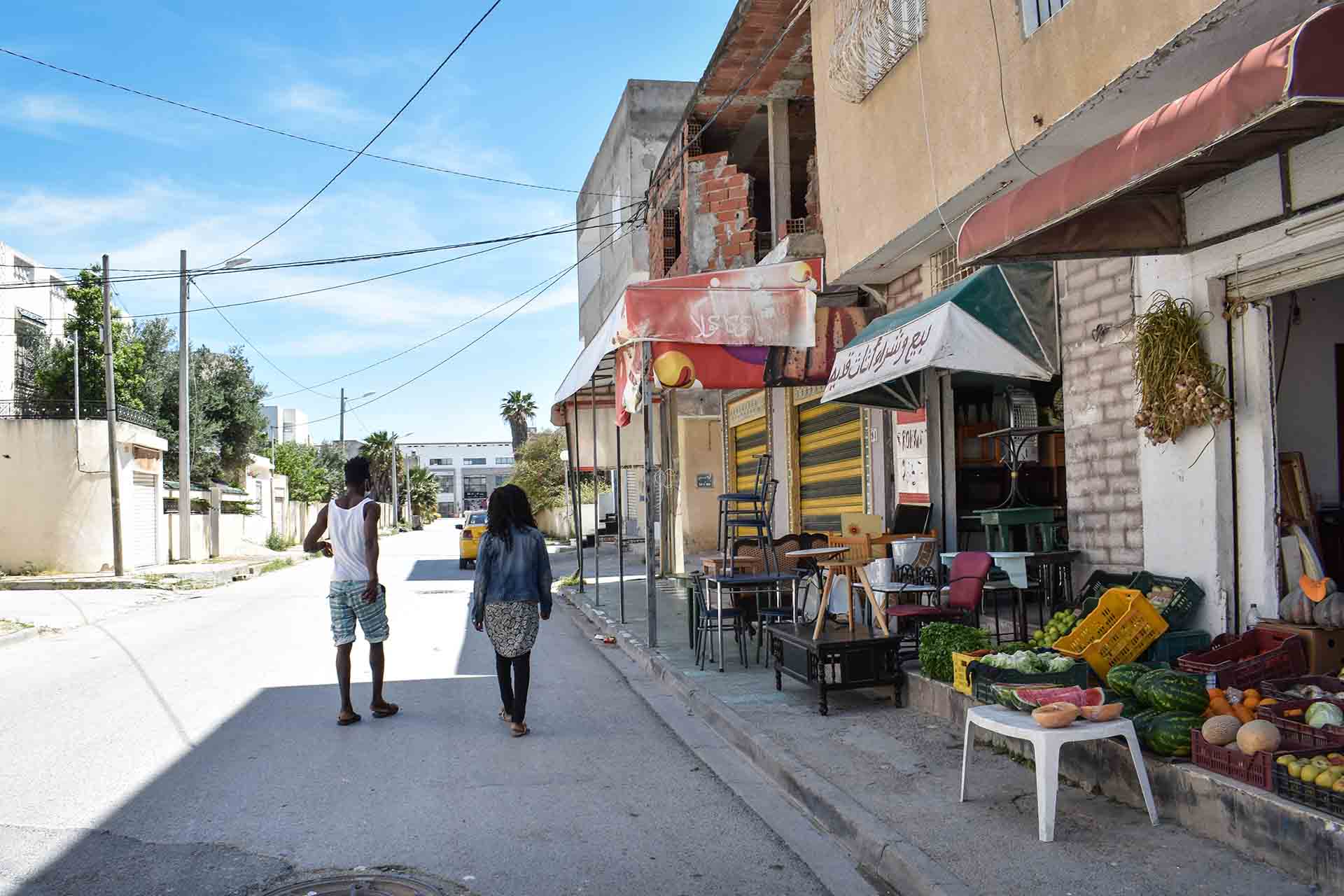 Miriame and Ibrahim retrace the path they used to take to the market every Sunday. Photo credit: Yasmin Houamed
" With the hard work we have to do to survive here, we have to eat well," he says, joking that Tunisian food doesn't do the trick. " It's all bread, bread, bread, everybody eats bread, spaghetti, pasta, bread, what is this?" Miriame nods along in agreement and adds that having access to Ivorian food is a source of emotional comfort. " I can't live without it," Ibrahim declares.  
He also says sharing products from back home has helped him make Tunisian friends. " When we work together, Tunisians come to me and ask, 'My friend, how do you work so well?' And you explain, 'I take this food and that medicine.' 'Tomorrow, if you go to those women, buy me what you get.' That's how you make friends," he tells proudly.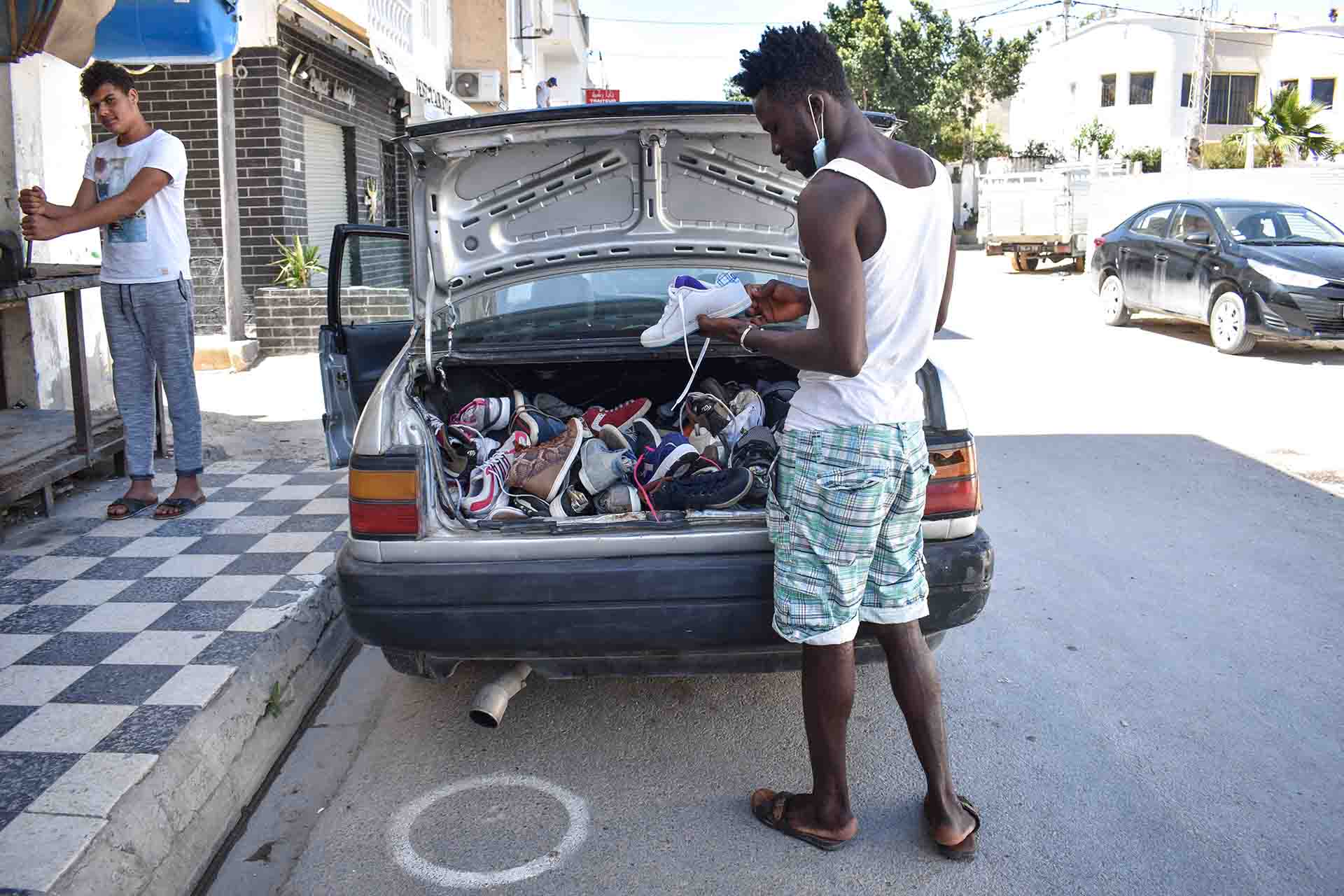 On a side street leading to the now empty marketplace, items are sold out of cars and trucks. Photo credit: Yasmin Houamed
Another type of Confinement
Despite getting a taste of home from the Ivorian vendors, Miriame admits that she is constantly plagued by the thought of returning home. What she calls " the story of Corona," has intensified these fears. 
" I became undocumented after three months, I thought I could get a residency card, but my friend told me not to bother, that it was impossible," she recalls. Soon after, the penalties started, and they continued to mount.
" For all the time you spend here, you have to pay. You will pay. So I'm trying to see, now that there is this story of Corona. You know the International Organization for Migration (IOM)? I don't think they're working right now. That's the problem. Otherwise I would have wanted to go sign up, so they could at least help me with these penalties. To be able to go home," Miriame says, exasperated after 5 years of anxiously tallying her overstay fines of 20 dinars per week (roughly 25 euros per month). 
On May 3, the IOM reported that the employment rate for migrants in Tunisia dropped from 64% to 11% from the date when the general quarantine was imposed on March 22. The organization has coordinated with municipalities to provide social and economic assistance to undocumented workers in various forms. As evidenced by the various aid received by the individuals Inkyfada spoke with, access to information and aid has been sparse and disorganized. 
Miriam hasn't received any help: "I don't know at what moment they will drive around and give aid." Neither has Rachelle, who learned that the IOM was providing aid but refused to reach out because she heard that they were collecting recipients' passport numbers. 
Estelle, Ibrahim, and Léna all went separately to the Marsa municipality: Estelle gave them her phone number and was sent home, Ibrahim was met outside by police and told to return home, and Léna was given a 25 dinar coupon for Aziza [grocery store]. Estelle received two bags of food from the municipality two weeks later. 
Within Bousalsla, Léna reports that several Tunisians have offered to buy her groceries and that her landlady, who she says has become like a mother figure, didn't charge her rent for April. " We can really thank Tunisians in this time," says Ibrahim, who, along with three friends, received bags of groceries from an "anonymous donor" driving around the neighborhood. 
Looking beyond the immediate crisis, a collective of sub-Saharan associations has come together under the name Covid-19 African Solidarity Cell. Working mostly through their Facebook page, the group has partnered with major brands and many volunteers to distribute food and cleaning supplies to sub-Saharans in need. 
On April 22, the collective met with the head of parliament, Rached Ghannouchi, to propose political actions that go beyond the main measure that the government has put in place to protect migrants during the pandemic: suspending the overstay fines from March 1 until the end of the health crisis. Among other suggestions, the group proposed a massive legalization of undocumented sub-Saharans living in the country, the cancellation of outstanding overstay penalties, and the facilitation of access to legal residency as workers. They also called for the closure of the detention centers that jail migrants for their undocumented status in the country. 
A paralyzed community 
With the market gone, these Bousalsla residents have struggled to stay in touch. " We don't know who is suffering and who isn't. We respect the rules and stay at home," says Miriame. " Corona has paralyzed our community," says Rachelle, "now only God can see the future."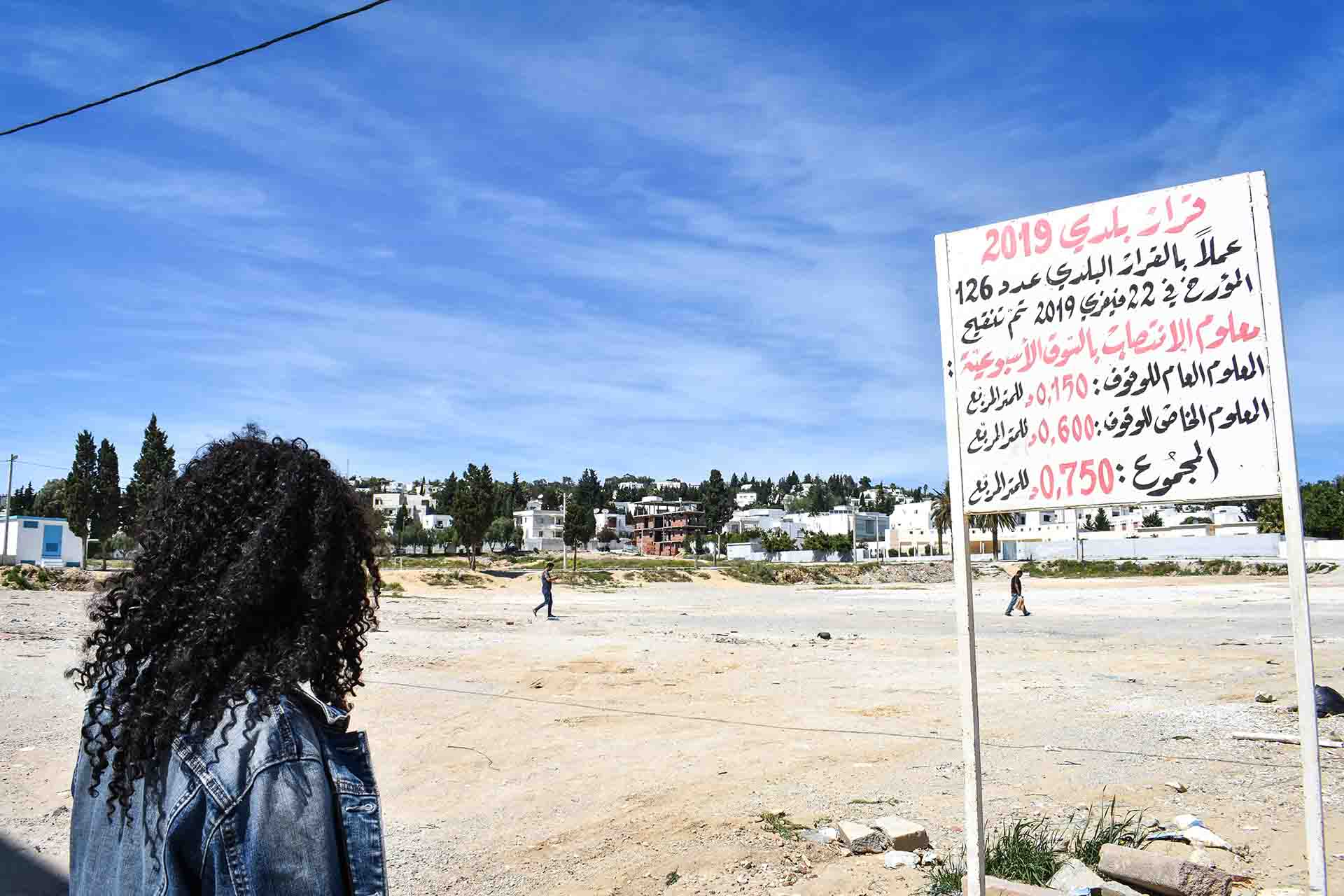 Sunday, April 26, Miriame stands at the corner of Bousalsla's marketplace, empty for weeks. Photo credit: Yasmin Houamed
It is unclear how long it will take for markets like Bousalsla's to thrive again as they used to, but individuals like the five Inkyfada spoke with do not have the luxury to wait and find out. Rachelle's stock is running out. She can no longer imagine flying back and forth between the two countries and is considering returning to Côte d'Ivoire once and for all. 
" Perhaps we are better off at home," Rachelle says. 
Miriame, after 5 years working as a house cleaner, wants to go home and see her kids, but she's afraid of what can happen at the Tunis Carthage airport. " My prayer is that everything goes well and that this year I can leave, but there's only God to assure that everything goes well and I am able to go back. Really, I don't want to stay here." 
 Léna and Estelle aim to find stable jobs. Léna wants to study and see if she can find a way to apply for residency. Estelle says she doesn't have a plan, but that it's too soon to think of returning home.
Ibrahim, on the other hand, wants to go somewhere else. " I have only started the adventure. I left my parents and I'm alone here. But now, I pray to God to not stay here. I want to keep going. Where God wants to take me, I'll go."