"How can you say yes to something you don't know? They put something in front of you and you have to drink it." Abdessattar* is normally a firm believer in the importance of vaccines, but the chemist refused the Covid-19 vaccine due to doubts about its composition.
Last August, people flocked to the vaccination centres. Thanks to two open days being organised, more than one million people were vaccinated. Today, vaccination centres are struggling to get people to come, and the vaccination rate seems to have reached its peak: almost 54% of the Tunisian population has been vaccinated.
In addition to this slowdown, many people are neglecting the booster doses: only about 10% of the population have taken the third dose, and less than 1% have taken a fourth dose, which was made available to people over 65 in mid-April.
Behind these figures, the reality of those who have not been vaccinated is complex. Between the general mistrust, apathy and accessability issues, how come almost half of the Tunisian population is not vaccinated?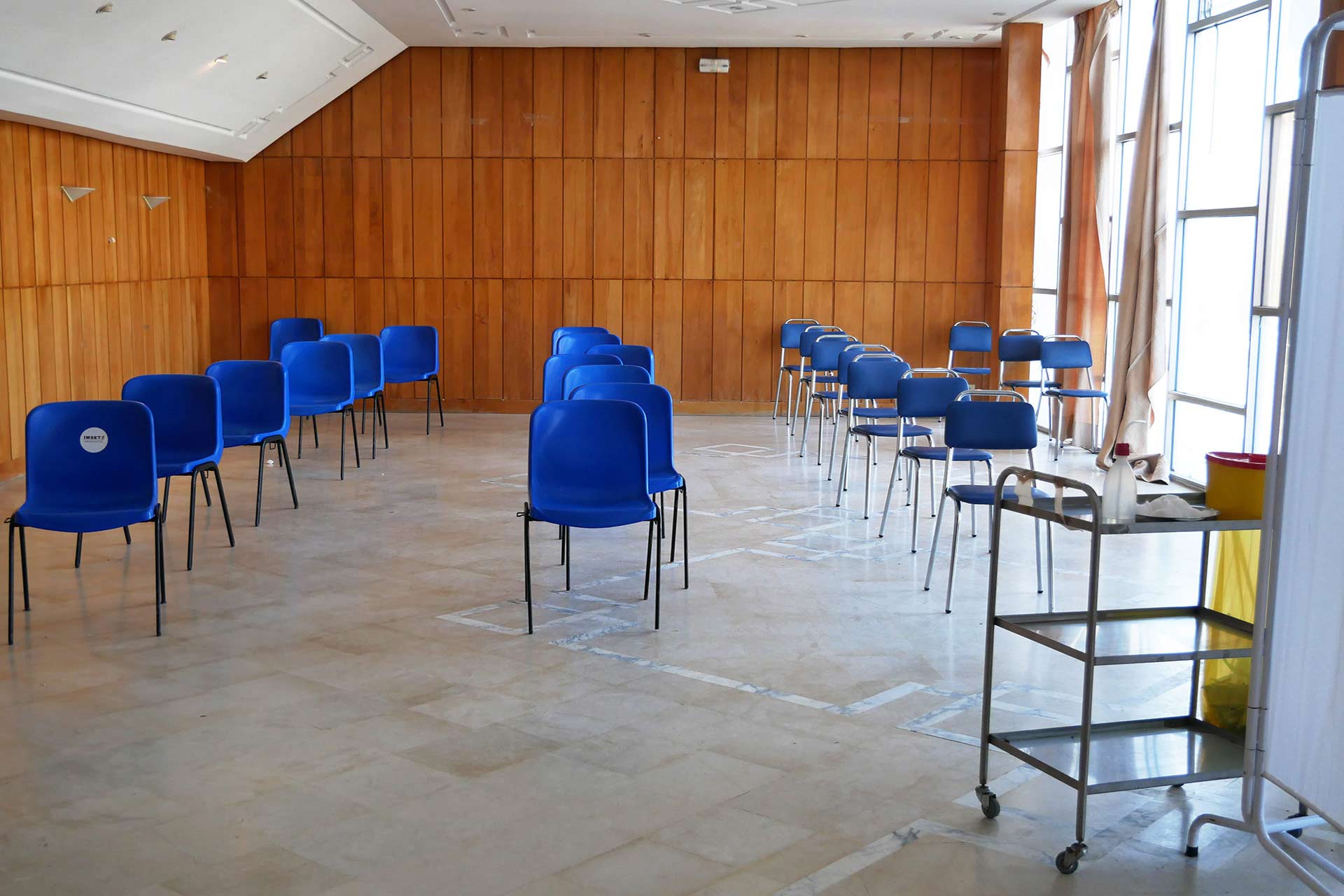 April 1, 2022. The vaccination centre at Menzah Stadium is empty.
"I've never been convinced by this Covid thing." For some, like Selma*, the mistrust goes beyond the vaccine. "People thought I was crazy at first, when I refused the confinement. Now they have changed their minds." She also deplores the contempt expressed towards non-vaccinated people, and the total rejection of any sort of dialogue with them:
"As soon as you are against vaccinations, you are ignorant [...] The way they look down on people's sense is shocking."
For several months, she scoured Facebook groups in search of people who, like her, had their doubts. "It was lonely at first. We had to really dig to find these types of people", she recalls. When the Sanitary Pass was announced, Selma, along with seven other like-minded people, formed an anti-pass coalition, organising the first demonstrations in various cities in October 2021.
"It's my body and I'm the only one who can tell what's happening to it. [...] Treatments should not be compulsory", she argues. Selma believes in alternative medicine, based on "natural immunity", a belief she has developed through years of research, she says.
At the beginning of the pandemic, Abdessattar* founded a website that brought together several researchers and doctors who agreed that the components of the Covid-19 vaccines were dangerous for human beings. "We are not charlatans. We are researchers, we are trying to save those vaccinated", he insists.
Both of them also have a strong distrust of medical staff. According to Abdessattar, most of them are afraid to expose the truth and go against the majority opinion. "Go to any doctor who tells you to vaccinate and ask him what the vaccine consists of", he jokes.
As for Selma, she doubts the competency of certain doctors since members of her family have suffered from medical malpractice. "My father was killed because of medical malpractice. I went through this with many members of my family, and [the doctors] would not admit the truth", she protests.
The decision by the Ministry of Health to suspend the administration of the Johnson & Johnson vaccine on May 9, 2022, has further fuelled this mistrust among anti-vaccine groups active on social networks. Riadh Daghfous, President of the Covid-19 Scientific Vaccination Monitoring Committee, understands the uncertainty: "When citizens witness decisions like this, they ask themselves a lot of questions and are afraid. Especially those who have received Johnson&Johnson. Those who are not already vaccinated will be even more afraid of vaccines in general". According to a study conducted in Tunisia by the Emrhod Consulting Institute in January 2021, fear of side effects is indeed one of the main reasons for refusing to take the vaccine.
The decision to suspend Johnson & Johnson was taken following recommendations by the US Food and Drug Administration (FDA) to restrict its administration to adults who refuse other vaccines. Indeed, a recent study by the Agency linked sixty cases of thrombosis, i.e. the formation of a blood clot in a vein, to the administration of this vaccine.
However, according to the National Pharmacovigilance Centre, none of the more than one million people vaccinated with Johnson&Johnson in Tunisia have developed serious side effects from the vaccine, especially since the risk only exists during the first two weeks after the vaccine is administered.
According to the authorities, the vaccine has had very few adverse effects in general. Out of more than six million people vaccinated in Tunisia, only 3,000 cases of side effects have been reported, according to Riadh Daghfous. Hanen is one of them. The young woman had an allergic reaction after her first dose of the Moderna vaccine. " After that, I was afraid because I have a lot of allergies, so I decided not to take the second dose", she says.
Moreover, despite the medical certificate stating that she is allergic to one of the components of the vaccine, Hanen could not get her full vaccination pass. "I went to the allergy centre at Rabta Hospital. They didn't tell me anything specific or clear. They just explain that it is because of the vaccine and leave you with the choice [to be vaccinated or not], as if they don't want to take the risk", the young woman complains.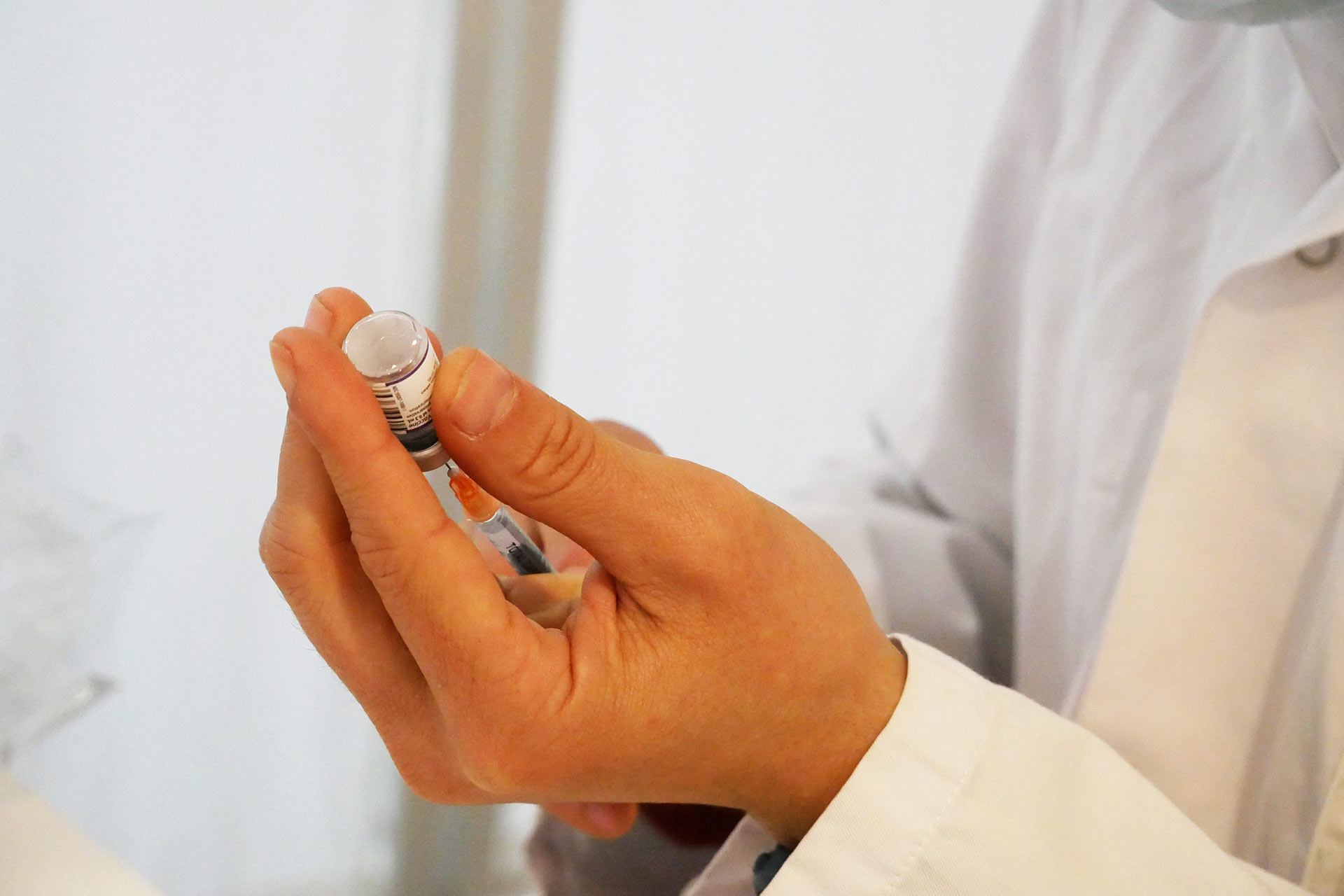 A health care worker prepares the vaccine injection.
The anti-pass coalition is planning to sue the State and the Ministry of Health on behalf of those who have suffered serious side effects from the vaccinations.
An ineffective sanitary pass
"At first, supermarkets were impossible, I spent a month and a half without entering them", Hanen says in reference to the obligatory vaccination pass being introduced in December 2021. However, as time went on she noticed an increased lack of control, and managed to sneak into the shopping centres. Today, not having a vaccination pass has almost no impact on her daily life. Riadh Daghfous also admits that "the vaccination pass was poorly enforced in public places", which may have then "discouraged people from continuing to get vaccinated".
While this observation is echoed by Selma, who says that "the pass is applied in a superficial manner", she has experienced difficulties with her work. "My employer threatened to fire me but I managed to get by." However, this was not the case for everyone: in January 2022, 13,000 teachers and educational managers who had not been vaccinated against Covid-19 were suspended, according to the newspaper La Presse. The anti-pass coalition also receives "dozens of calls every day from people who have lost their jobs". In response, the coalition attempted to file a complaint with the administrative court against decree-law 2021-1, but their request was denied.
Between collecting files of people who have lost their jobs, contacting volunteer lawyers, and other attempts to file complaints, the anti-pass coalition does not give up. They are pursuing various legal actions aimed at bringing down the sanitary pass, which is considered to be in violation of individual freedom, and they hope to one day take this case to an international level.
It should be mentioned that on March 28, the administrative court of Monastir declared the decree-law on the vaccination pass to be illegal in the first instance, following complaints that had been filed by agents of the regional delegation of national education, challenging their suspension.
When contacted by inkyfada to provide further details on these suspensions, as well as on the future prospects of the civil servants concerned, neither the Ministry of Labour nor the Ministry of Education provided any response.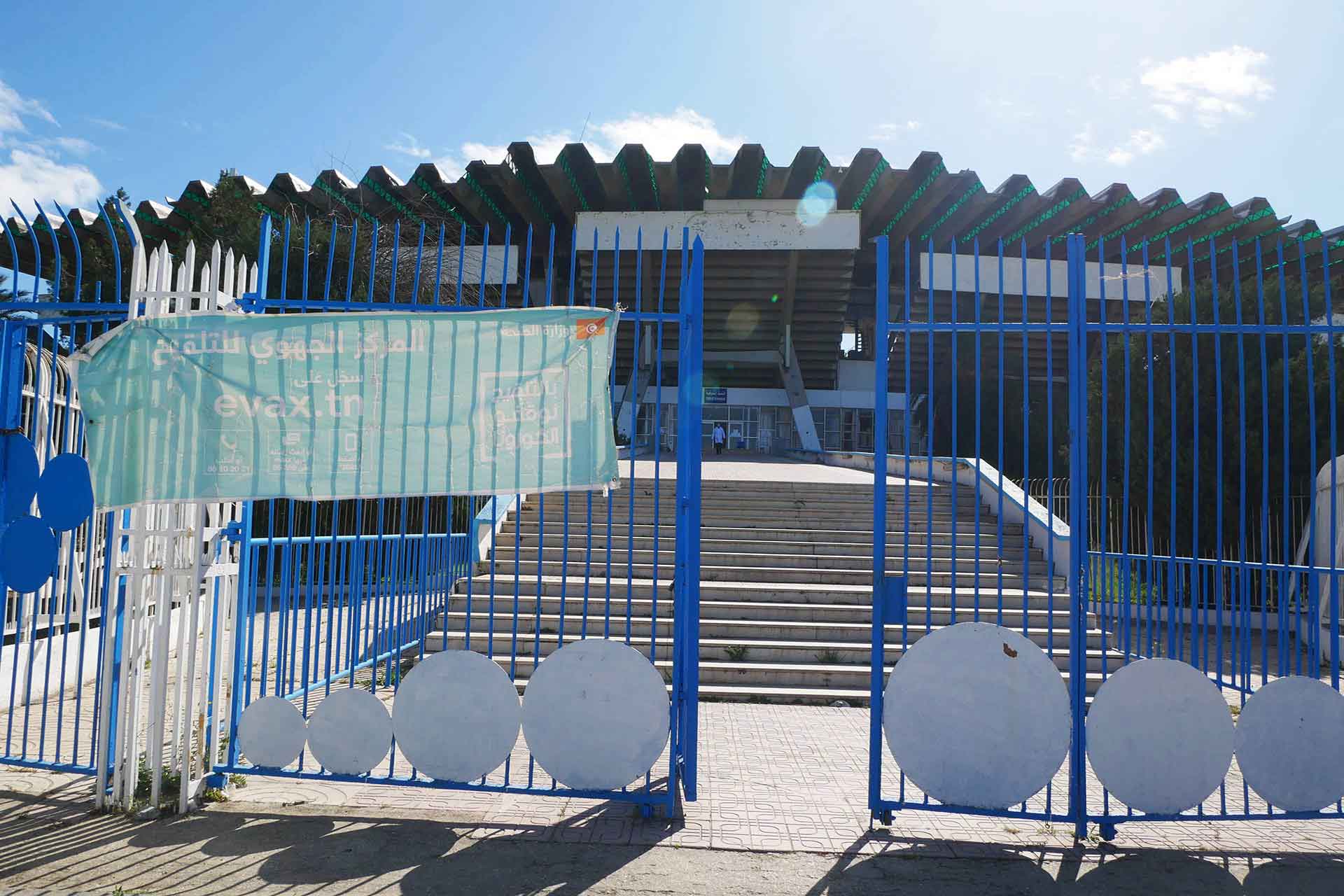 Widespread mistrust
The distrust for vaccines is not new. In 2019, the WHO included vaccine distrust on its list of the ten greatest threats to global health. According to Dr Maalej, head of the pneumology department at Abderrahman Mami Hospital, this reluctance to vaccinate does not only concern Covid-19. "In theory, all nursing staff should be vaccinated against the flu every year. However, every year a lot of doses are thrown away", she explains.
A study published in 2019 confirms that two out of three health care workers in Tunisia have never been vaccinated against the flu. This proves that vaccine distrust is not necessarily associated with level of education or socio-economic status, she says. "We've seen everything from doctors who don't want to vaccinate, to doctors who forbid it to their patients", she says indignantly.
While there is no typical profile of people who have not been vaccinated against Covid, Evax figures published on May 18 indicate that young people aged 30 to 40 are vaccinating almost half as much as people aged 60 to 75.
However, Dr Maalej is particularly concerned about the over-75s, who according to Evax still account for 22% of those who have not been vaccinated. She believes that some people avoid getting vaccinated for fear of weakening their immune system, which has already been weakened by chronic illnesses.
After more than two years of the pandemic, general public fatigue could also be a reason for the drop in the vaccination rate. "Perhaps people have gotten the impression that there is no more Covid and that there is no longer any need for vaccines", Riadh Daghfous suggested in March 2022. Nesrine Mejri, associate professor of medical oncology and an oncologist at Abderrahman Mami Hospital, agrees: "There is a sense of weariness, not only about the vaccine but also about Covid. One might get the impression that it is not so virulent anymore."
When looking into the reasons behind the widespread vaccine scepticism in Tunisia, a general lack of trust for institutions is also cited. This was illustrated by a study conducted on the vaccine acceptance among cancer patients, where 46.2% of respondents said they did not trust the government. According to Makram Al-Safi, an immunology researcher at the Pasteur Institute, this is not surprising.
"This is a big issue in Tunisia, trust in the state. After decades of dictatorship, this is normal. This trust will be built over time. We distrust the state, but this is not only because of the vaccine", he says.
Inequality, even when it comes to vaccinations
The vaccination strategy published by the Tunisian government in January 2021 planned to gradually open up vaccinations according to age groups, professions and comorbidities. However, Amnesty international denounced this strategy in April 2022 for not taking "socio-economic factors and the historical lack of access to healthcare in rural areas" into account.
Percentage of vaccinated people, by governorate
Source: Evax (May 18, 2022) and NSI (2019)
As of May 18, 65% of the population in the governorate of Tunis had been vaccinated, compared to 38% in Tataouine and 42% in Sidi Bouzid. According to doctor and activist Taieb Ben Alaya, these disparities are not surprising:  "It is not simply because there are more centres in Tunis and fewer in Sidi Bouzid. The health distribution is like that in the country. We could say that this was predictable". In a report published in April 2022, Amnesty International examined the access to vaccination in rural Tunisia by conducting field research in the region of Ghardimaou. According to the organisation, the management of the vaccination campaign  "is the most recent clear illustration of the disparities in access to healthcare for marginalised populations in rural areas of Tunisia".  
To overcome these difficulties, the Ministry of Health has set up mobile units "to try to reach people who are unable to go to health facilities or vaccination centres", explains Riadh Daghfous. These mobile units periodically visit prisons, old people's homes and shopping centres.
In their report, Amnesty highlights the limits of the effectiveness of these mobile units. For example, in Ghardimaou, a town on the Tunisian-Algerian border, the effectiveness of the mobile vaccination operation was limited due to a lack of communication. However, the report highlights a more successful initiative in Beja where vaccination centres were set up during weekly fairs.
Thus, the government's new vaccination strategy is part of an effort to get closer to patients, in particular by reducing the number of large vaccination centres. "We are going to reinforce vaccinations in basic health centres because they are heavily frequented by Tunisian citizens, especially those with chronic pathologies such as hypertension or diabetes", Riadh Daghfous explains. This new strategy is also aimed at children over the age of six, and vaccinating children who are "most exposed to severe forms of Covid" is currently being discussed by the scientific committee.
Technological inequalities also add to these regional disparities.
"The Evax platform is very good, but it is not suitable for everyone. For some people it is very high-tech", says Dr Taieb Ben Alaya. 
"There are people who still use the little phone that saturates when there are ten messages, they can't check if they have a message from Evax or not", he continues. According to figures from the National Institute of Statistics (INS) in 2019, only 51.5% of households have access to the internet in their homes.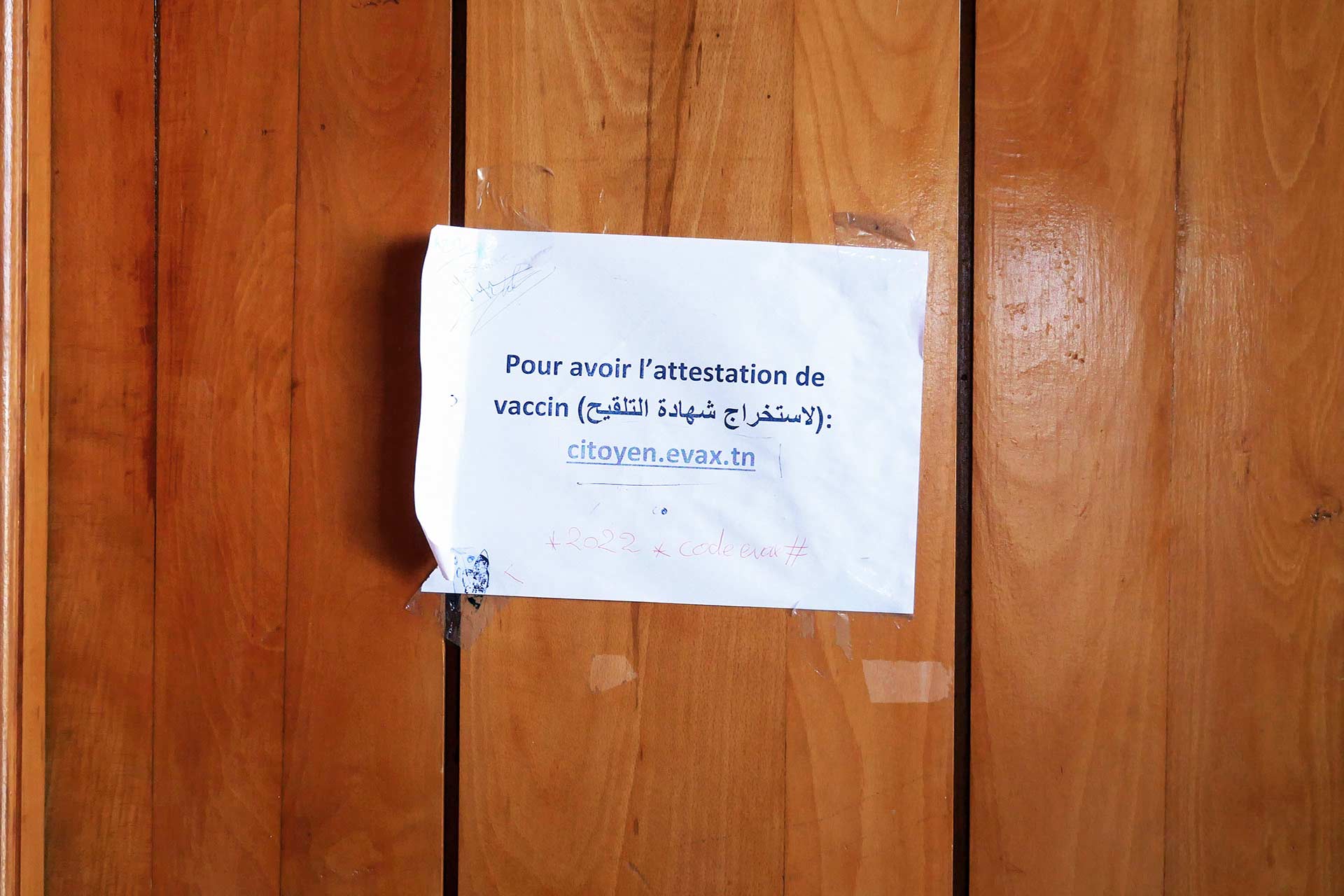 In an effort to facilitate greater access to vaccination for marginalised populations, 'Doctors of the World' set up a three-week mobile vaccination campaign in September 2021, which vaccinated 161 people living on the streets in Greater Tunis. This non-governmental organisation also conducted awareness-raising campaigns for  vaccinations.
These initiatives have also involved migrants. With a network of partners, 'Doctors of the World' has introduced vaccination cards that allow people without ID to go to a vaccination centre without having any issues. Naturally "it is difficult to convince a migrant to go and get vaccinated in a state centre attached to the Ministry of Health, when he or she has problems with the Ministry of the Interior", explains Dr Taieb Ben Alaya.
Beyond regional and technological inequalities, Amnesty's report on access to vaccines cites another contributing factor: the lack of access to information about Covid vaccines.
Flawed communication
"There is a failure of communication, it has to be said, whether in Tunisia or elsewhere", admits Makram Al-Safi, a researcher in immunology at the Pasteur Institute. The latter insists on the importance of popularising science by highlighting the details: "We need to talk about these proteins, the spike, the immune system... And it's simple, we can do it." The researcher therefore says that in order to popularise the subject he will take every opportunity he has to be present in the media.
Dr. Nesrine Mejri has contributed to this project by creating popular science videos on Youtube. Her videos deal with vaccinations, Covid, and the world of medicine in general. For example, one video talking about the side effects of vaccines has accumulated almost 500,000 views, in which Nesrine Mejri dissects scientific studies on the subject using a whiteboard.
"For me, not to vaccinate was suicide. So we have to explain things, so that the patients are informed, so that they understand how the vaccine works", she explains.
However, the Scientific Committee did not mention any studies or communication campaigns specifically targeting non-vaccinated people and their concerns. In their new vaccine strategy, the Scientific Committee is instead focusing on convincing people of the importance of booster doses.