In early 2011, as the Revolution began, Leila lost her son Karim. As for Zied, Jawaher and Ala, they were severely wounded. For the past ten years, they have been waiting for recognition, yet none of their names appear on the official list of martyrs and wounded of the Revolution. 
Since the publication of this long-awaited list, they, like many others, continue to protest. In order to obtain justice, Zied, Jawaher and Leila participated in yet another sit-in on May 19, 2021, organised in front of the Higher Committee for Human Rights and Fundamental Freedoms (CSDHLF), where the Commission of Martyrs and Wounded of the Revolution in charge of drafting the official list is located. Some of the protestors sat on the ground and vowed to stay "until they were forcibly removed".
Over the past few years, several demonstrations of this type have taken place in front of the various authorities in charge of the matter, demanding that the already long overdue official list be published. However, its publication in the JORT on March 19, 2021, did not appease the protesters, who proceeded to demand revision and modification of the list to include people who believe that they have been negligently left off.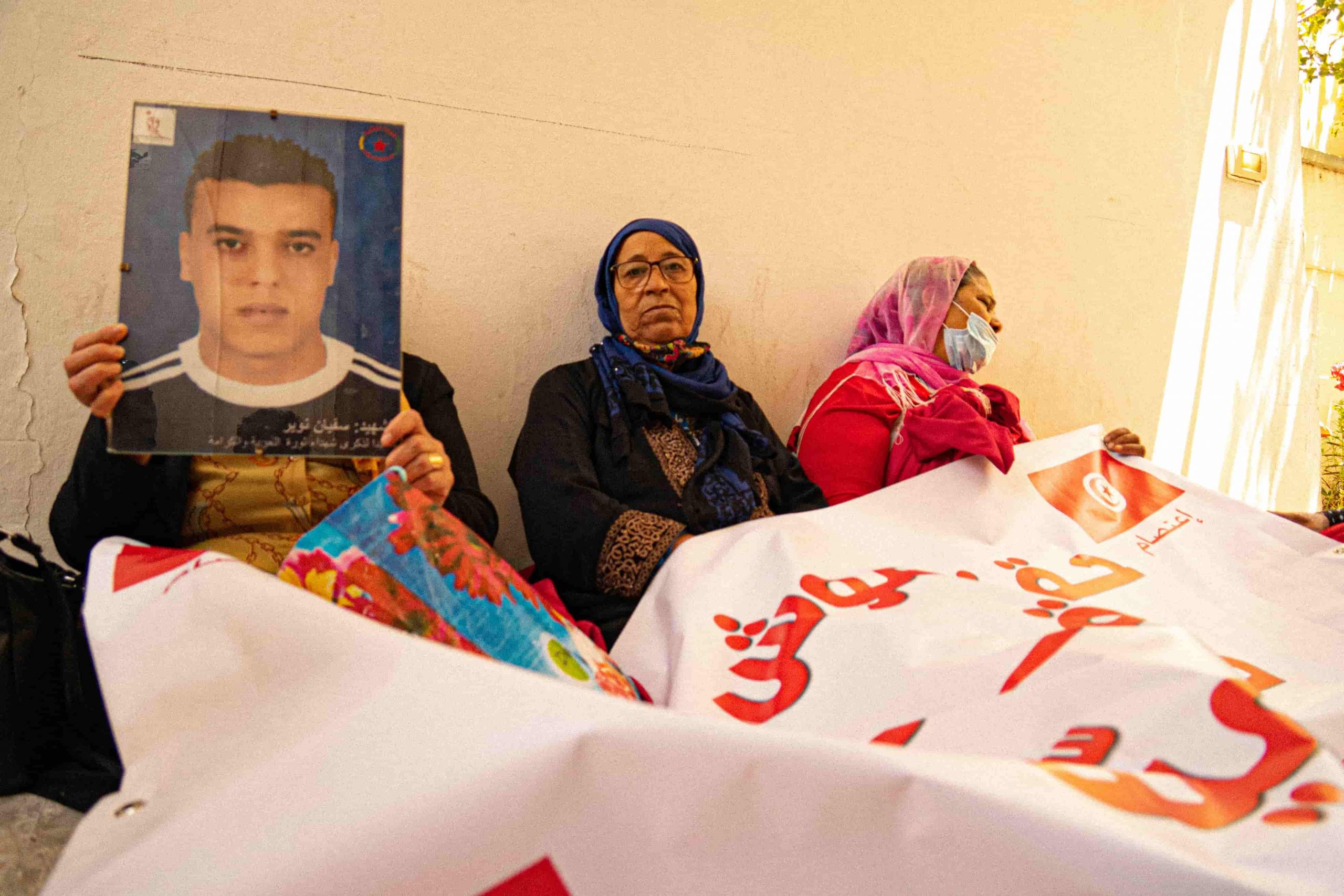 Mothers of martyrs participate in the sit-in on May 19, 2021 in Tunis, one of them holding her son's portrait.
Mothers of martyrs participate in the sit-in on May 19, 2021 in Tunis, one of them holding her son's portrait.
INITIALLY RECOGNISED IN 2011  
On January 17, 2011, Karim was shot by a sniper while guarding his neighbourhood in Rades, a suburb of Tunis. When his mother, Leila, heard the news, she could barely move, let alone seek justice for her son: "I was so shocked that I did not take action".  She explains that "the hatred" and "the rage" that she felt physically paralysed her. 
A few days later, her governorate of Ben Arous contacted her and asked her to bring a death certificate, to prove the death of her son. She went to the hospital to collect it, and shortly afterwards, the governorate recognised Karim as a martyr of the Revolution. In the wake of this, Leila received her first compensations. "I received everything: I got the 40,000 dinars, I was granted a transportation card, and my daughter was hired in the civil service", she explaines.

Since 2011, the governorates have conducted a census of martyrs and wounded, serving as the basis for the Ministry of the Interior to create a provisional list. Even though the official list had not yet been drawn up, this initiative made it possible to distribute the first compensations, such as indemnities and healthcare and transportation cards. Just like Leila's daughter, 2,700 wounded and 200 family members of martyrs were recruited into civil service, according to figures from the Ministry of Human Rights and Transitional Justice in October 2013.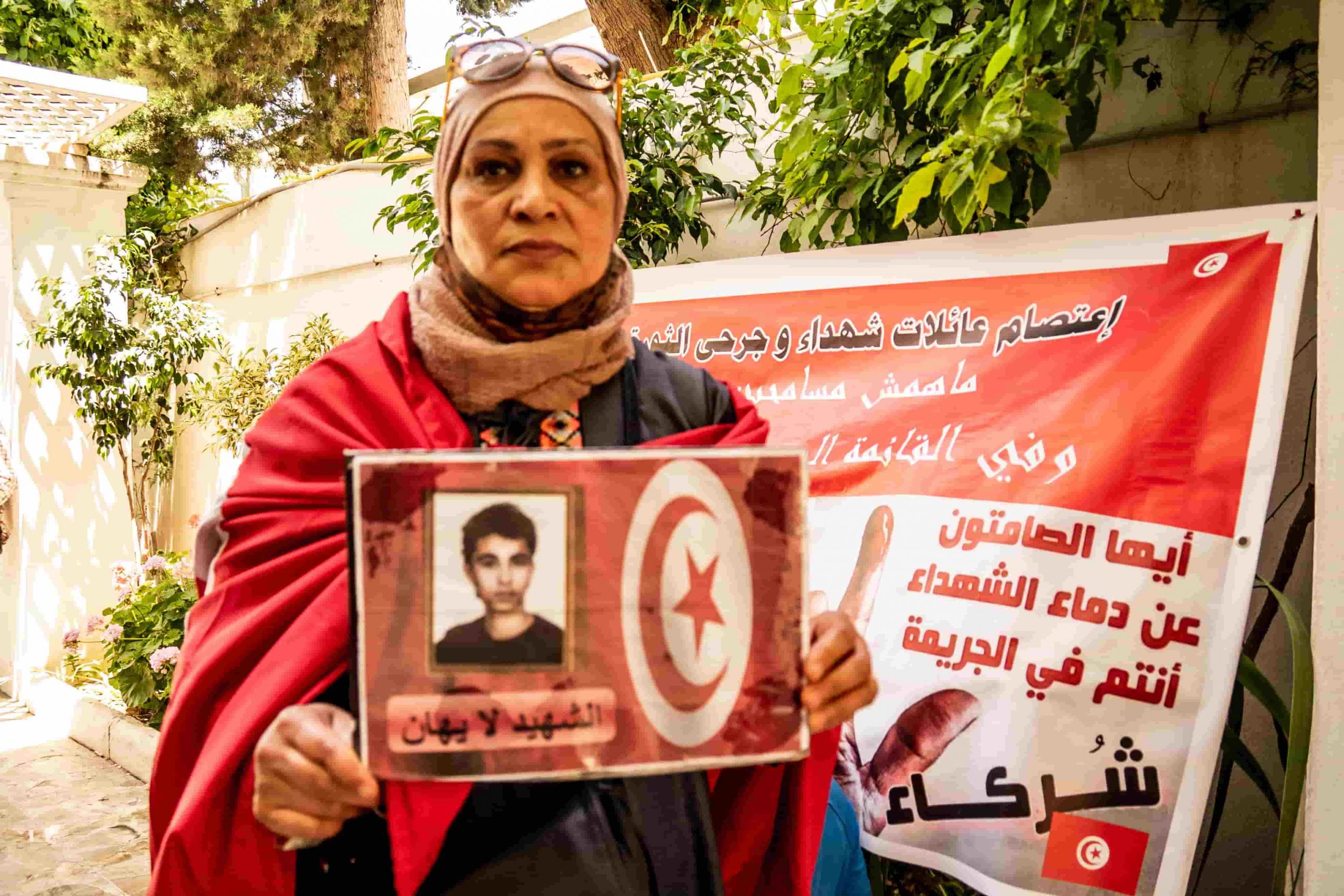 Leïla holds a portrait of her son Karim during the sit-in organised in front of the Higher Committee for Human Rights and Fundamental Freedoms on May 19, 2021 in Tunis.
Leïla holds a portrait of her son Karim during the sit-in organised in front of the Higher Committee for Human Rights and Fundamental Freedoms on May 19, 2021 in Tunis.
Zied was also wounded by a sniper while guarding a neighbourhood in Sousse on January 14, 2011: "A friend who was afraid that people were stealing jewellery in the medina called me and asked me to come and keep watch with him", Zied recounts. He agreed. 
Once there, a battle unraveled before him like theatre. Bullets were flying in all directions. He caught one in the arm and was rushed to hospital.
"They operated on my arm and then released me. I was given 60 days off work and medication to ease the pain. I have all the documents to prove this."
Since 2011, he received his initial compensation of 6,000 dinars, paid in two instalments.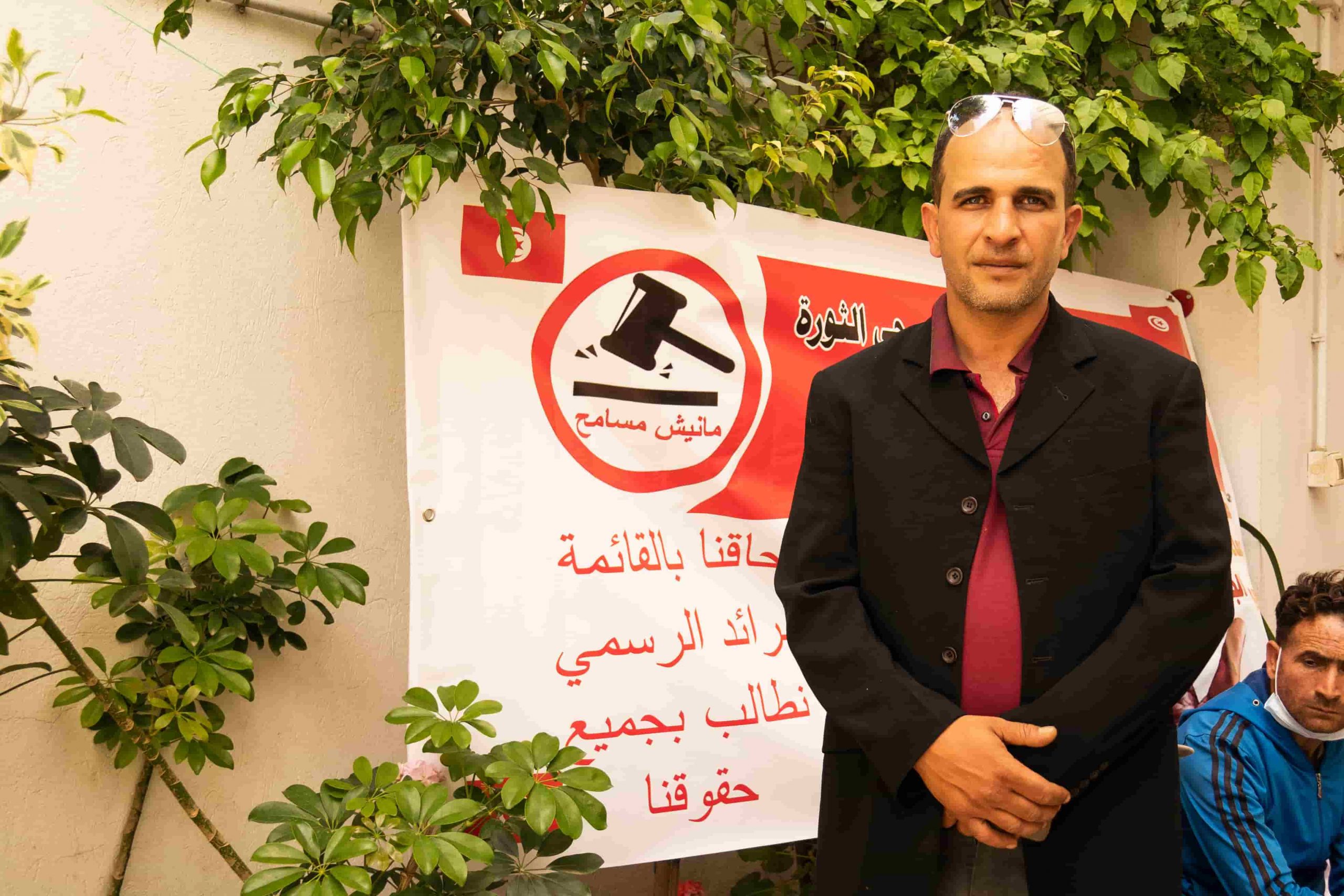 Zied during the sit-in on May 19, 2021 in Tunis.
Zied during the sit-in on May 19, 2021 in Tunis.
Just like Zied, Jawaher received 6000 dinars in compensation. The young woman was injured on February 25, 2011 while demonstrating during the events at Kasbah 2 in Tunis: "I was shot in the leg. I have a medical certificate, a video and testimonies from other activists who were there to prove it".
In the process, she was put on the list of her governorate, Mahdia. In addition to her indemnities, Jawaher was hired by the Ministry of Education in 2013. She also received a healthcare and transportation card. "My governorate used to contact me every time there were new developments regarding the martyrs and wounded. For me, it was a done deal", she says.
 THE DISILLUSIONMENT OF THE VICTIMS  
For 10 years, the official list of martyrs and wounded of the Revolution has been delayed. The drafting of the list has been highly ambiguous, with hardly any communication about the work from the commission. Jawaher says she "had never heard of this commission" before the list was first published online in 2019.  "I did not know anything about it because they did not communicate about their work and never made any announcements", she says.
To their great surprise, when the list was finally published in 2021, Leïla, Zied and Jawaher did not find their own or ther relatives' names on it, as if they had simply been left out of the count. 
Although the Commission was supposed to investigate and interview those concerned, Leïla says that she was never contacted.
"Nobody from the Commission called me or spoke to me, I just realised that my son's name was not on the official list. So at first they recognised my son as a martyr and then they didn't, I don't understand", she laments.
Jawaher also figured that she would be contacted by the commission, yet this was not the case: "I think that they did not do the job properly, that they did not listen to the people concerned, myself in particular", she states.

Yet Jawaher's situation fits the criteria set out in Decree Law 97 and Law 26, recognising only those who had been protesting as martyrs or wounded - a definition that immediately neglects those who were injured or killed on the margins of the protests.
Having been injured during the events of Kasbah 2, Jawaher perfectly fits into the official definition, which she is also very critical of as she finds it exclusionary. However, she personally feels that she is one of the "less ambiguous" cases and consequently understands her absence from the list even less.
Zied is also at a loss. According to him, even the military court recognised his status as wounded.
"My case was clear, there was no problem at that level. The forensic doctor of the military court examined me, he told me that my physical disability was 18%."
As a reminder, according to the legislation, the physical disability must be at least 6% for someone to be recognised as wounded from the Revolution. 
The people left off of the list are therefore in danger of having the compensations they obtained almost a decade earlier taken away from them. Abderrazak Kilani, President of the "General Instance of resistance fighters, martyrs and wounded of the Revolution and terrorist operations", announced in May that healthcare and transportation cards would be withdrawn from those who are not on the official list, starting June 30.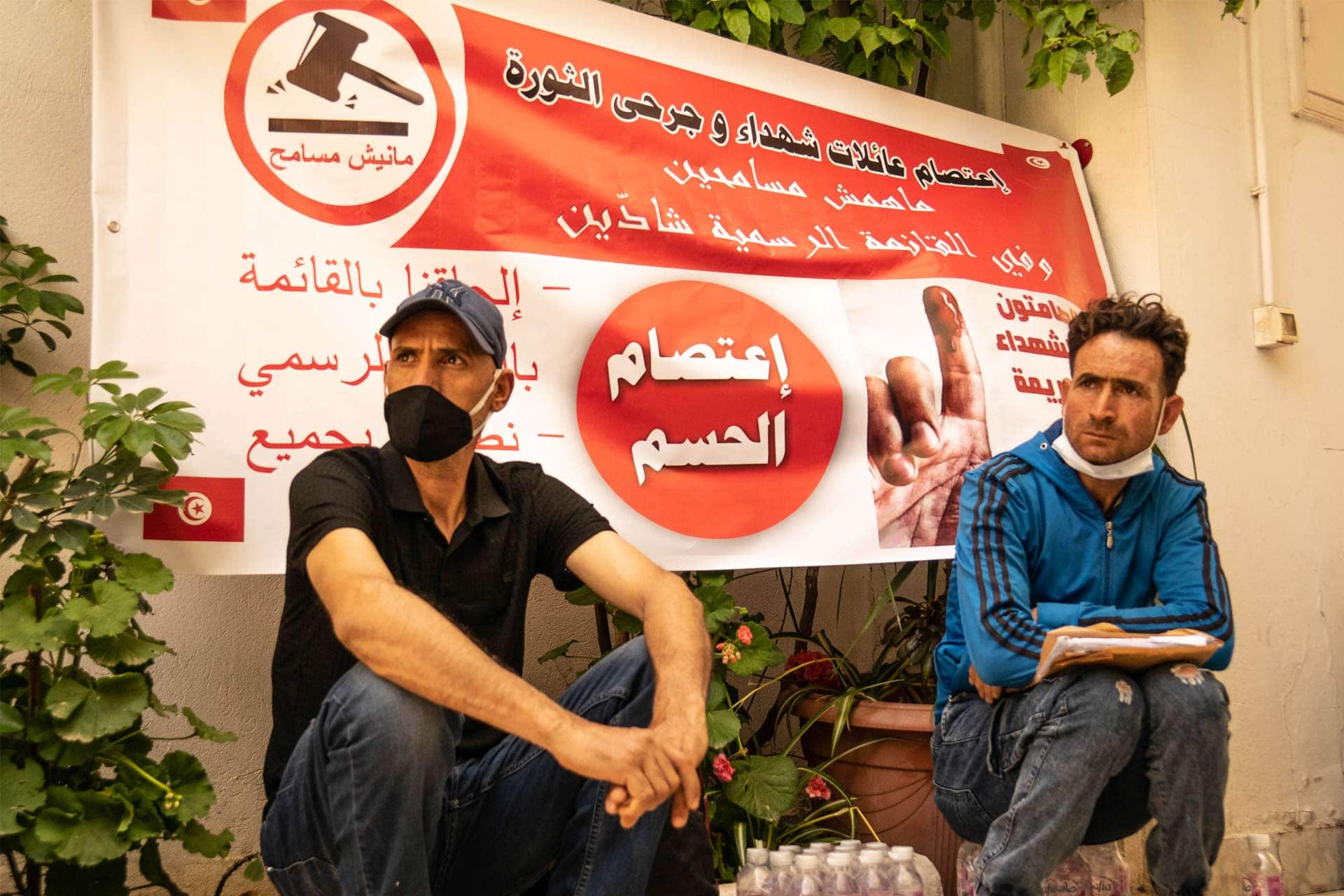 Demonstrators take part in the sit-in on May 19, 2021 in Tunis. The banner behind them displays the slogan: "Demonstration of the families of the martyrs and the wounded: they have no intention to forgive and they expect to appear on the official list."
"THEY ARE TOYING WITH US"
For Jawaher, having her name on the list is recognition of her struggles and sacrifices: "I am tired, I have fought for this country. It's not a favour, but to have my name taken away is not right. It's symbolic for me and for Tunisia", she confided. 
Victims who wish to obtain justice only have one option at the moment: to file a complaint with the administrative court. This is what Leïla, Zied, Jawaher and Karim's mother have done, but they have received no response.
"Appeals to the administrative court take a long time because the court carries out investigative work", explains Elyes Ben Sedrine, former deputy director in charge of investigations at the Truth and Dignity Commission (IVD).   
"Abderrazak Kilani himself said that the administrative court was taking a long time and yet we are still being sent there, they are toying with us", says Ala, who was injured on January 13, 2011 in Kasserine while protesting. His name does not appear on the official list either.
According to Elyes Ben Sedrine, Abderrazak Kilani had promised in January 2021 that the instance would set up a commission to review the files and modify the list before its publication. "Many appeals have been filed by the victims, but no commission has been set up, the list was published as is", said Elyes Ben Sedrine.  
"I have the receipt proving that I filed the appeal, but I haven't heard anything back. Mr. Kilani decided by himself that he would not take these appeals into account. I think this case is being handled very casually", said Jawaher, who is still waiting for answers.
Abderrazak Kilani himself completely denies this information and insists that his instance "is not authorised to deal with appeals" and that it has received "none".
More recently, Ala explains that in response to the protesters, Taoufik Charfeddine, the new president of the Higher Committee for Human Rights and Fundamental Freedoms, proposed a solution: to merge the official list with the one published by the Truth and Dignity Commission (IVD), as part of their documentation of human rights violations that took place in Tunisia between 1955 and 2013. Several victims have been identified by the IVD, yet do not appear on the official list, including Jawaher, Zied and Ala.
Elyes Ben Sedrine thinks that this proposal is "in good faith" but that in reality it will not be implemented. According to him, "it would be necessary to first review the legislation to be able to merge the two lists", an initiative that has very little chance of being implemented in light of "the current political spectrum".
The recognition of the martyrs and wounded of the revolution is at the heart of the transitional justice process, which is currently paralysed by multiple obstacles. In addition to appeals to the administrative courts, which are truly obstacle courses for those who have been left off the list, trials are currently underway in the military courts, without any further success.
The fourth and final episode, which will address these obstacles to transitional justice, will be available soon, exclusively on inkyfada.