Ons Jabeur hits a forehand and backhand in front of the admiring eyes of Serena Williams. Footage of the match quickly went viral on social media. The American tennis legend chose to make her return to competitive doubles with the Tunisian tennis player at the Eastbourne tournament in England. "It's an honour [...] that a player like Serena Williams decides to make her comeback alongside me, it proves that today I am a significant figure on the tour", Ons Jabeur told inkyfada.   
Since the age of 17, Ons Jabeur has accumulated several "first" titles. She was the first Tunisian and Arab player to win the final of the Junior French Open; to reach the top 100 in the world; then the top 50; and finally the top 10. On May 7, 2022, Ons Jabeur made history by winning the Mutua Madrid Open, her first WTA 1000 title*. 
After losing her first match at Roland-Garros* a few weeks earlier, after being announced as the favourite, Ons Jabeur is playing her "favourite Grand Slam" this summer: Wimbledon. 
Ons Jabeur's journey tells the story of a childhood dream, perseverance and family ambition. If she is now at the top of the world tennis scene, it is not because she has always been supported the way she is now. 
Tennis: an early love
On May 12, 2022, Ons' match at the Rome tournament is just about to begin. In the family home in Sousse, Samira Hachfi is preparing to watch her daughter play. Her husband, Ridha Jabeur, has been following the score on his phone. "He doesn't want to admit it, but he's stressed", jokes Samira. Some family members arrive one after the other, "the whole family is here to watch Ons play", her uncle rejoices.  
In Ons Jabeur's family, the love of sport has been passed on from mother to daughter. When she was only one and a half years old, Ons watched her mother Samira, a tennis fan, play with her friends in Monastir. "And that's where her love for this ball came from. She used to run and pick the balls up", her father says. The little girl even gave technical advice: "She used to ask her mother: 'Why didn't you win? You could have won that one'", Ridha says, amused.  
Tennis, conservatory, swimming or dancing, Ons Jabeur's parents encouraged their children to take part in extracurricular activities from an early age. "I think that in order to be balanced, you have to think about more than just your studies. A child has to develop. [...] when Ons was three years old, she had already chosen tennis", say the tenniswoman's parents  
Ons Jabeur with her medals and trophies.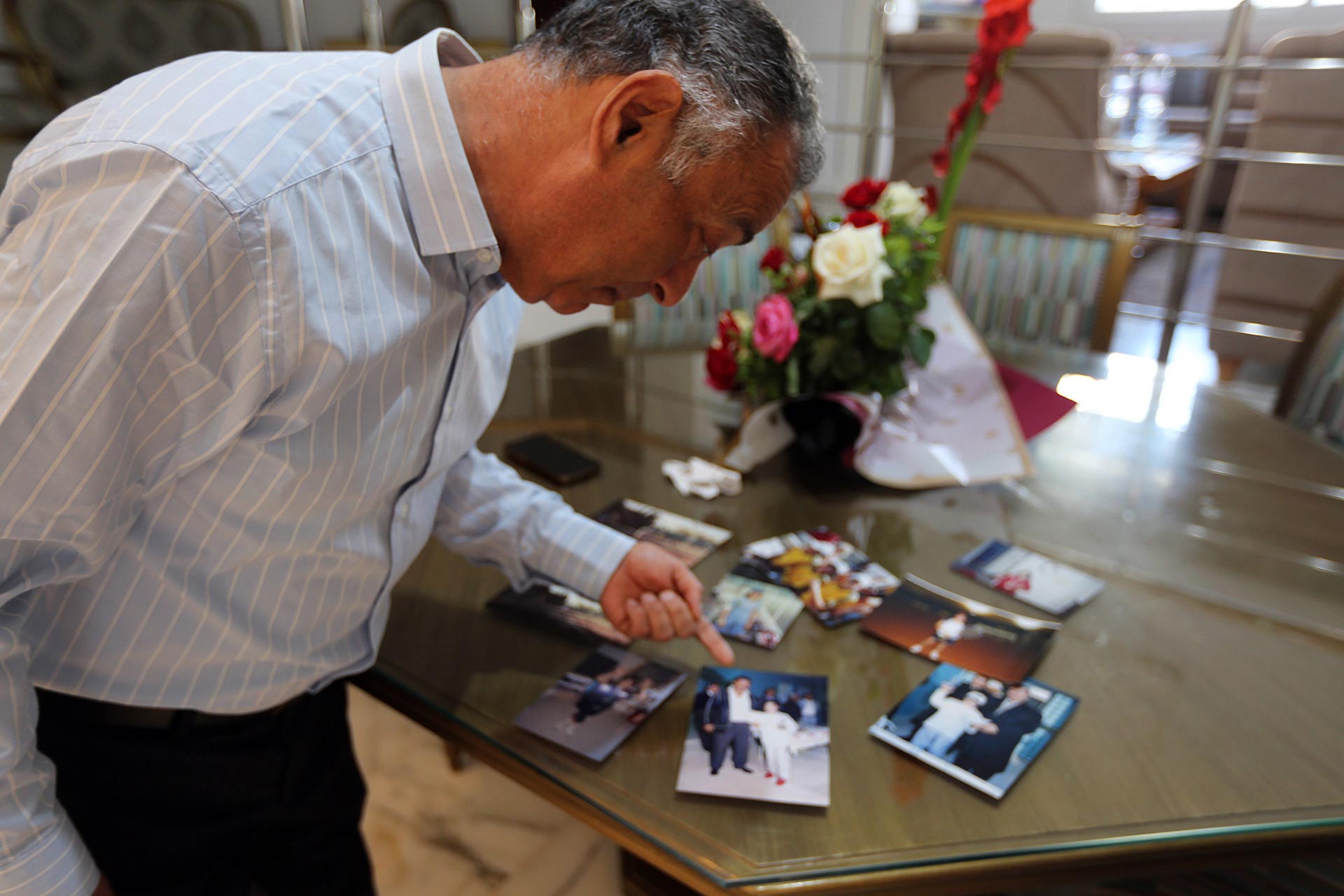 Ridha Jabeur, tenniswoman's father, shows some old photos.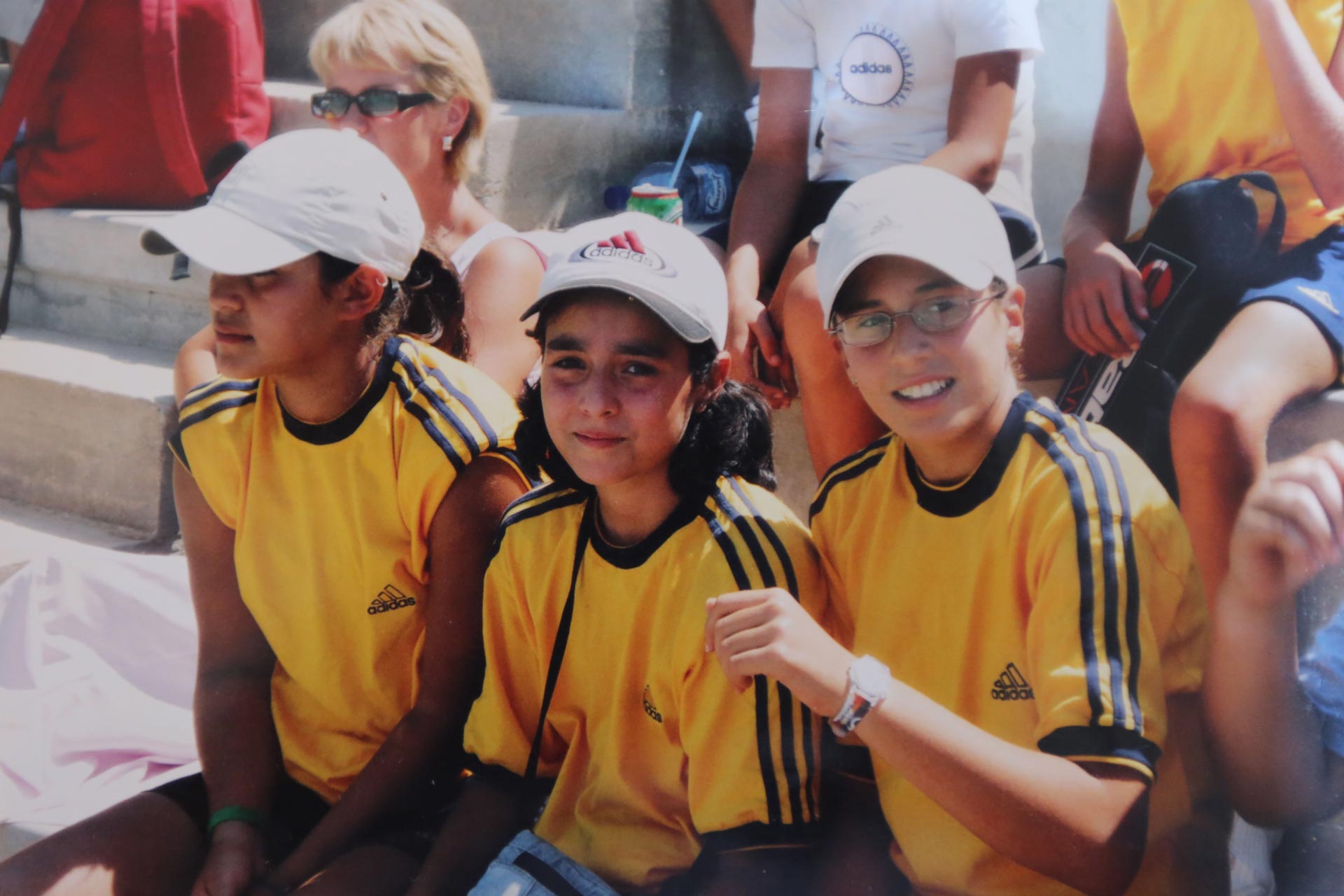 The Tunisian player with her friends during a tennis tournament.
Nabil trained Ons for 10 years, first at the 'Centre de Promotion', a tennis club at the 'Trik El-Chatt' primary school, and then at the 'Hammam Sousse' club. The latter only has about fifty players and no court, so Ons trained on the courts of nearby hotels. 
At the age of six, Ons started to play in local tournaments in the Lutins team (for children under seven years old). She was the only girl in the team. In the years that followed, she found her match: Nour Abbes. "She was the most difficult player for Ons", Nabil recalls. A bit older than her, Nour was ranked fourth and then first at national level, but Ons gradually turned the tables on her.
"Ons was playing in the top division because it seemed very easy for her in the junior division", says Nabil.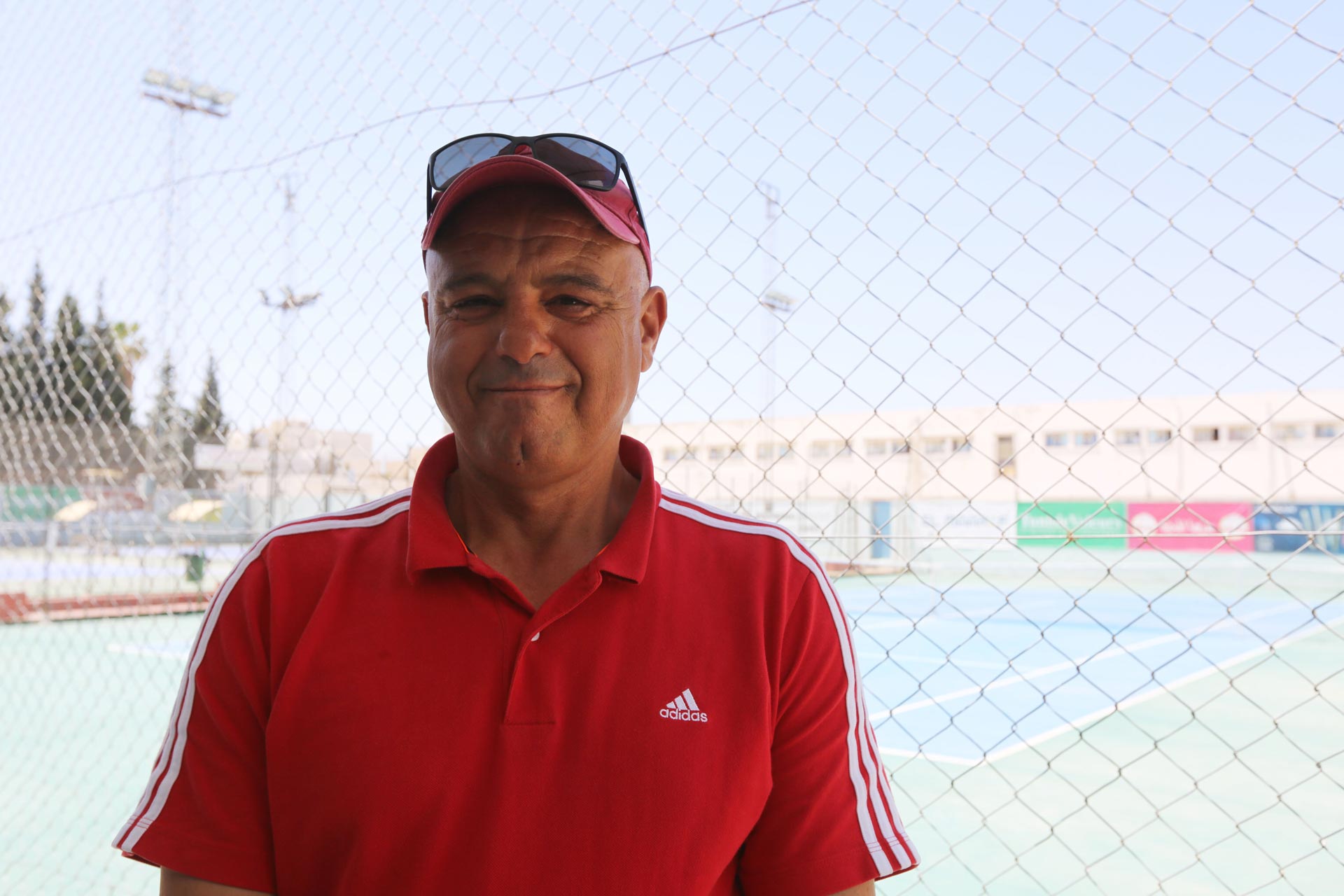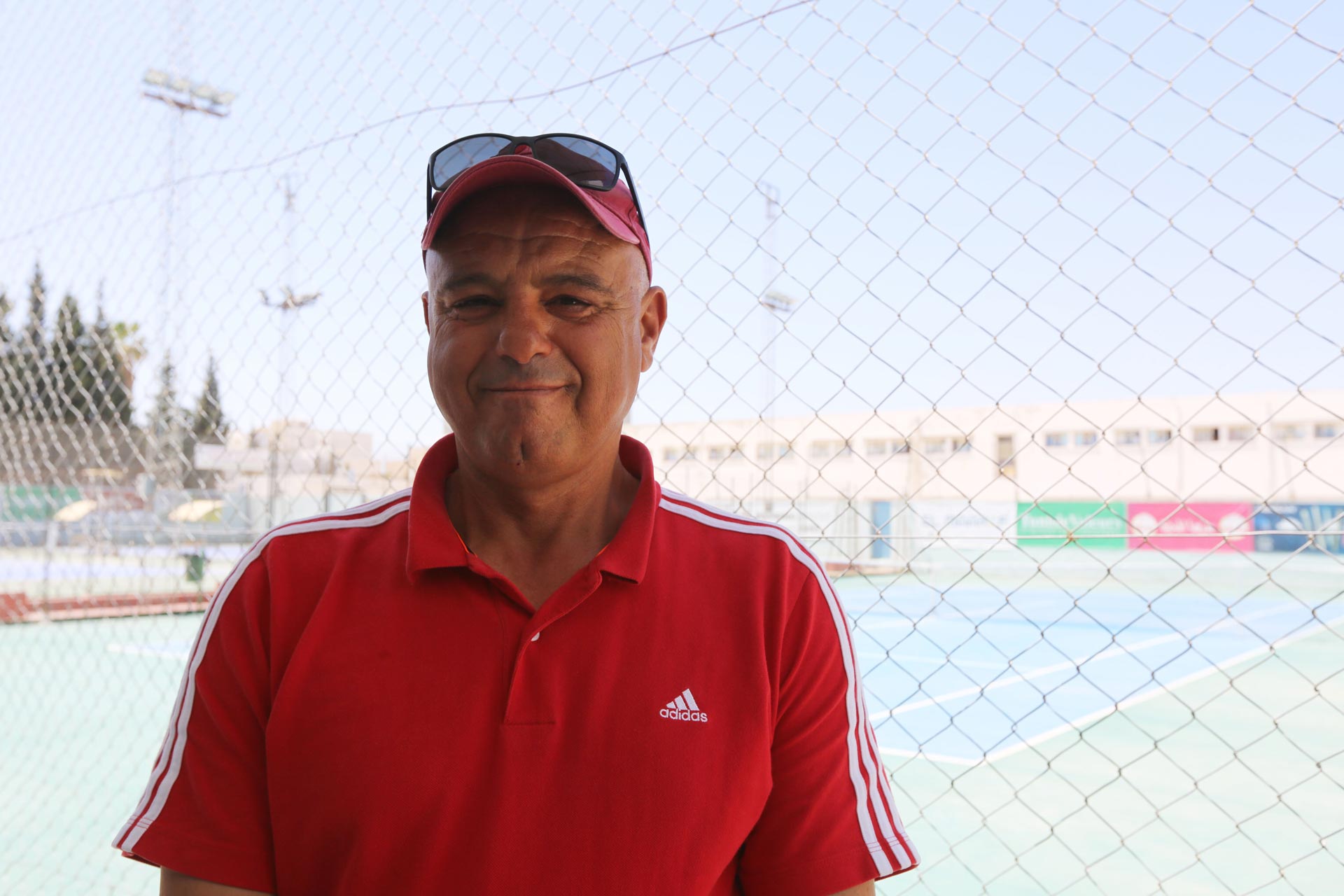 Nabil Mlika, Ons Jabeur's first coach at Hammam-Sousse.
From an early age, Ons got used to travelling all over Tunisia, or even abroad, to play in tournaments. She was usually accompanied by her mother, but sometimes had to go with just her coach, as in for the Petits Ducs tournament in France, 2008. While packing her daughter's suitcase, Samira Hachfi hesitated about the number of outfits she needed to bring. "They told me that only one or two were needed, because she didn't have a ranking. They thought she would play two games and come back to Tunisia." However, her daughter ended up playing eleven games and winning the tournament, so the young tennis player found herself washing her outfits by hand every night.  
As she grew up, juggling sport and studies became increasingly difficult. "I saw that she was drifting away from tennis and couldn't train enough", Nabil recalls. So he advised her to continue her education at the El Menzah sports high school in Tunis.  
At this high school for top athletes, study hours are adjusted to suit the training sessions. "This allows the athletes to train. Even when she was absent for competitions, she was doing remedial work", Ridha describes. "She used to revise her baccalaureate on the planes", her cousin recalls.
Ons was brought to public attention at 16 when she won the junior French Open tournament in 2011. Five years earlier, at the age of nine, she had promised her mother that she would have a coffee with her at Roland Garros. "It's now a done deal", Samira says. "We didn't believe in it that much. It was so far away", admits Nabil Mlika.  
This victory on a clay court represented a significant turning point in her career, but also for tennis in Tunisia.   
"There was an explosion. Tunisians' attention to tennis started to grow", the coach confirms. "We started to believe in it too, to believe that a Tunisian could do it."
Eleven years later, when Ons Jabeur stepped onto the Philippe Chatrier court for her first match of the 2022 French Open, she was heralded as the favourite by both the Tunisian and international press. After winning the Madrid tournament two weeks earlier, she seemed well positioned to win the French Grand Slam that she had been dreaming of since childhood. However, against her Polish opponent Magda Linette, the Tunisian player lost in three sets. Despite this defeat, the player was quick to be positive, "It's obviously a big disappointment. [...] It doesn't take away anything from the results of the last few weeks and we're moving forward", she told inkyfada.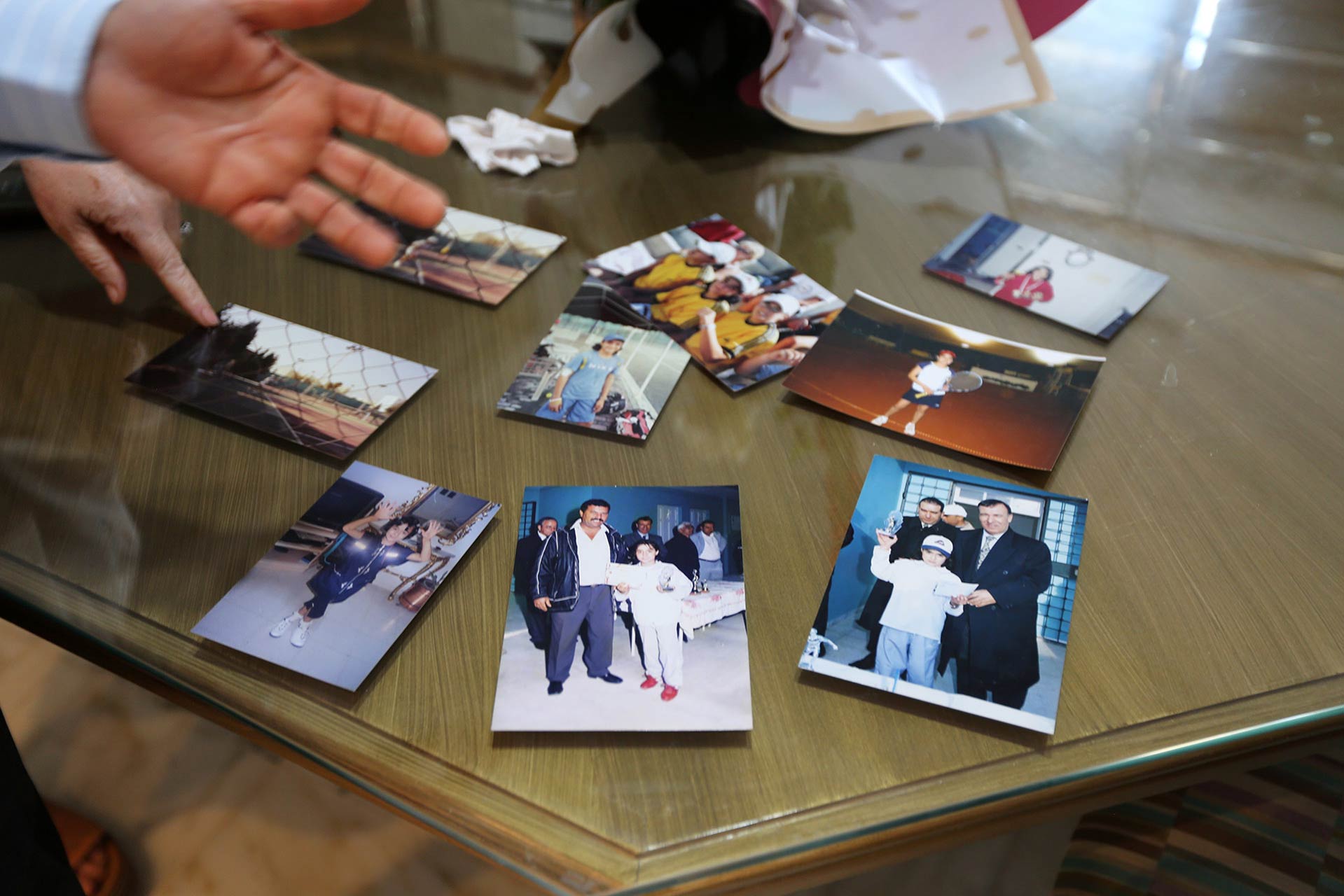 Old photos of Ons Jabeur
Money, the cornerstone of sport
After her victory in 2011, Ons Jabeur's family started to dare imagining her playing professionally. She then joined the academy of Justine Hénin, a former world number one, in Belgium. However, according to Nabil, she did not find what she was looking for with this experience: "It's an academy to earn money. [...] it's not the sporting objective that comes first", he explains.
Going from "junior" to "professional" level requires substantial financial resources. You need to be able to pay for transport, international tournaments, hotels, but also for the entire technical team of the athlete. "A coach costs about 2000 euros per week", Ridha gives as an example. Ons' victory in the junior French Open is not enough to guarantee enough sponsorship and support. So to succeed, the sportswoman has to rely on the support of her family: "It was complicated but the family pitched in to help her", her father explains.
Even if she can count on the support of the Federation, the Ministry of Youth and Sports as well as sponsors today, this was definitely not the case at the beginning of her career. "We didn't think she was going to break through internationally, so there wasn't much support", her father recalls. "That's her. She always believed in herself", Samira adds.
As her career progresses, Ons Jabeur is becoming more and more successful. In 2017, she entered the top 100 of the world's best players. She then signed an "objectives contract" with the Ministry of Youth and Sports, the amount of which increases according to the results achieved. This type of contract is "intended for the super elites, the great champions", explains Mohammed Ali Ben Hassine, who is in charge of national team programmes at the Directorate of Elite Sports. She received 100,000 dinars the first year, but this amount was halved the following year due to a drop in ranking. At the time, Ons Jabeur spoke out against the contract, which she said covered less than 10% of her expenses.
"When she won, they were always there with flowers to take pictures. When she lost or regressed, they were not there, not even to encourage her with a little word", her father denounces.
The same year, in October 2018, following the Moscow tournament where she had reached the final, her physical trainer and husband received a letter telling him that he was being reassigned to another position. Ons Jabeur objected to this decision during a broadcast on Mosaique FM.
"What do they want? For me to go and find a new foreign coach, without them providing me with any subsidies", she says indignantly. 
Even with the tennis federation, cooperation has not always been easy, according to Ridha. "It was hell dealing with the federation, with the officials, the paperwork", he explains, before adding: "That was then, the situation has improved, especially with the new president."  
Today, the financial issue is easier to handle. Her contract for 2021 with the Ministry was for 450,000 dinars. The tenniswoman can also rely on far more sponsors than before. "When there is a shining star, everyone wants to be seen with it, so sponsors have become more active", Mlika comments. With Tunisie Telecom as a sponsor, Ons has even become the face of one of the company's advertising campaigns.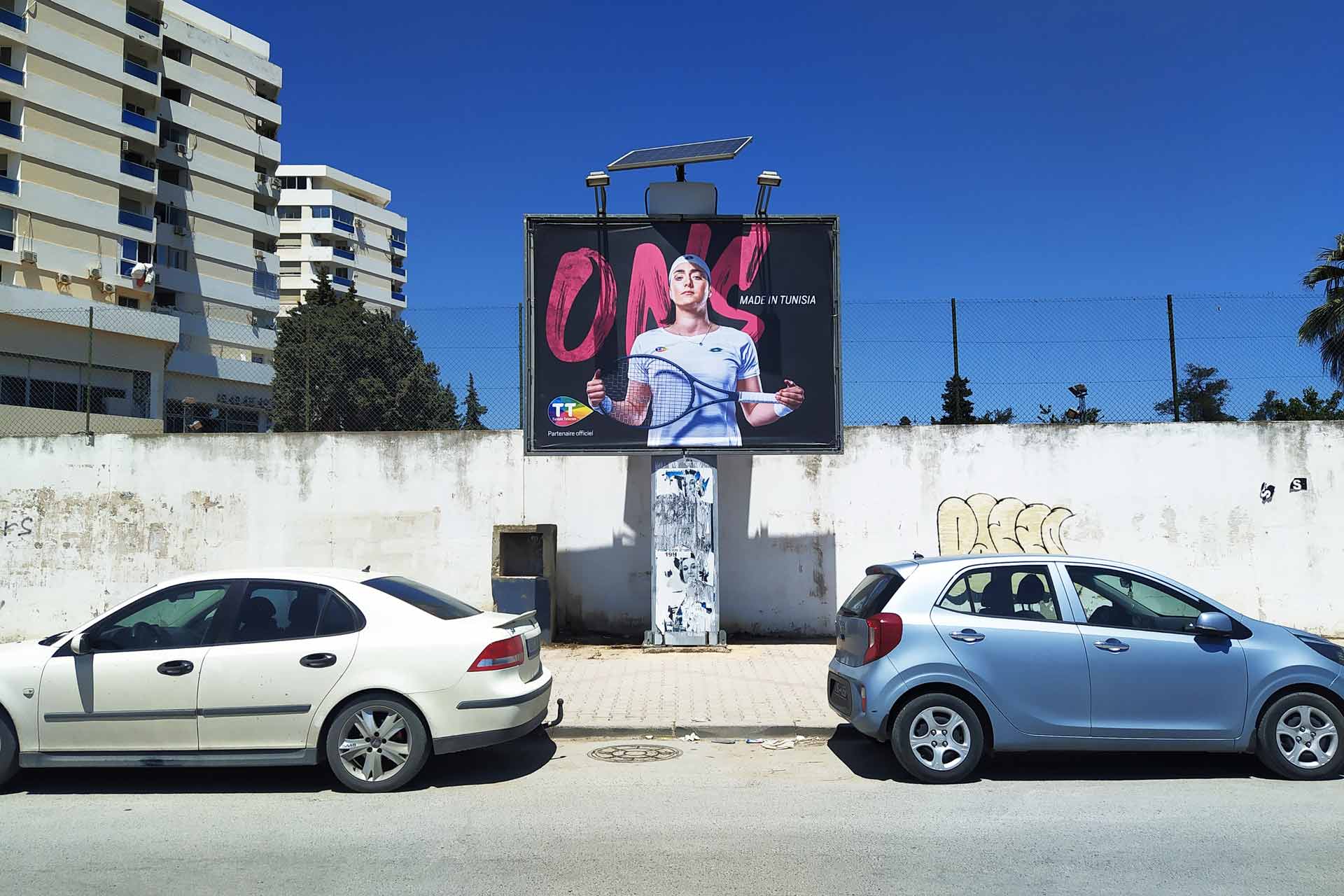 The advertising campaign of Tunisie Telecom, one of Ons Jabeur's sponsors.
A growing sport 
Ons Jabeur wants to utilise her success to develop the democratisation of sport, and tennis in Tunisia in particular. For Salma Mouelhi, the president of the Tunisian Tennis Federation, there is no doubt about it. "There have been many benefits in terms of the development of tennis, the number of registered members and the number of players", she said. She also points out that in two years, the country has doubled its number of registered members, going from 10,000 to 20,000, or even 30,000 according to some other sources. For the first time in the history of the country, an international women's WTA 250 tournament will be organised, and will take place in October 2022 in Monastir.
Her childhood club in Hammam-Sousse, which has grown exponentially, is a good example of this trend. It now has several courts and 700 members. "The clubs have been packed with young people in recent years and it's definitely thanks to Ons' success! Now, all the families believe that it is possible, so they bring their children", Nabil says enthusiastically.
According to her coach, Ons Jabeur is a pioneer of tennis in Tunisia . "We don't have a tradition of tennis", Nabil Mlika says. "We don't have a leader whose path we can follow. So she tried the paths she found. Sometimes they were right, sometimes not."
Ons Jabeur takes her status as a role model to heart. "She has always said that she is a '100% product of Tunisia'. She strongly believes that she needs to inspire the youth, and not only in sports", her father explains. Nabil Mlika observes this on a daily basis during his tennis lessons. He often uses Ons as an example "to persuade [his] players of the usefulness of a move or a tactic", he says with a big smile. When she is in Tunisia, Ons Jabeur makes a point of visiting her childhood club, which renamed its favourite court after her . "It's a source of pride to have had the chance to experience these moments with her", her former coach recalls with tears in his eyes.
"I really want to be a source of great motivation for Tunisians and the Arab world, especially young girls. When I go through difficult moments on the court, I regularly think about this issue, it gives me an indescribable strength", says Ons Jabeur.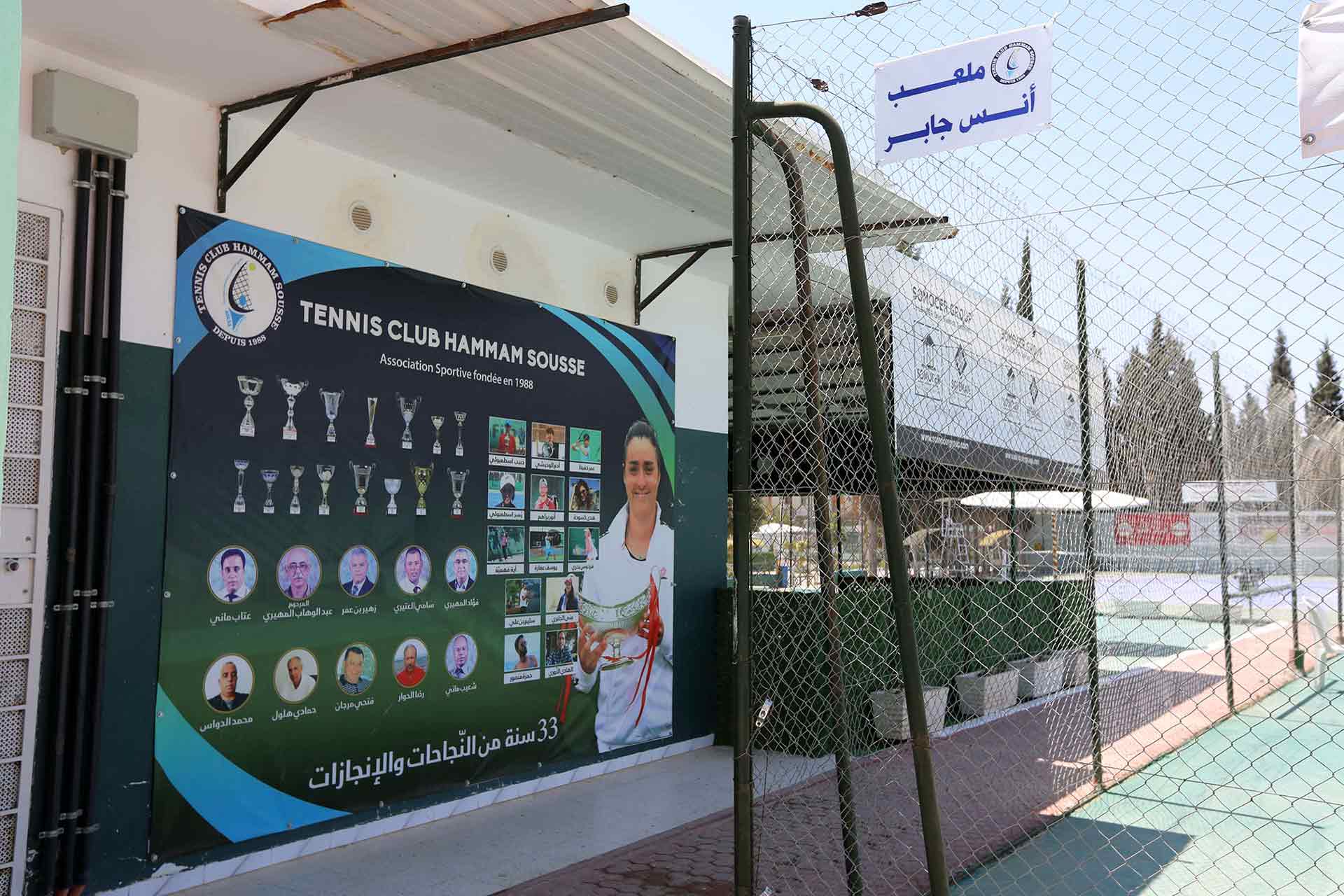 The "Ons Jabeur " court at the Hammam-Sousse tennis club.
At a national level, Salma Mouelhi, president of the Tennis Federation, wants to take things even further and make tennis the second most practised sport after football. To achieve this, an international tennis centre will be created in the next few years, according to the officials. This project is intended to meet the needs of a "somewhat deficient" infrastructure, as the president of the Federation admits. According to her, it is therefore "now or never". "I hope that the institutions will be able to seize this wonderful opportunity for Tunisian sport by speeding up the construction of infrastructures, and thus allowing the greatest number of people to have access to performances", Ons confirmed.   
In a more general sense, the Ministry of Youth and Sports aims to set up projects to promote access to both amateur and elite sports. Six new sport focused high schools are thus planned in different parts of the country.  
However, when interviewed by inkyfada, the Ministry of Sports considers the democratisation of tennis to have its limits. In Tunisia, as elsewhere, "tennis and golf are considered to be sports for the bourgeoisie", says Mohamed Ali, from the Directorate of Elite Sports. Especially since "in governmental budgetary matters, given the country's financial situation, we discuss everything but sport", admits Nizar Sfaxi, head of the elite sports department. 
A flag bearer
"She is the minister of happiness", her father says with a smile. She "represents Tunisia all over the world, she exports Tunisian success", explains Ridha. "She has international fans, all over the world, even in China!", Samira exclaims.
During her tournaments, Ons often proclaims her love for her country, promoting Tunisia all over the world. "What she does for Tunisia, the Ministry of Tourism doesn't do", Mohamed Ali from the Ministry of Sports admits. Salma Mouelhi describes Ons as an "ambassador" who "conveys a very nice image of our country, which we have needed in the past few years".
In July 2021, while the country was going through a serious health crisis, Ons Jabeur announced that she was selling the tennis racket with which she had reached the quarter-finals of the Wimbledon tournament. "I can't stand by and watch my country go through difficult situations. This money will be used to buy necessary medicines and medical equipment", she said on Instagram. By selling this racket and then another one shortly after, Ons managed to raise 75,000 dinars.
According to her family, this attachment to her home country is also constantly reflected in her professional choices. When she was a teenager, Ons Jabeur received an offer to train in Australia: a budget, a coach etc., but she refused. "My mother[land] is Tunisia, I can't change that", says Ridha.
Ons Jabeur then surrounded herself with a predominantly Tunisian crew, and still trains in Tunisia. This is very rare at the highest level, according to the president of the Tunisian Tennis Federation: "If you compare with other African players, they are not based in their own countries".
After several experiences abroad, Ons Jabeur decided to return to Tunisia. She explains this choice by missing her country: "I had to return to my roots to optimise my progression", but also because of the training techniques.
"I was also able to realise that abroad, several coaches tried to standardise my game a little, [...] In Tunisia, my coaches have always been able to adapt their instructions to my personality which is reflected in my game", says the player.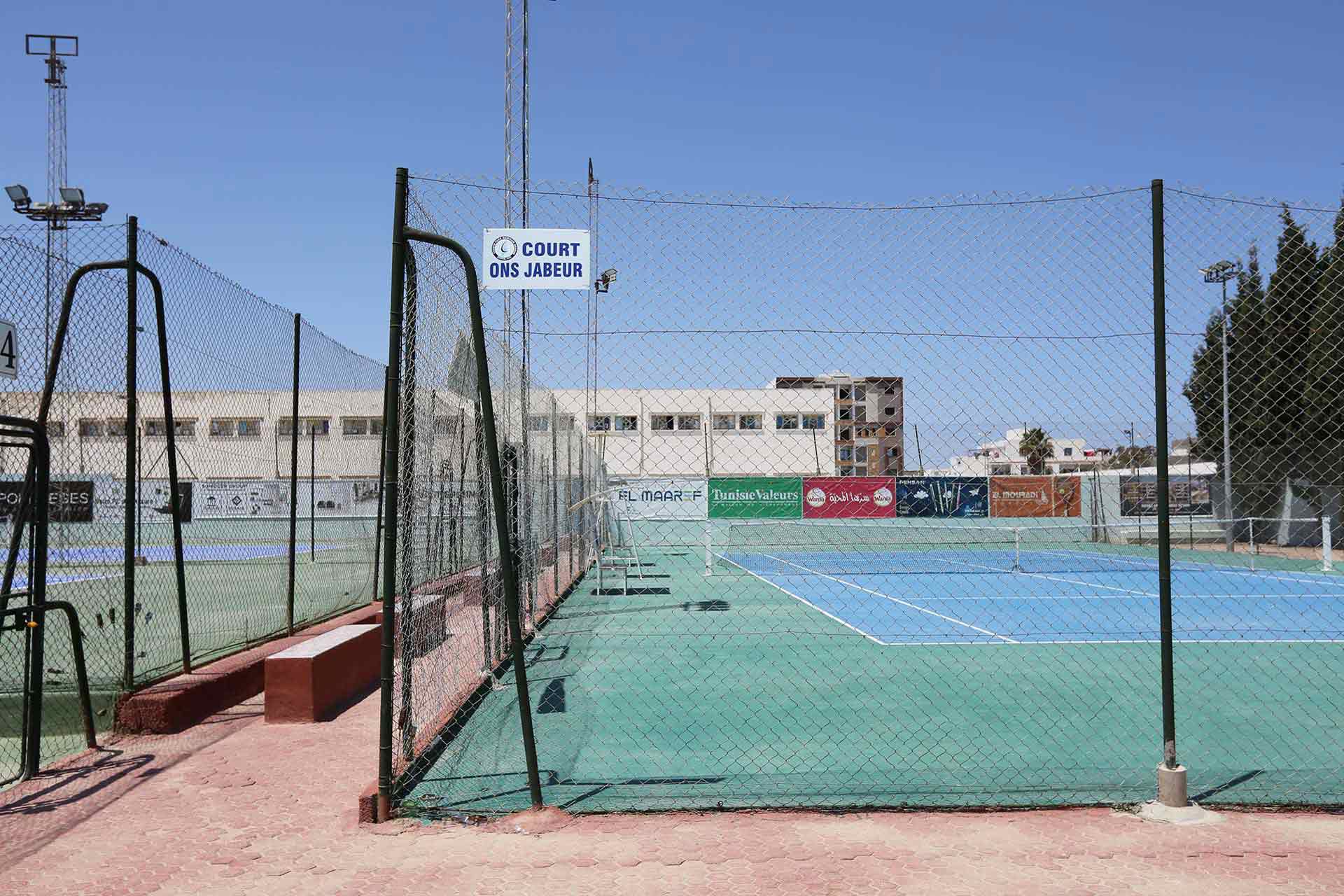 The "Ons Jabeur " court at the Hammam-Sousse tennis club.
 However, these are the same coaches who "brought her to this level", he points out. According to her father, the criticism came from people who "didn't believe in the abilities of Tunisians", so Ons Jabeur "wanted to change this mentality".
While Ons Jabeur seems to take her role as flag bearer to heart, it also carries a certain pressure. "It is very difficult and always stressful, but she is determined", says Ridha. She has learned to manage this stress better thanks to her mental coach, psychologist Mélanie Maillard, who has been following her from a distance or at tournaments since she was 16 years old.  
Sports and politics 
Her success also brought its share of negative aspects. Ons Jabeur is regularly subjected to sexist comments. Ever since her victory at Roland-Garros in 2011, her outfits have been scrutinised as being too short or too tight. "As a top sportswoman, I know that this comes with the job, so I prefer to ignore them", she says.
She is also the subject of political criticism. In February 2020, Ons Jabeur faced off on court against Israeli player Katic Vlada at the Fed Cup in Helsinki. This match, which Ons Jabeur won, did not fail to cause controversy. On the same day, a second match pitted another Tunisian player, Chiraz Bechri, against an Israeli player, Lina Glushko. The day after the match, the Ministry of Foreign Affairs published a post on social networks condemning these matches. "Any form of relationship with the Zionist entity, even if it is a sporting event, is rejected", the post said, calling the match "a violation of Tunisia's historical commitments and obligations to the Palestinian cause".
However, according to Ons Jabeur's parents and the Tennis Federation, the Ministry knew that the match could take place.
"This is cowardice. The mission order was signed by the Ministry, and they knew that Israel was in the pool", says Ons' father. This position is also defended by the Tunisian Tennis Federation. "We didn't get an answer, so of course we played". 
"A sportswoman should defend the flag of her country and not withdraw", says Ridha. "I encouraged her, I told her: you play and you beat her. Let's beat Israel, at least in sport." Once again, the Federation supports the same approach. "Sport is apolitical for me. You can't mix these things up. It has been criticised by people who don't know tennis", Salma Mouelhi says. 
Ons Jabeur also defends an apolitical vision of sport: "I prefer not to get involved in political issues. I remain a professional tennis player, I am not able to take a position on this subject. Making Tunisia win and shine is what matters to me". 
Within the elite sports directorate at the Ministry of Youth and Sports, the question is a source of discomfort. "There is no clear policy, it's a bit vague", admits Mohamed Ali. This kind of decision is handled on a case-by-case basis. In the past, this decision depended on the outcome. "There was a director general of sports who said that 'if you are against an Israeli athlete and you are sure you can beat him, go ahead, otherwise we withdraw'", Nizar Sfaxi explains 
Indeed, this is not the first time the tennis world has faced this issue. In 2013, Tunisia was banned from the Davis Cup for a year by the International Tennis Federation because it had asked the tennis player Malek Jaziri not to play against an Israeli athlete. 
Laying foundational bricks 
To continue to inspire future generations, Ons Jabeur is considering establishing a tennis academy, similar to Justine Henin's academy in Belgium. "I am convinced that this academy would give young Tunisians additional chances to reach more ambitious goals", she explains.
In order to do this, she has applied to the state for a plot of land. "The government has to help her, because an academy costs a lot of money", says the president of the tennis federation.
She has applied to the state for a piece of land. In order to do this, she has applied to the state for a plot of land. " The government must help her, because an academy costs a lot of money," says the president of the tennis federation. Ons thereby opens up a whole world of possibilities for the next generation of tennis players, and she does not intend to stop there . "I don't have a specific timeframe, but this idea is one of my priorities for when my career is over."