The first thing Marlies does every morning is feed her dog and her five cats. She then also takes care of other stray dogs who live in front of her gate and in the lagoon closeby. Only after doing all that, she has breakfast herself and goes about her day in Djerba, where she lives in a small house. Originally from Stuttgart, in the south of Germany, Marlies is 73 years old today. Besides taking care of her animals, she has no other obligations.
However, her life hasn't always been this calm. "I started working when I was 15 years old, then I stopped working for seven or eight years when my daughter was born, and after that, I kept working", she tells inkyfada on the phone. 
Marlies was married for 36 years. During that time, she had a good life, she says. But once she and her ex-husband got divorced and she had to make her living all by herself, life became harder and the money became scarce. 
At 60 years old, Marlies then retired. The pension she received at that time amounted to 800 Euros (approximately 2.600 Dinars*) per month, which wasn't enough to afford a living in Germany. The monthly rent was already costing her 550 Euros (1.790 Dinars)  and after covering all other bills, Marlies was left with around 120 Euros (390 Dinars) for food and other necessities.   
Since 120 Euros were not enough to cover all that, Marlies kept working for some hours each week even after she had retired. "I earned an additional 450 Euros each month, and with that, I managed to afford a living without having to worry too much about the money", she says, "but at some point, one also would like to stop working, right?."  
In order to fulfill her wish, Marlies decided to leave Germany and move to Djerba, Tunisia, in 2017. She has been to the island before and had a friend there who rents out small houses. "She told me come here, I have some houses, you can rent one and have a good life here", Marlies says, "and that's how I did it". She packed up her stuff, shipped her furniture to Djerba and left Germany together with her cat.  
According to Marlies, leaving Germany was the only possibility to retire without having to keep working. She's all by herself and simply cannot afford living in Germany with the pension she receives - despite the fact that she has paid into the pension insurance during all those years she worked in Germany.  
"In my opinion, every pensioner should receive enough money to make ends meet, to simply live", she says, "every pensioner should get a couple of hundreds Euros more so they can afford a living in Germany. Otherwise more and more people will leave".  
In Tunisia, she has everything she needs, Marlies says. She has her house that she rents, her big garden, her pets and her girlfriends who are all from Germany too. She now receives a pension of 907 Euros per month which currently equals to around 2950 Dinars. With that, she can afford a good living and also save around 1000 Dinar each month.
An overview of her monthly income and expenses :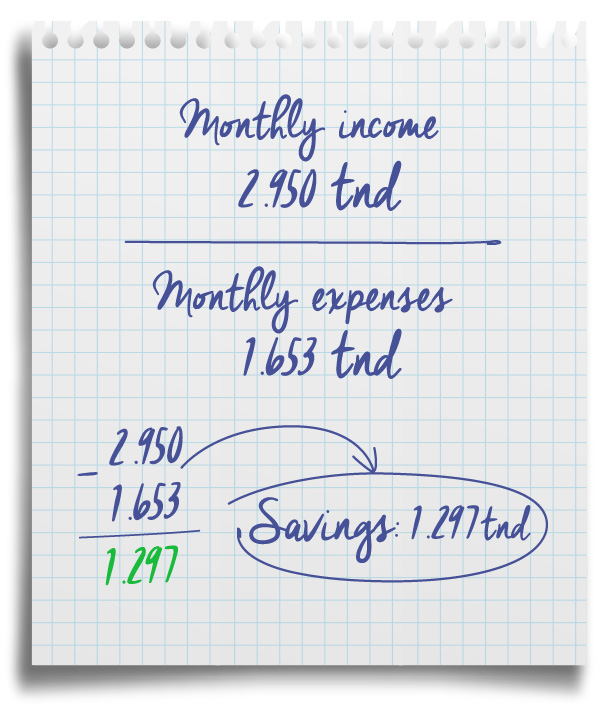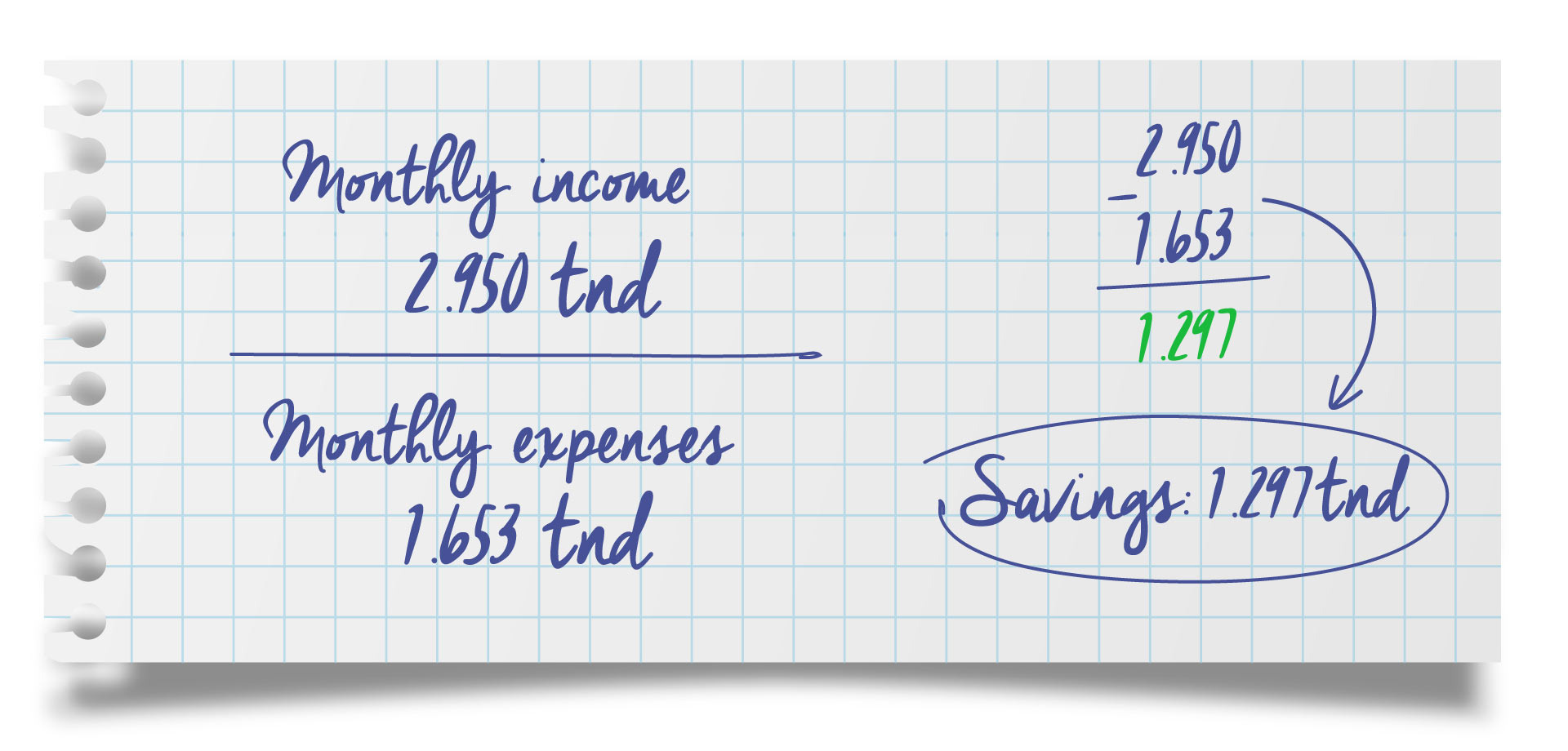 For the rent of her small house, Marlies pays 500 Dinars per month to her friend. Every two months she has to pay her electricity bill which amounts to roughly 130 Dinars during the months where she uses the air conditioner a lot, and roughly 45 Dinars in months where she doesn't. Her water bill is due every three months and usually amounts to 30 Dinar. For her mobile data and wifi, Marlies pays 25 Dinars monthly. If she was living in a 60 square meter flat in her hometown Stuttgart, Marlies would pay at least 1.100 Euros (3575 Dinars) for rent, electricity, gas, internet and her phone contract, which represents roughly an increase of 3000 dinars to the budget she's allocating to that in Tunisia.  
Marlies gets around the island by car. For her car, she has to pay 600 Dinars for the insurance in addition to 60 Dinars for the road tax each year. Around once every three months she also has to bring her car to the auto repair shop for small reparations. This usually costs her 80 Dinar. Marlies doesn't really know how much she pays for fuel each month, because the fuel gauge in her car is broken, meaning she never knows how full - or empty - her car tank is. Because of that, she just goes to the gas station around twice a month and asks them to fill it up. If her car tank is empty, she pays around 75 Dinar, if not, she pays less.  
Marlies' days start with feeding her pets and driving down to the lagoon where she also feeds the dogs living there. The cats get fed cat food and the dogs receive dry food mixed with pasta and meat which the local butcher gives to her because he cannot sell it anymore. For animal food, Marlies pays around 300 Dinars a month. 
After feeding the animals, Marlies goes home to have breakfast. She then usually goes to the supermarket. Each week, she spends around 100 Dinars on groceries and everything else she might need from the supermarket, like cleaning products. Marlies estimates that she only spends around five Dinars per month on cosmetic products, because she only needs her lipstick and her face cream.
When she gets home after doing the groceries, Marlies likes to crochet, do crossword puzzles, read a book, do some gardening or take her dog out for a walk. She then sometimes meets up with her friends in a Café or at home. Four or five times a month, Marlies eats out in a restaurant where she usually pays around 15 to 20 Dinars. Around once a week, she goes to the beach where she has to pay five Dinars to use the sun bed. From time to time, she also goes on day-trips to the Tunisian mainland with her car, from which she always returns in the evening, because she has to take care of her animals the next day.
Nearly every Friday morning, Marlies goes to the local second hand market, where she likes to dig through the mountains of clothes, usually spending 10 to 20 Dinars each time. "There I always find the greatest clothes or shoes", she says laughingly. Around one or two times a year, she also treats herself to some new decorations for her house like a new carpet, a small column or some new plants, usually spending around 85 Dinars.
Every month, Marlies saves around 1000 Dinars for unplanned expenditures like having to go to the doctor or hospital or having to pay for car repairs. She has a health insurance in Germany which is directly deducted from her pension. Marlies does not know how much she pays for that insurance but she can get a reimbursement of up to 200 Dinars a year for medical costs in Tunisia. Her medical costs vary depending on whether she gets sick or needs special medical treatment. Last year, Marlies spent around 260 Dinars on medical treatments, of which she got 130 Dinars back from her health insurance. 
A detailed overview of her monthly income and expenses :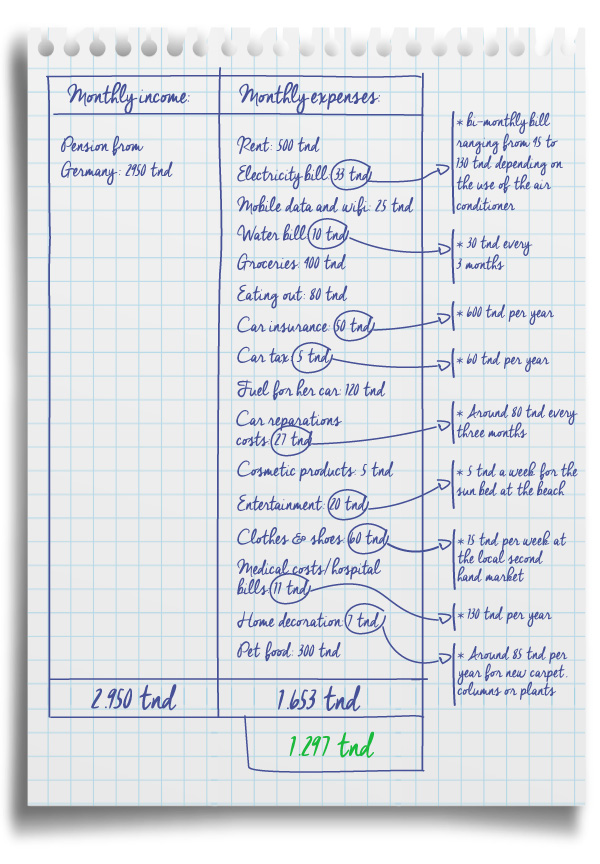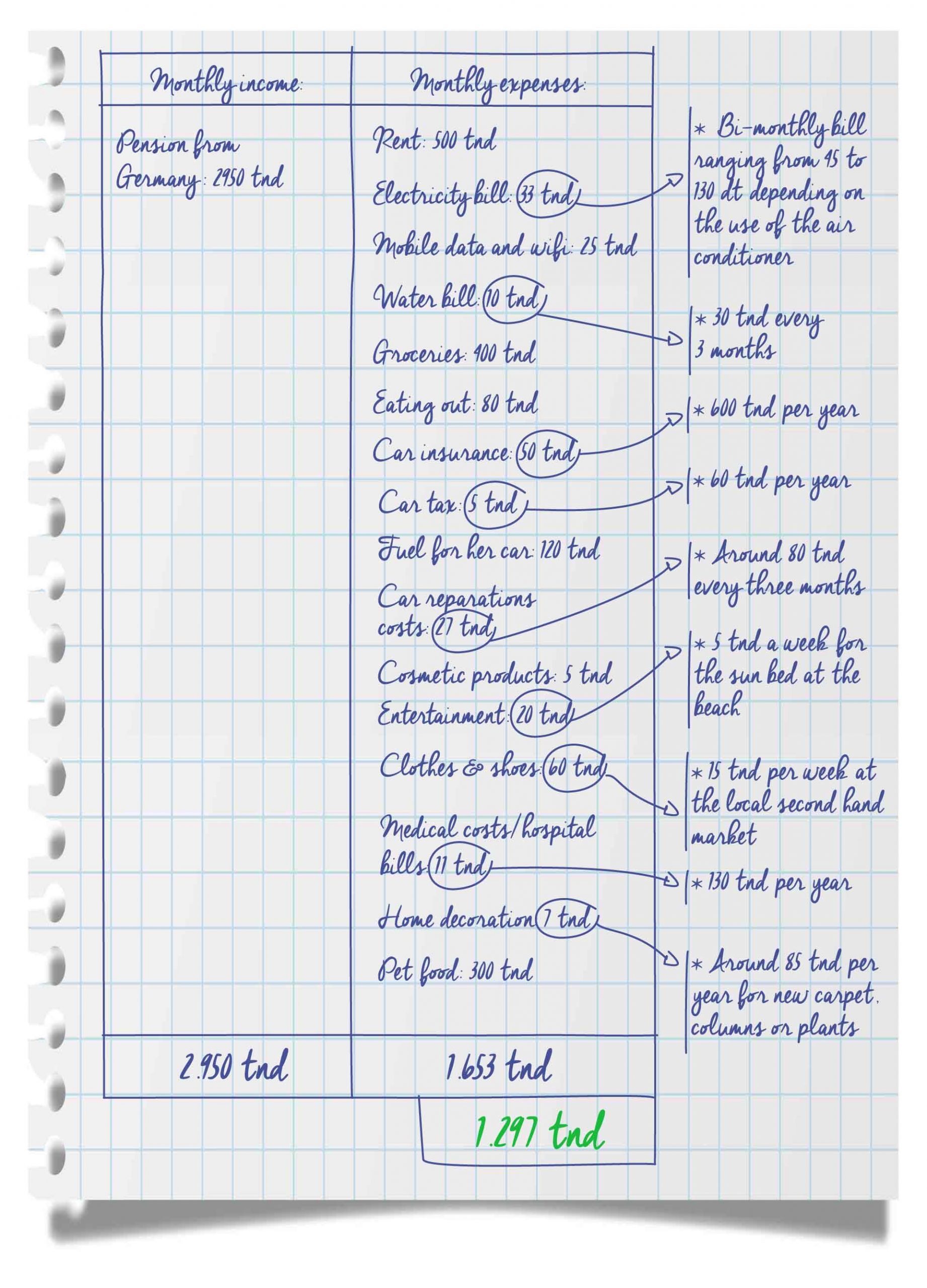 Grey zone
Even though when talking about her week Marlies sounds very busy, she still sometimes feels sad that there are not that many leisure activities on the island. "There is no cinema, no culture, there is nothing here on the island", she says.   
In the five years she has lived in Tunisia, she did not travel back to Germany yet and because of the pandemic she also could not receive any visitors from Germany in the past two and a half years. However, maybe her daughter together with her girlfriend and Marlies' grandchild will visit her soon.
Marlies says that she does not have any financial worries in Tunisia and that she is content here. "Only when I have to bring my car to the repair shop, I have financial worries!", she says laughingly, "but it's all fine".  
Future
Marlies doesn't think that she will ever live in Germany again. "With the money I have, I could never live in Germany", she says.   
"In my mind, I have totally ticked that off and I also have to say that nothing draws me to Germany anymore".   
If she suddenly received three or four times the amount of money she has now, she thinks that she would probably move to another country, like Italy or maybe Turkey.  
"My only wish is that I stay healthy for many more years so that I outlive my animals", says Marlies about her future.