After the Swiss Leaks revealed that Belhassen Trabelsi's account at HSBC Geneva was credited with more than twenty million dollars, he resurfaces once more in the Pandora Papers, revealring that him as the sole shareholder of three companies established in Panama in 2016. Already in 2012, the Paradise Papers revealed that a Swiss firm had tried to recover two companies set up in the British Virgin Islands, one of which also had an account at HSBC credited with more than 2 million dollars.  
The brother of Leila Trabelsi (the former dictator's widow) was a proactive member of the Ben Ali-Trabelsi clan, which monopolised much of the Tunisian economy before the revolution*. Since 2011, he has been living in exile, thus escaping the Tunisian justice system. Despite having already been convicted on several occasions in Tunisia, Belhassen Trabelsi seemingly continues to accumulate financial crimes, with his name reappearing in the Pandora Papers.
Belhassen Trabelsi In Panama 
Belhassen Trabelsi's name is mentioned in six out of the millions of documents contained in the Pandora Papers. Three are shareholding certificates attesting that Belhassen Trabelsi is the owner of three different companies, Chinook Portfolio Inc, Grinding International S.A., and Keview Holding Corporation. The others are minutes of the board meetings of these companies, during which the certificates were issued.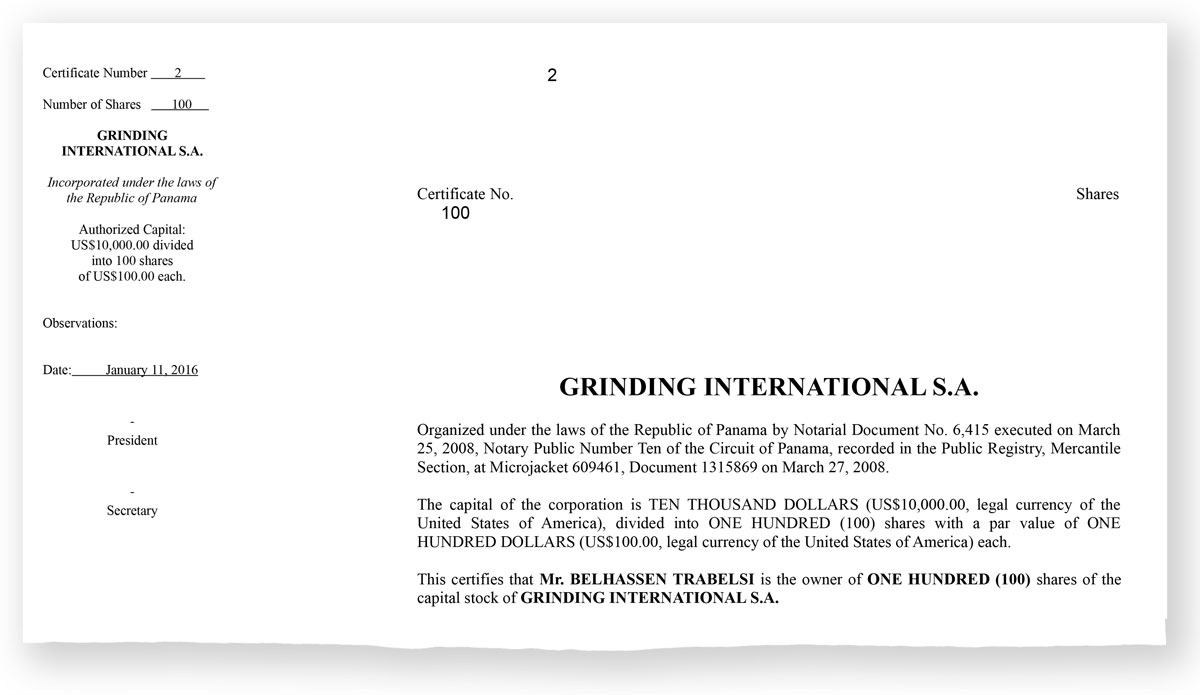 These meetings took place successively on the same day, on the morning of January 11, 2016, in Panama City. Indeed, the boards of directors of these companies are composed of the same individuals, three of which are Panamanian nationals who are directors or secretaries of several other companies, as well as several figureheads. These are real people, hired to sign on behalf of offshore companies, and are appointed directors or shareholders - sometimes both. Paid to present themselves as owners or managers of a company, these people have few real responsibilities and usually no connection to the real beneficiaries.
A Swiss intermediary turning a blind eye to suspicious clients
The documents reveal that these companies are linked to Fidinam, a Swiss financial private consulting firm founded in Lugano in 1960, which offers "tax, business, real estate and digital consulting to companies, entrepreneurs and individuals". Identified through an ICIJ investigation, the firm has been accused of acting as an intermediary and facilitator for more or less reputable clients. 
Swiss law imposes obligations on banks to check their clients' identities or whether they are politically exposed in order to detect the risk of money laundering or suspicious activities. Consulting firms, on the other hand, are not subject to this requirement, as long as they are not managing their clients' assets.
With having his assets frozen abroad, numerous convictions in Tunisia, and being the subject of an extradition request, Belhassen Trabelsi is considered a "politically exposed person" (PEP), according to industry jargon. He was a person considered "at risk", according to the regulations in force in many countries, and even for several offshore services firms. Theoretically, accepting to manage the affairs of such an exposed personality under international sanctions could lead to sanctions against the institutions of which he is a client. 
But this does not include the fiduciary giant Fidinam, which took advantage of favourable legislation in Switzerland to turn a blind eye to the activities of its clients, as has been revealed through leaked documents and the ICIJ investigation. For example, they continued to do business with individuals who had been reported by other financial institutions, or who were under criminal investigation. 
In addition to Belhassen Trabelsi, Fidinam also allowed his former associate Lazhar Sta to recover an account via an offshore company in 2018. The Tunisian businessman was then being prosecuted, before being imprisoned in 2019. 
When contacted by the ICIJ, Fidinam refrained from commenting on its clients, citing "the obligation to respect privacy, confidentiality and business secrecy".
The documents consulted by inkyfada do not reveal whether the three Panamanian companies were already owned by Belhassen Trabelsi before 2016. Did he plan to use them as front companies to hold other companies or bank accounts? Moreover, there is no mention at all of their purpose. However, the documents from the Paradise Papers do reveal that Belhassen Trabelsi already owned at least two companies in the British Virgin Islands that he was unable to recover, and that one of these held a bank account at HSBC. 
How the firm at the very heart of the Paradise Papers declined to help Belhassen Trabelsi
After the fall of the Ben Ali regime, Belhassen Trabelsi's funds were frozen in many jurisdictions, including Switzerland and the European Union. However, Ben Ali's brother-in-law had already made efforts to recover some of his assets, in a roundabout way. He sought to recover a company created in the British Virgin Islands, Zenade Resources Limited, which had a bank account with HSBC. 
In 2012, his lawyers at the Swiss firm BCCC (now BianchiSchwald) contacted Appleby*, a British firm based in Bermuda that specialises in financial arrangements and tax optimisation. 
The aim of the Swiss firm was to recover two companies of which Belhassen Trabelsi was the final beneficiary, which is revealed in several email exchanges between the two law firms.
In her first email, Marion H., one of Belhassen Trabelsi's lawyers, stated: "We are looking for a colleague in the BVI [British Virgin Islands] to assist one of our clients with his companies". "Our client, the final beneficiary of the two companies, is Mr Belhassen Trabelsi. He is the brother-in-law of former Tunisian President Ben Ali, hence his PEP status. However, he is a businessman who has never worked with the Tunisian government", she further explained. 
In the email, she also detailed the situation: her client was the final beneficiary of two companies, and the former agent 'TMF' was said to have declined because her client was a politically exposed person (PEP). Both companies had the same director in Geneva, who passed away the year before the emails, and are now considered "frozen". "The client needs the companies to be 'reactivated' as soon as possible. The case is unfortunately urgent", the lawyer added.
Both Zenade Resources Limited and Zenade Finance Limited are registered in a PO Box in Road Town, the capital of the British Virgin Islands. These companies were established at least as early as 2006, as indicated in the HSBC bank documents that gave rise to the SwissLeaks. According to the same document, a bank account linked to Zenade Resources Ltd recorded a maximum of 2,837,034 dollars over the period of 2006/2007.
On the run since January 2011, Belhassen Trabelsi can no longer access his assets, which have been frozen in numerous jurisdictions. However, there is no indication that the Zenade Resources Ltd account is affected by these sanctions, as the system of appointing directors allows the identity of the real beneficiary to be concealed. 
In the end, Appleby did not take on the task of assisting Belhassen Trabelsi's lawyers. After conducting "conflict checks" to see if the firm could deal with this client, the final answer was no. "Marion, I am afraid that the conflicts are not clear and we cannot proceed", Appleby employee Sarah M. replied, adding that she could recommend another firm that "might not have to decline".
Inkyfada was not able to find out whether Belhassen Trabelsi eventually recovered his companies via the information in these documents. Having flown under the radar since fleeing Tunisia in 2011, he first resided in Canada for several years before disappearing after his asylum application was declined in 2016. He later resurfaced in Marseille, where he was arrested in 2019. After being briefly incarcerated in France, he was released under judicial supervision. Tunisia has since demanded his extradition.