Agadez, north of Niger. Abdoulaye orders an omelette and turns towards the street facing the restaurant. He observes the motorcycle-taxis and street vendors crossing the dirt road. The first time that he came here was in order to cross the desert to reach Europe. However, after being stopped by the Libyan coastguard in the Mediterranean sea, he was forced to turn back.
Today, he is a smuggler. He welcomes the migrants when they arrive in Agadez, finds them accommodation, and delivers them to the drivers who will in turn transport them to Gatrone, Sebha or Tripoli.
Thousands of kilometres away, in Medenine, south of Tunisia, Ahmed* is playing Ludo in an apartment that is rented to him by the UNHCR [United Nations High Commissioner for Refugees]. In the room there is nothing but a mattress, a multi plug socket, a blanket, and a large rug in the same shade of blue as the UN's logo. Ahmed puts down his phone, lights a cigarette, and signals that he is ready to start talking. He left Somalia to escape the armed group Al-Shabaab. " I lost three years of my life in Libya; how much money could I have made during all of that time? How many children could I have had?", he wonders.
As for Fatimah*, she spent two years in Libya. It was the totalitarian regime and indefinite national service that drove her to leave Eritrea. " We're scared and completely traumatised", she expresses. Much like Ahmed, she fled Libya across the border in an attempt to seek refuge in Tunisia. The young woman places her elbow on the table, resting her face on her clenched fist, her big black eyes filled with rage and despair.
Like Abdoulaye, both Ahmed and Fatimah tell their stories of human trafficking in Libya. They share the same version as 50 other victims who agreed to testify. They're told to call their families and ask them to pay for their freedom, and are tied up, beaten, and raped. The ransom fees continue to increase while torture techniques escalate. " In Libya, there is no refusal. If you refuse, you die", Abdoulaye confirms.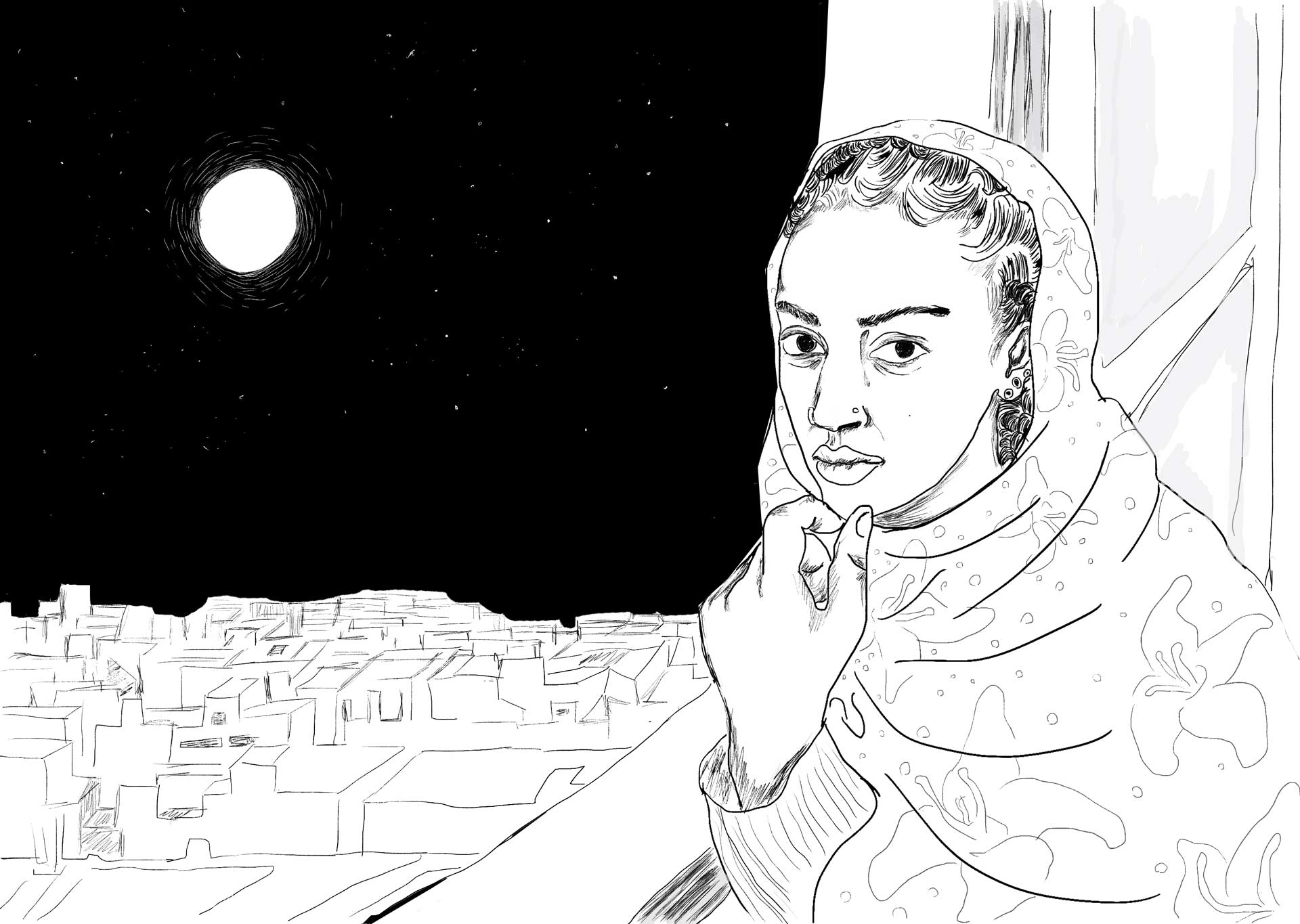 the Macabre desert
The horrors often start in the Sahara. The journey from Agadez in Niger to the south of Libya takes five days. From Khartoum, Sudan, the trip can take up to several weeks. This was the route Ahmed and Fatimah took. " Each time we arrived in a new city, we would change vehicles. And we only travelled at night", Ahmed explains.
Smugglers like Abdoulaye are organised through networks. From the countries of origin to their final destinations, they are tasked with rounding up migrants in each stopover town and arranging their transfer to the next one. " For example, I charge 1000 Libyan dinars [2000 Tunisian Dinars] to a migrant going to Tripoli, then I hand him/her over to a driver. I keep 250 dinars [500 Tunisian Dinars] for myself, the rest is for the driver", Abdoulaye explains.
Since he himself has suffered in Libya as a migrant, he swears that he works with trusted drivers who safely bring his migrants to their destinations. However, he admits that he does not always know what happens to his clients after leaving Agadez. " I once handed over my migrants to a Guinean driver. He took all of my people and sold them [in Libya]", he says in a detached tone of voice.
To cross the desert, around 25 to 30 people are put on the back of a pick-up truck. Piled on top of each other, their main concern is to survive the journey. Between thirst, hazardous roads, the drivers' fear of being stopped by authorities, and the cruelty they can sometimes display, the dangers are numerous.
Fatimah finds it very difficult to talk about this period, and tries to avoid the topic multiple times before agreeing to open up.
"Between certain cities, the car goes very fast. If someone falls, they don't stop to pick them back up. The driver and his assistant rape [female] passengers. The men who were with us could do nothing. They were beaten up and some of them were raped too. If they tried anything, they would get shot."
For Abdoulaye, there is no doubt about this. " Inevitably raping occurs in the Sahara. Because you cannot refuse, all the drivers are armed. You don't see this in Agadez. They keep the weapons on the road and as of a mere few kilometres from here, all of them are suddenly armed", he says.
Once reaching the destination, the driver drops his passengers off in a house or a shed and asks to be paid. " If after three days the driver does not have his money, he takes the migrants to a 'credit house'. The bosses of the credit house would give him his money, the rest is no longer his problem", Abdoulaye recalls.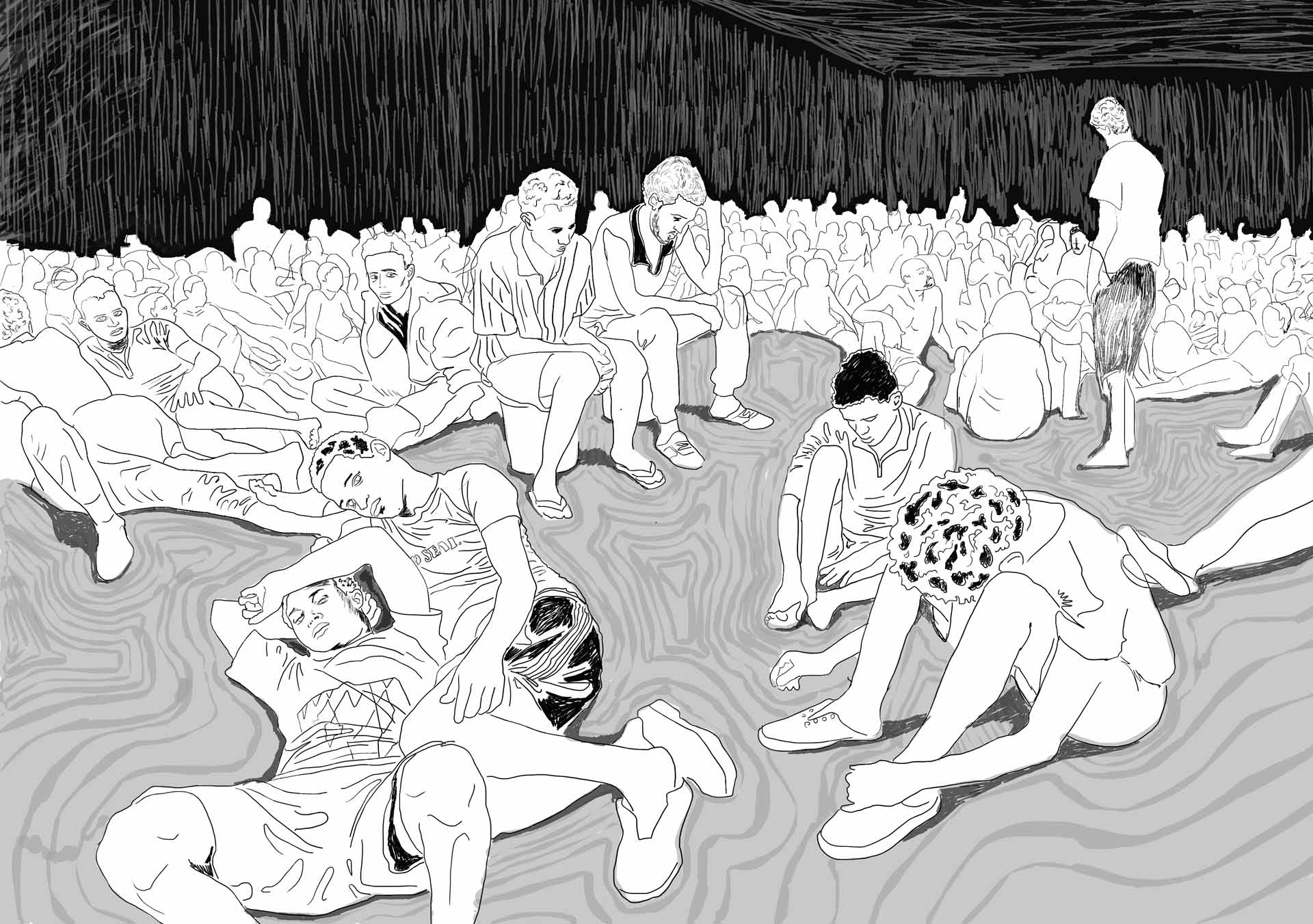 The warehouse
"Credit house", "ghetto", "campo", "warehouse", "prison", there is no shortage of nicknames for migrant torture facilities in Libya. These places are generally located in the outskirts of cities or hidden behind multiple walls. Some people end up there because they have a debt to pay. Others have been sold by kidnappers, smugglers, or drivers who conned them. Still, others are bought directly from detention centres where migrants are placed when they get stopped in the Mediterranean sea.
"

Since the Mediterranean Sea is closed and few migrants pass through Libya now, the smugglers are forced to sell us several times to earn as much as they did before 2015

", says another victim of human trafficking.
In 2015, following the Valletta conference, the European Union implemented a series of measures to combat irregular migration. For many migrants and smugglers, some of these measures have bolstered human trafficking.
As for Abdoulaye, the same thing happened at the border. In 2016, funded by the European Union, Niger began to crack down on all economic activities related to migration. In the past, smugglers used to transport migrants across the desert in convoys escorted by the army. According to Abdoulaye, the smugglers, now operating without scrutiny from law enforcement agencies, have developed torture facilities.
These facilities are used to torture migrants while the relatives of their victims are on the phone, listening to their cries of pain. This way, the heads of the credit houses reclaim their investments. " In these ghettos, if you are bought at 300,000 CFAF [1,475 Tunisian dinars], you will pay 800,000 CFAF [3940 Tunisian dinars] to get out. Not even 5 CFAF should be missing", Abdoulaye clarifies.   
Ransom fees vary according to how long the journey is, the smugglers involved, and the nationality of the migrants. " The Bengalis are the ones who pay the most, then it's us, the Somalis, and then the Eritreans. The West Africans have to pay less", Ahmed explains.
Fatimah was sold twice. She paid a total of $10,000 dollars [28,000 Tunisian dinars]. " We were about 500 people in a large hangar. There we were armed guards watching us. There were no mattresses, no blankets. You just sleep on the floor with the scorpions and snakes. When it was hot outside, we were too hot inside. When it was cold, we had nothing", she recalls.
" It's covered, you don't see any light. They say that down there, people don't wear clothes. They stay in their underwear because at any moment, they are taken outside and tortured in order to make their parents pay", Abdoulaye adds.
Ahmed puts out his cigarette.  " My brother and I paid a total of 63,000 dollars [173,000 Tunisian dinars] in ransom", he repeats in anger. " We don't have that kind of money!" His family had to sell the houses and farms they owned. " Others beg in order to pay, they ask relatives, neighbours…", he adds. Fundraising groups are also organised in churches and on social media.
In order to receive money and avoid being arrested, traffickers have set up extensive networks. It is possible to pay these ransoms to collectors based all over Africa, as well as Europe, North America, and the Persian Gulf. " The head of my credit house was in Uganda. He was not there with us. However, my family paid my ransom in Dubai. They couldn't send it directly to the boss", Ahmed explains. " They're cunning! If you for example are in the Ivory Coast, they will give you a number in Ghana. There, they have an agent who will collect the ransom. When you have transferred the money, he will call the credit house to say that you have paid and that they should release you. "
Payment is made via money transfer companies, by telephone, illicit transfer, or in person. " If  my brother was paying, we'd call him and set up a meeting in Eritrea so that he could deliver the money for my salvation. Cash. My family could not expose the collector abroad, because if they had, I would have been immediately killed in Libya. They had no choice", Fatimah explains.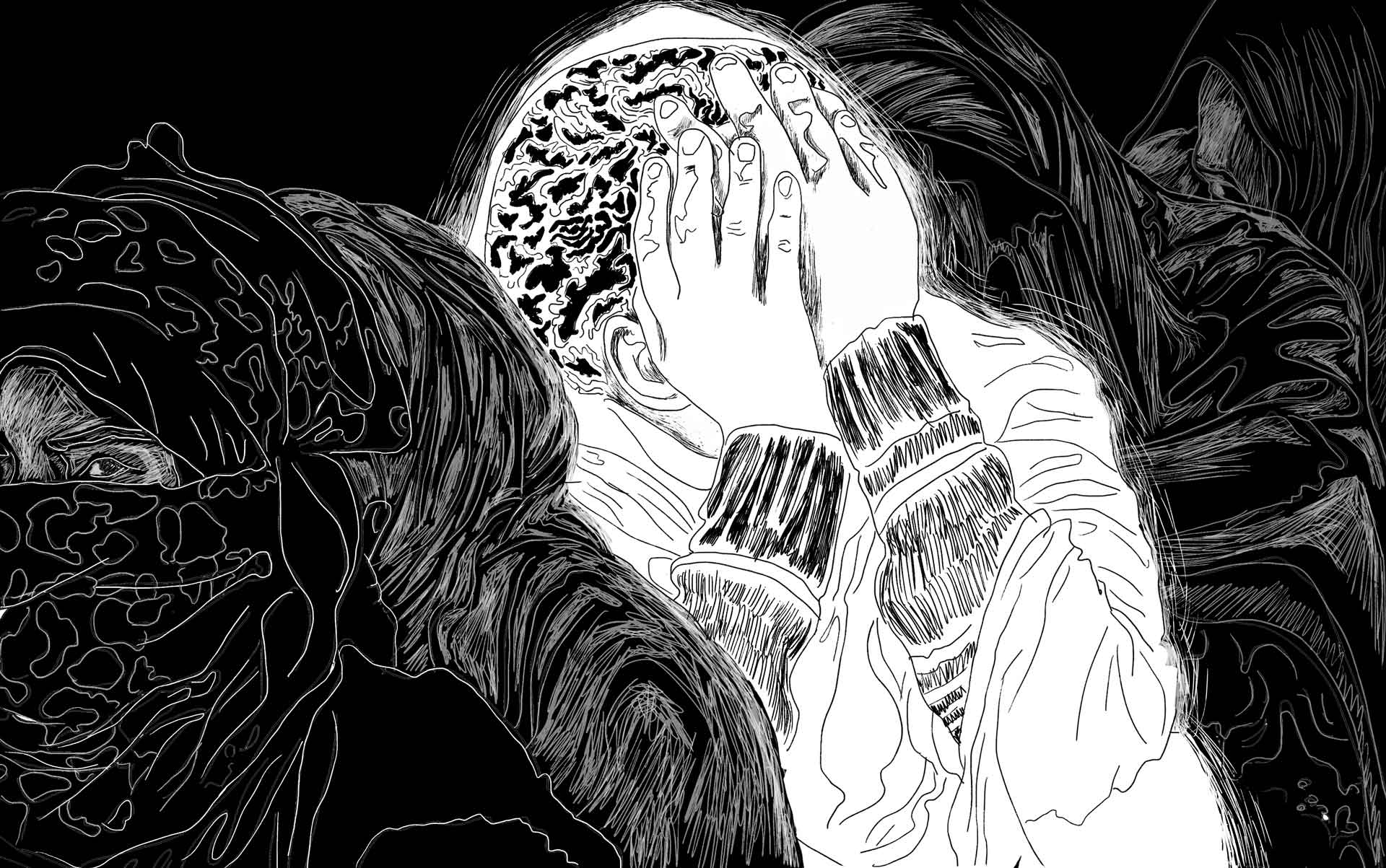 at the heart of horror
Ahmed remembers the first time he found himself in the hands of a trafficker in detail. " Before calling our parents, they warned us: 'You have to tell them to pay as soon as possible. If you don't pay within a week, all of you here will die.'" He swallows before continuing. " People were shouting: 'But we don't have that much money!' 9000 dollars! They were crying. So the head of the campo came in. He took two Somalis and said, 'Let this be an example to each one of you.' After beating them, he electrocuted them with a socket and a large cable that he hooked to their throats and feet. Then they beat all of us. They video called our parents via WhatsApp. They said, 'Can you see this gun?' and they would shoot over our heads or below our feet", recalls the young Somali.
" In regards to Libya, you can be sure that all the rumours are true'', Abdoulaye confirms. He was also a victim of migrant trafficking before he became a smuggler himself. He also hears the stories that are shared amongst the network members. " They'd torture people by tying their feet to the ceiling. Sometimes they take plastic bags, set them on fire and put them on people. They burn! They take knives, they cut you and they put salt [in the wound]. This happened to a friend of mine, he's gone completely insane now."
" They take the women outside to rape them. If they refuse, they slap them or beat them with batons", Fatimah attests. " I got pregnant. Nine months later, the baby was dead. I gave birth to a stillborn baby. There was an Eritrean man who knew a little about nursing. He was the one who helped me give birth. After giving birth, there wasn't even any water to drink. You can't clean yourself either. In situations like this, people die - and you, you just wait for your time to come. "
" If someone dies, it would take three of four days before they remove the body from the room. It would start smelling and changing in colour... We sleep here, and there's a dead body right there", Ahmed gestures with a grimace.
" There are mothers who are worried about their sons. But here we know for sure that he's not alive. However, no one would dare to tell the family: 'Your son is dead'. We just don't say it", admits Abdoulaye.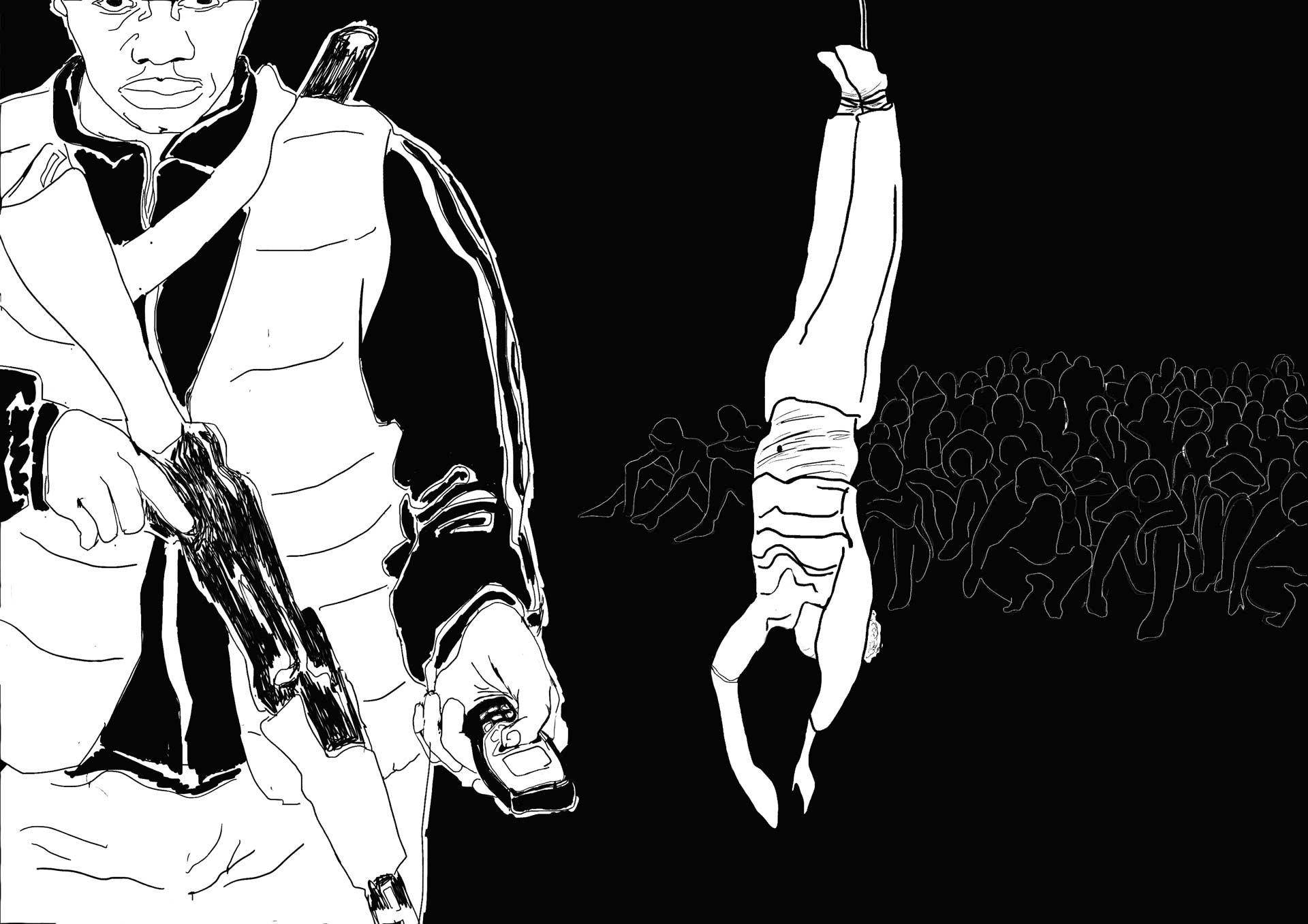 learning how to torture
Various causes explain how these credit houses came into existence in Libya. War, lack of security, easily accessible weapons, and the boom in the number of militias. all make for fertile ground for an increase in human trafficking. However, the method of demanding ransoms by phone already existed prior to this. From 2009 to 2013, this method increased in the Sinai Peninsula. According to Merson Estefanos, an Eritrean journalist and activist - 30,000 people have been kidnapped during this period, with their kidnappers amassing a total of 622 million dollars [1.7 billion Tunisian dinars]. Today, the method of torture phone calls is spreading particularly in Yemen, Sudan, and Libya.
In the credit houses, the members of these traffic networks are of different nationalities. " It's black people who started selling people around Sebha. Afterwards, the Arabs learned their ways. Ghanaians and Nigerians, they all started! But it's the Libyans who are the leaders ", Abdoulaye explains.
The heads of credit houses particularly partner up with people of the same nationality as their victims. " The house belongs to Arabs, but the managers are black, because Libyans don't understand the languages of migrants." Some are also used as guides who inform the Libyans about the financial situation of the migrants that they have either bought or could get a hold of.
Detainees may also be forced to serve their kidnappers. They are no longer asked to pay, instead, they make others pay. " There was a Sudanese man, an Ethiopian, and an Eritrean who would open the door for us. They had guns and they would use batons, metal batons. If you tried to run away, they would shoot at you and beat you up. We wondered how a refugee like us would beat us", Ahmed recalls. " One day, one of them was killed. He had no mother or father. He was a refugee just like us, but he didn't have enough money. He had been there for a long time. That's why he started working for them, earning nothing in return, for free."
an endless circle
Sometimes credit houses are attacked and migrants are taken as prisoners. Even those who had already paid are forced to call their families with the same request once more. It also happens that mass kidnappings are staged in order to force the victims to pay their ransom twice. " Even if you send them the money, they wouldn't take you to the Mediterranean sea. All of us had paid. We stayed for nine months in the first warehouse. Then we were sent to another trafficker, and this one asked for 2,000 dollars [5,490 Tunisian dinars]! ", Ahmed exclaims.
When the migrants are eventually placed in makeshift boats in an attempt to cross the Mediterranean sea, they are often arrested by the Libyan coastguards and thrown into official detention centers. " In the prison that I was sent to, some smugglers would come to buy people. If they're not good, they're sold to credit houses. If they're good, they take you to the sea, but you still have to pay in order to try to cross", Ahmed explains. Over time, the young man became jaded.
" Even the Europeans are working with the Libyans. They give money to the coastguards who then sell us to credit houses ", he underlines.
Ahmed and Fatimah both crossed the borders illegally to seek refuge in Tunisia. The young Eritrean woman found herself alone in the Medenine shelter with her gruesome memories, her debts to her family, and limited future prospects. " Sometimes I think to myself that I should go back to Libya, and sometimes I think that I should do something worse… commit suicide ", she confesses.
" After a while, your heart turns black. Hate consumes you. Now I have a lot of hate. I will kidnap them all. The white people too, I'm going to kidnap them. We suffer because of white people and we suffer because of our colour", Ahmed reiterates. He decided to return to Libya to once again try to reach Europe. He believes that Tunisia has nothing to offer him. The salaries would never allow him to pay back the debts that he owes to his family.
In June 2018, the UN Security Council imposed sanctions on six leaders of human trafficking networks in Libya. Four of them are Libyans, the other two are Eritreans. On October 14th, 2020, Abd Al-Rahman Milad, the captain of the Zawiya Coast Guard who was on the list, was arrested by the authorities in Tripoli. Accused of shooting migrants at sea and suspected responsibility for the drowning of dozens of people according to a UN report, Abd Al-Rahman Milad was still in a focus group discussing the control of migration flows in Italy, 2017. During this meeting, an agreement was reached that allowed the Libyan coastguard to intercept migrant boats at sea, and to redirect them to Libya, putting them at risk of once again finding themselves at the very heart of horror.