"T here's nothing as a safe place, but I'm trying my best to stay safe". 22-year-old journalist Plestia Alaqad has been reporting on the situation as best she can on social networks, while escaping Israel's bombing raids on the Gaza Strip. "I am barely able to do my job under these circumstances".
Journalists in the field are on the front lines, trying their best to cover the facts, often losing their lives in the process. 14 journalists have already been killed, while others are directly suffering the consequences of the attack: power cuts, water and food shortages and forced displacement. Meanwhile, false information has been flooding in through the media and online. In fact, several newspapers have been criticized for their biased coverage.
Issam, Mohammed, Hisham... 14 journalists killed in 11 days
[Update - November 21, 2023]: At least 45 journalists killed in over 40 days.
On October 11, men in the funeral procession held up a bullet-proof vest covered in blood. The word "Press" is clearly visible in letters that have turned red. Behind them, the bodies of the journalists were being carried in white shrouds. Blue helmets also reading "Press" were placed on the victims.
Saeed al Taweel (editor-in-chief of Al Khamsa News Agency), Mohammed Sobh (Khabar) and Hisham Alnawajha (Khabar) were killed the previous day by Israeli bombing which, as several sources suggest, specifically targeted the building where several journalists were based.
Saeed Al Taweel's last message was widely shared on social networks. "They have sent a warning notice to the Hiji building just now that it will be bombed. The area has been evacuated entirely," he said in a video. A journalist on the scene reported that the strike eventually hit another building, much closer to where the journalists were stationed. Their offices were three buildings away from the one that received the Israeli warning.
According to associations for the protection of journalists*,14 journalists have died in Gaza since the conflict started. Most of them were killed while covering the bombings. Others died as civilians, when shelling hit their homes.
Deliberate targeting of the press
An attack on the southern Lebanese border on October 13 claimed more lives. Issam Abdallah, videographer for Reuters, was struck by an Israeli rocket. At least six other people were injured.
"I'm still in hospital and my body is full of shrapnel marks and pain, but the most painful part is that I lost a dear colleague," says Carmeen Joukhadar , a reporter for Al Jazeera who was wounded in the attack that killed Issam Abdallah.
Several sources indicated that the group of journalists was clearly identifiable. One of the injured journalists, Christina Assi, posted an Instagram story in which the journalists can be seen wearing press vests and nowhere near any military infrastructure.
Please share this widely to preempt any false Israeli narrative. The video shows journalists and photographers in what is supposed to be a neutral and safe zone, in full view of Israeli surveillance cameras and drones. Most of those in the video were injured, and Issam Abdullah… pic.twitter.com/SgLFVpCWFR

— Ahmad M. Yassine | أحمد م. ياسين (@Lobnene_Blog) October 13, 2023
"We're constantly feeling the tension," Yasmine Asaad, a journalist for AsharqNews - Bloomberg, told inkyfada. "We try to go for semi-secure coverage areas to protect ourselves. We also cover from slightly more distant parts of the region, or from the southern and northern borders". But as evidenced by the death of Issam Abdallah, this is not always enough.
"As journalists on the ground, we are often intercepted by the Israeli security forces (police and army). We are also attacked by the settlers. Journalists are obviously being targeted and prevented from covering the facts. They also monitor what we say in our reports or live statements", she continued.
Aside from the risk of being hit by bombs, many reporters have testified to being harassed by the police, the army, or by Israeli settlers. A video from Alaraby TV shows one of their reporters being verbally abused in Hebrew and threatened live by an Israeli law enforcement officer. "You'd better be saying positive things, you got that?!" he shouts at Ahmed Darawsha as the latter replies that he's reporting on the actions of the Israeli army. "All those belonging to Hamas must be massacred, is that clear? If you don't tell the truth, you'll be doomed!".
When the police officer walks away, Ahmed Darawsha remains speechless for a few moments, despite his colleague's repeated questions. "The Israeli police are watching what we say, and this man came up to me yelling and threatening me," he finally replies.
The officer then makes one last appearance, this time speaking directly to the camera.
"We're going to turn Gaza to dust! To dust!" he says over and over again, as his face fills the screen.
Fake news and media bias
While the conditions in the field are extremely difficult for journalists, international media coverage has been repeatedly criticized for both misinformation and biased reporting. In a show of protest, journalists have resigned from French news outlet CNews, for example.
"This morning, I tendered my resignation from the British Broadcasting Corporation, BBC, as my professional conscience dictates," says Bassem Bounneni , BBC correspondent for North Africa, on October 18.
Since the beginning of the conflict, the BBC has been heavily criticized for its pro-Israel editorial stance. On October 16, the channel had to issue an apology for describing a demonstration attended by 150.000 people in support of Palestine as pro-Hamas.
More recently, in response to readers' questions, a journalist suggested that Hamas tunnels (commonly known as the "Gaza metro") may have been built under schools and hospitals. 24 hours later, the Al-Ahli Arab hospital in central Gaza was bombed. A large number of internet users immediately made the connection between the two events and accused the BBC of complicity, revealing the lack of trust they now have in the British broadcasting corporation.
On October 14, its headquarters were covered in red paint - "to symbolize its complicity in genocide" -. The action was claimed by the Palestine Action group. In its statement, the group accused the media of "only inviting Palestinians to comment when Israelis are killed, with little regard for Palestinians killed by Israel", of decontextualizing the conflict, and of failing to report on "the racist lies spouted by international media, including claims of mass rape and decapitated babies".
On October 10, i24News' Nicole Zedek claimed she had witnessed atrocities and seen decapitated babies with her own eyes. The story was immediately picked up by the media, and even echoed by US President Joe Biden. The latter claimed to have seen "confirmed photos of terrorists beheading children", only for the White House to later clarify that the President had seen no such photos, and that he was relying on media reports and comments made by Israeli spokesman Tal Heinrich.
Later publications revealed that this information was based on a single Israeli military report. As it was confirmed by the Israeli Prime Minister and his spokesman, the story was picked up by CNN, one of the leading American news channels, before being relayed to the highest echelons of the US government.
Marc Owen Jones, an associate professor and researcher on political repression and information control strategies, has pointed out that on X (formerly known as Twitter) alone, the story generated "at least 44 million impressions, 300 000 likes and over 100 000 reposts. The key propagators of the story were @i24NEWS_EN and @Israel, and the story was based on a report by @Nicole_Zedek."
In column published on the Al Jazeera website, Rami G Khouri - Distinguished Fellow at the American University of Beirut, journalist and book author with over 50 years' experience covering the Middle East - explains that "But the damage was done, and wildfire like social media spreading of fake news had influenced millions of people around the world, mostly by intensifying existing ideological or cultural fault lines and confrontations."
Israelis are killed VS Palestinians are dead
Beyond the issue of fake news, the way news is circulated and formulated plays a crucial role in shaping perceptions of the conflict. Several media have chosen to use the terms "Hamas-run" or "Hamas-controlled" when covering the latest attacks in Gaza. The media also choose to make the distinction between Palestinians who are simply dead or wounded, and Israelis who are killed when reporting on human casualties.
Many internet users, as well as experts in the coverage of such events, have denounced media outlets for their use of a language deemed dehumanizing. Chris McGreal, a former reporter who covered the Rwandan genocide, explained that "the dehumanizing language spilling out of Israel and from some of its supporters abroad is of a type heard at other times and places that helped create a climate in which terrible crimes take place".
More than 500 people have died in Gaza after Israel launched massive retaliatory air strikes, according to Gaza's health ministry

More than 700 people have been killed in Israel since Hamas launched its attacks on Saturday

Follow the latest ⬇️

— BBC News (World) (@BBCWorld) October 9, 2023
This discourse also reflects the media's tendency to decontextualize the conflict and Israel's occupation of Palestine. "Palestine is one of the last societies in the world subject to colonialism in its true sense, and apartheid in its true sense," as political scientist Ali Mourad reminded Daraj Media. "If the West wants to deny this truth... It can deny it, ignore it, and stick only to the Israeli narrative. However, this matter will not deter the Palestinian people".
"Ahistorical reporting is harmful as it barely skims over the decades of resistance, ethnic cleansing, emergency situations, and injustice orchestrated by the occupation. While it is important to humanize suffering on both sides, it is critical to note that the status of the occupier and the occupied in this crisis are not the same", denounces writer Sarzah Yeasmin.
French political scientist Julien Salingue already pointed out in 2014 that a "balanced" treatment of Israel and Palestine was bound to lead to journalistic bias, given the local political situation, as well as being at odds with international law, which defines Israel's actions as those of an occupying power.
Shadow Banning, a sneaky form of censorship
Aside from mainstream media coverage, access to information on social networks has also been a serious issue since the start of the bombings. Many users were quick to observe that their number of "views" had declined drastically. People started sharing screenshots showing their usual audience of over 5000 views dropping to less than 100 whenever they posted pro-Palestine content.
This new form of censorship adopted by platforms such as Meta, which manages Facebook and Instagram, has provoked more outrage among Internet users. Several content creators explained the technique, known as "shadow banning", and proceeded to share different strategies to bypass it: "Here's the random image of a dog"; "Don't post for 24 hours" etc.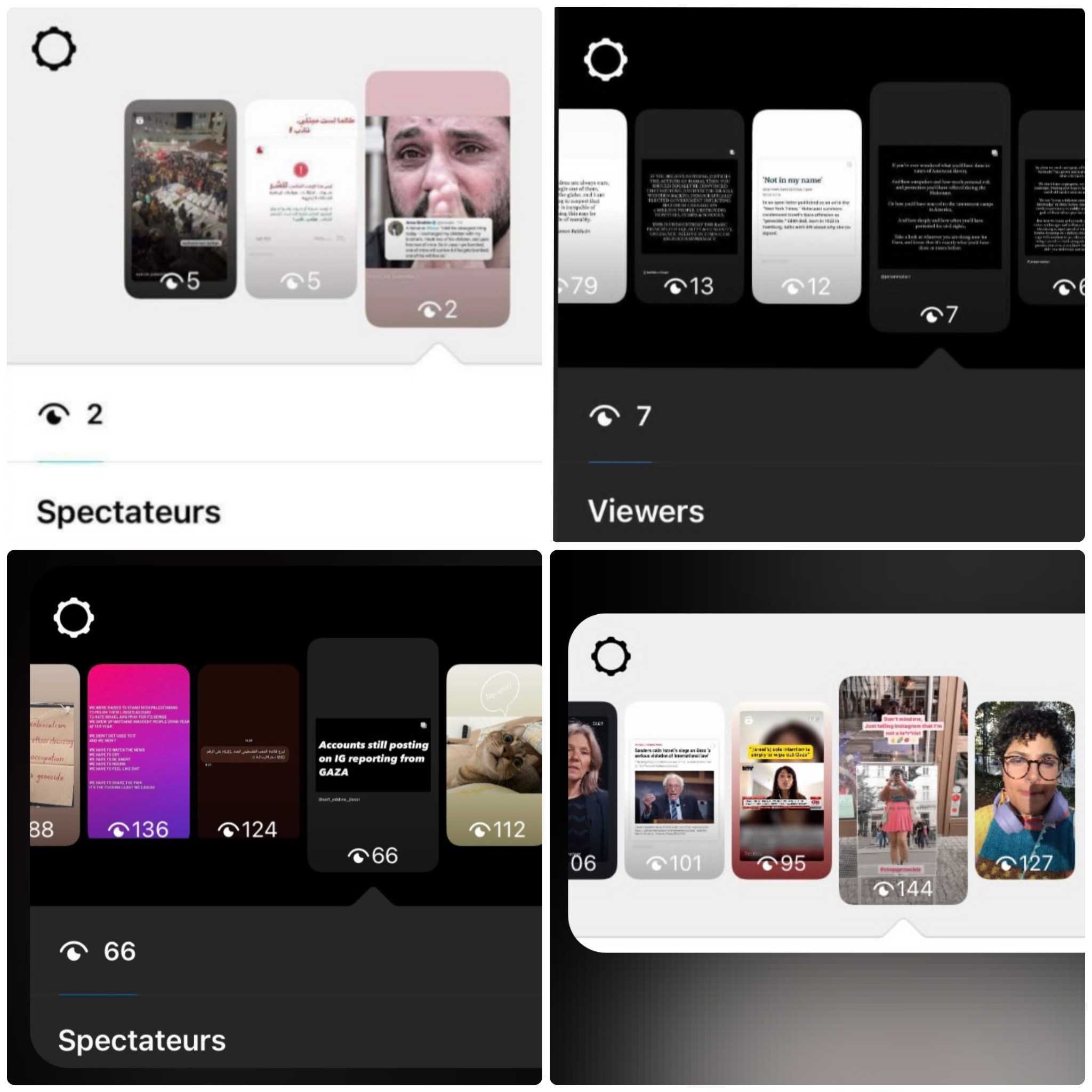 Examples of screenshots shared with inkyfada. Instagram users observing a low number of viewers on stories about Palestine.
On October 12, the European Commission launched an investigation against X for allegedly disseminating "misinformation", "violent and terrorist content" and "hate speech". The Commission also ordered Meta and X to "comply with their legal obligation to prevent the spread of harmful Hamas-related content".
The Commission ended up also sending a request for information to Meta and TikTok on October 19, requesting Meta "to provide more information on the measures it has taken to comply with obligations related to risk assessments and mitigation measures to protect the integrity of elections and following the terrorist attacks across Israel by Hamas, in particular with regard to the dissemination and amplification of illegal content and disinformation". As for TikTok, it was asked "to provide more information on the measures it has taken to comply with obligations related to the risk assessments and mitigation measures against the spreading of illegal content, in particular the spreading of terrorist and violent content and hate speech, as well as the alleged spread of disinformation."
What was really observed on the Meta platforms (Facebook and Instagram) was the censorship of posts expressing support for the Palestinian people or images and videos of the current situation in Gaza. This was not only achieved through "shadow banning", but also through the suspension of certain active accounts, and bans on posting or commenting for 24 hours or more.
According to 7amleh, a Palestinian digital rights group, hundreds of users have complained that their war-related posts have been taken down. Nadim Nashif, the group's founder and director, stressed that this practice has been around for a long time.
"This has been a trend of Meta in times of crisis, and we saw a significant spike of Palestinians and allies reporting limited reach and errors with content they posted about the ongoing crisis in Palestine", he tells The Guardian newspaper.
The same organization also claims to have detected over 19.000 posts in Hebrew containing hateful anti-Palestinian content.
With journalists being threatened on the ground and international media coverage being restricted, the situation in Gaza has escalated into a full-blown humanitarian crisis. Given the relentless bombings, its is even being referred to as genocide. The crisis was further exacerbated as the world powers sitting on the United Nations Security Council have rejected all calls for a ceasefire.
In this climate of violence, the growing manipulation of information in the mainstream media and on social networks is only adding insult to injury. But, this didn't stop a number of journalists on the ground from documenting the atrocities and risking their lives to report live, and verified information. On the evening of October 18, as the Al Quds hospital area was under repeated attacks, journalist Motaz Azaiza was covering the event live. "Pray that I survive", he said over and over again.