Since early July, Sfax has been the stage for unprecedented acts of violence targeting sub-Saharan migrants. Aside from being subjected to verbal abuse, assaults and expulsions, the authorities have even deported them to the Libyan and Algerian borders, with no access to food or water.
Initially, the State and local authorities's silence was deafening. Then, on Saturday July 8, the President finally made a statement, declaring that migrants were being "treated humanely (...) and in alignment with Tunisia's core values." He also dismissed the existence of violence, attributing it to the dissemination of "misinformation" by certain individuals.
The violence was sparked by a rather grim incident: during the night of July 3 and 4, a group of sub-Saharan Africans allegedly stabbed a 42-year-old Tunisian man to death, according to the authorities. The incident gained widespread attention after a video was shared by local MP Tarek Mahdi. A week later, hardly any official information has been disclosed regarding the case, aside from the apprehension of three Cameroonian nationals who are believed to be involved in the murder.
According to lawyer and former Deputy Mayor Wajdi Aydi, "nothing is clear so far."
"Who murdered him? How did he die? And even if they're migrants, (...) should all migrants be blamed? Such crimes can happen, but you don't punish everyone!".
Over the following days, the city was plunged into chaos. Several videos showed Tunisians taking matters into their own hands, expressing outrage over the State's indifference to the perceived "invasion". Gangs were formed, chasing people out of their homes and leaving them stranded on the streets. At the Beb Jebli roundabout in downtown Sfax, some migrants held up makeshift signs bearing the word "peace" scribbled in Arabic or French. A young man, who had been evicted from his home, cried out, "there are loads of Tunisians living in our countries, but we don't treat them like this. We just came here to work and to enjoy our freedom. Why are we being subjected to such violence?".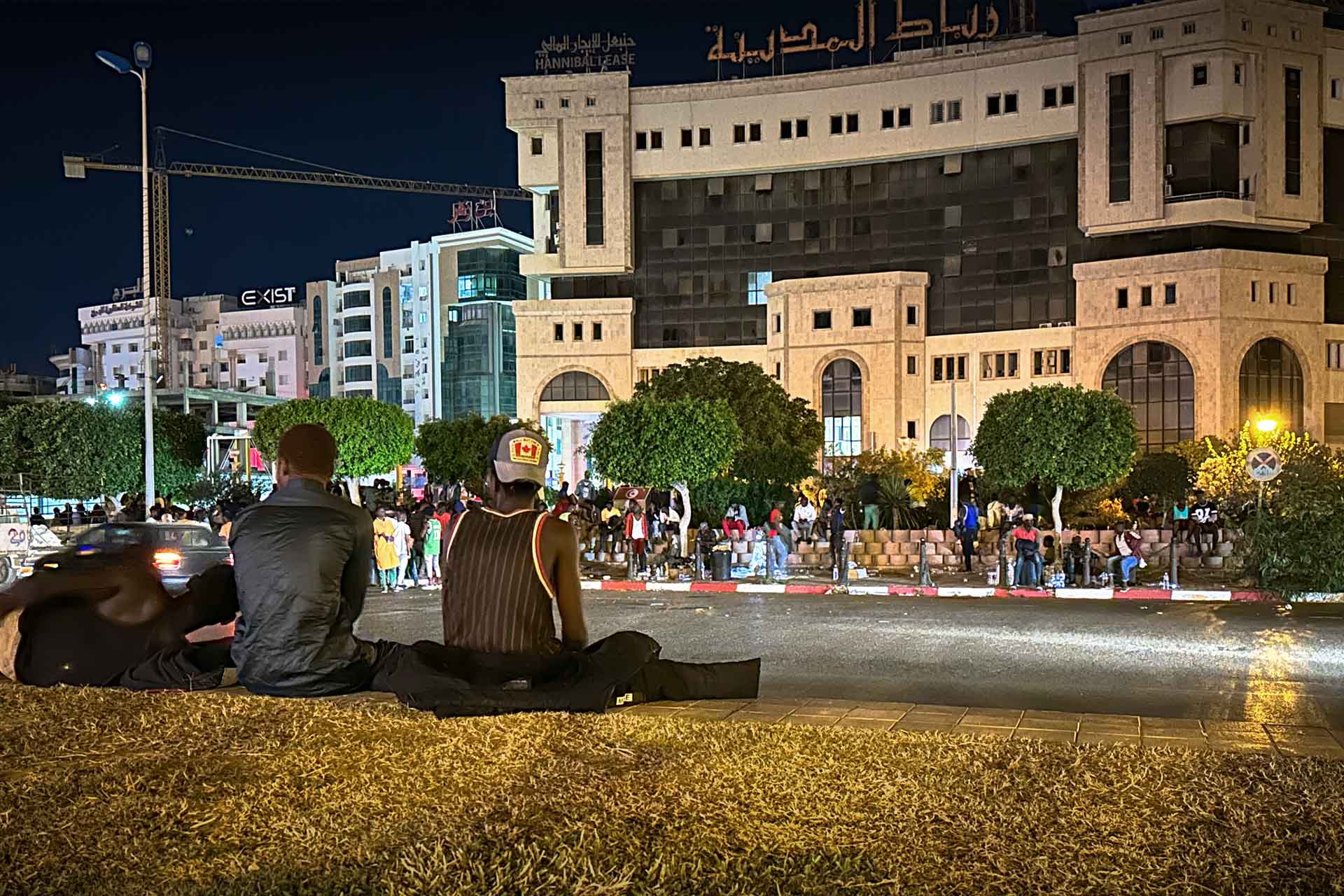 Sub-Saharan migrants spend day and night in the park opposite the Beb Jebli roundabout. Photo credits: Matteo Trabelsi, inkyfada.
"These are crimes against humanity"
Hundreds of them are huddled together on the Beb El Jebli roundabout in deplorable conditions. Young men, women and their children spend their days in the sun, in the midst of filth and waste. "They grabbed me, they beat me to a pulp, they are armed with machetes and batons. They can easily strike you. They've killed a lot of people, but no one talks about it!" one man testified.
Like the majority of those who have become homeless around Beb Jebli square, he was kicked out of his home by Tunisians. "It's a mafia", several people repeated.
"You can see knives, daggers and clubs on the videos. The migrants are forced to lie down on the ground. The perpetrators film themselves, take selfies, and even turn the camera around to show their uncovered faces. And yet, no investigation has been opened." says Franck Yotedje, Director of the Africa Intelligence Association and a leading figure in the local civil society.
The reports of violence against migrants are mounting. Many have been robbed of their passports, money, and phones, and have been forced to flee to this public park. They are waiting for some sort of solution, but there is no end in sight. During the day, a few associations and concerned citizens have been providing food and water. Still, the area is by no means safe, and the fear of attacks is omnipresent.
On the night of July 7 to 8, a young man, F., was attacked near the square. A group of Tunisians struck him on the head with a machete. He was taken to the Sfax hospital and then treated at the Habib Bourguiba hospital where the number of sub-Saharan patients there has been steadily growing over the past few days.
A man with a broken arm is sleeping on the corridor floor, risking being stepped on. There aren't enough beds available for him at the hospital.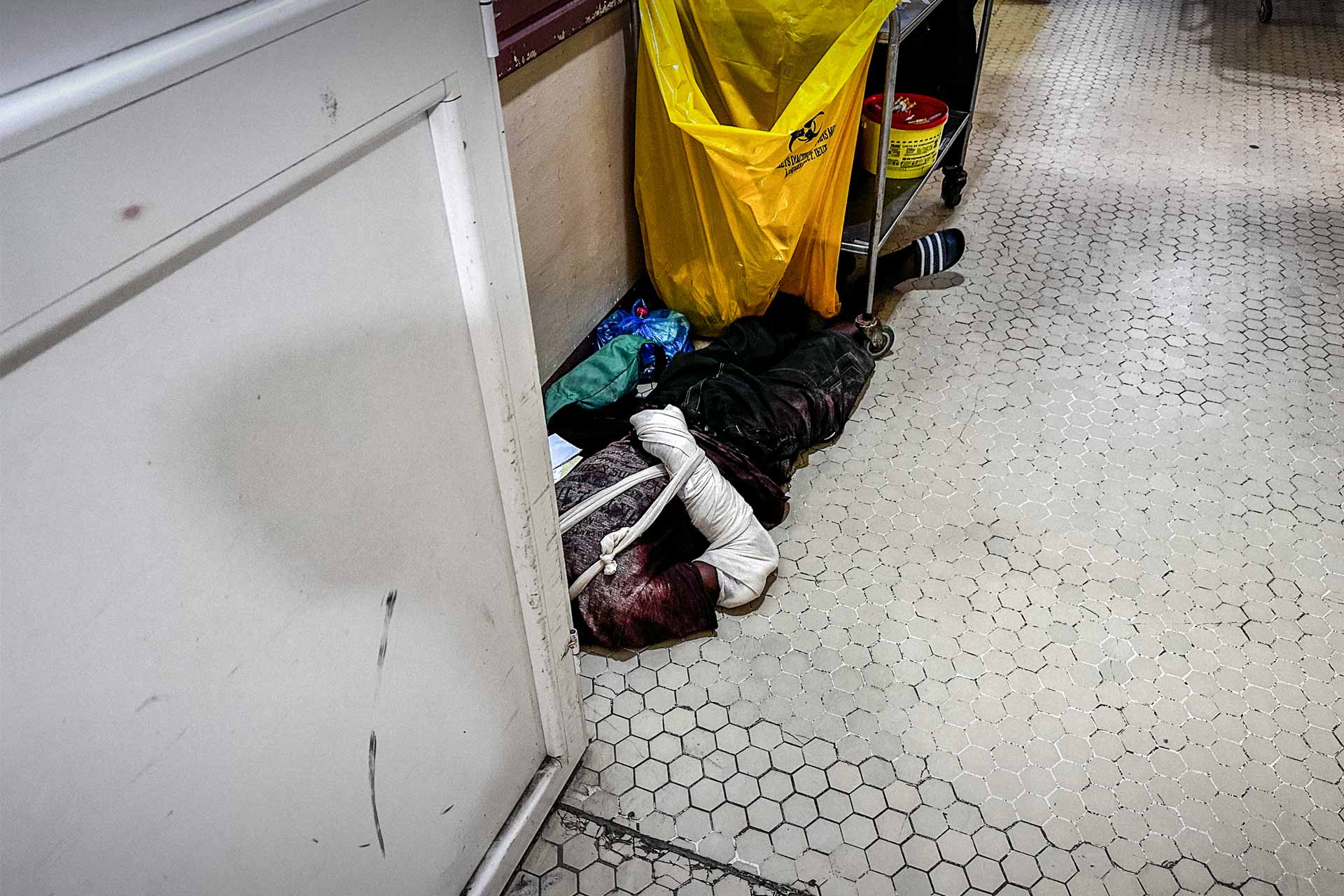 In the corridors of the Sfax Habib Bourguiba hospital, there aren't enough resources to keep up with the massive influx of assaulted migrants. Photo credits: Matteo Trabelsi, inkyfada.
At the end of a dimly lit corridor, M., originally from Sierra Leone, is sitting in a room on the edge of a bed. Fatigue is clearly visible on his face. He's not hurt, but lying down next to him, his 6-year-old son has a fractured leg. "The mob attacked us while we were asleep. They were carrying knives and shoved us. My child fell down and broke his leg." the father said.
His eyes are filled with tears as he recounts his story. He lost everything in the attack. He has no money to pay for his son's care. "I don't know what to do. I think I have to stay here for a while (...) But I don't have any money, they took all of it".
C. is gritting his teeth on the other bed due to the pain radiating from his freshly cast leg. Next to him lies a document confirming that he can leave the hospital. "But where to?!" cried C. He jumped out of the window of his apartment building to escape from his attackers, who had come to kick him out. Home is no longer an option. He has nowhere else to go.
A sheet of paper is attached to his discharge notice, detailing his personal information and state of health. Next to the "Fracture" box, "Aggression" is mentioned as the cause of the injury.
"They're all here because they were assaulted," sighs one doctor.
A line at the bottom says that they must pay the "full rate". But without any documentation or money, these people are stuck at the hospital. One doctor said that, "fleeing is their only way out." The doctors suspect that these patients won't be able to afford to pay their bills and will leave without doing so. But if they need to go back to the hospital or see a doctor, they could be denied treatment because of these outstanding payments.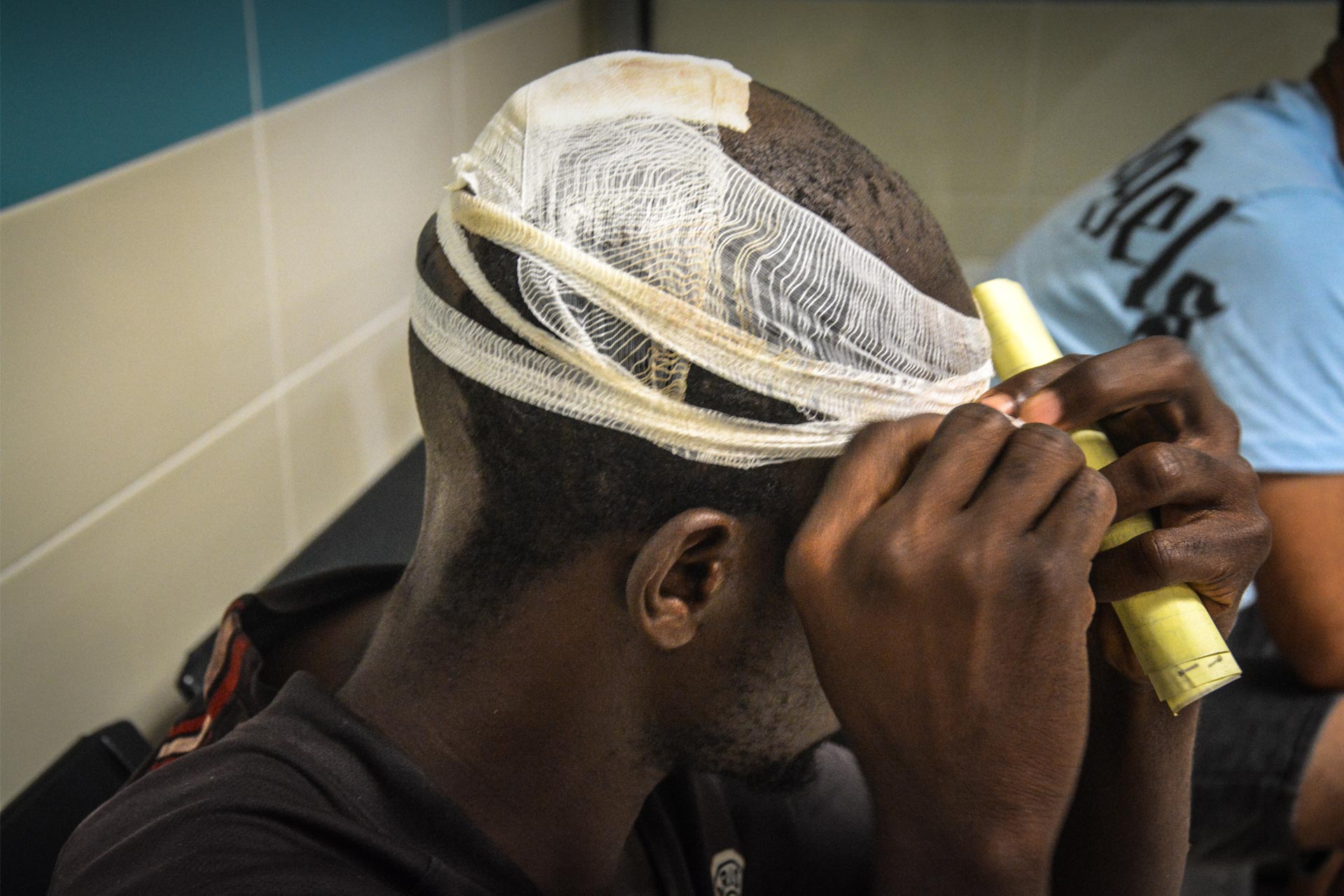 F. has a ten-centimeter wound under his bandage caused by the machete that pierced his skull. Photo credits: Haifa Mzalouat, inkyfada.
Individuals abandoned to their own devices in the desert
F. is pacing in the hospital waiting room. Despite his injury, all he can think about is what became of his friend, who was with him when the police took him to the hospital. "He wasn't hurt. He got into a police car and I thought I'd find him here," says F. "But he's not here! Where is he?" he repeated.
He's worried that his friend may have been taken to the Tunisian-Libyan border, like hundreds of other sub-Saharan Africans. Various testimonies, videos and civil society reports have sounded the alarm as there are reportedly hundreds of people there, stranded in  " a buffer zone from which they could neither enter Libya nor return to Tunisia ".
It took a week for a humanitarian aid delegation to get to this military zone, even though the situation had already been denounced five days earlier. This visit came following a meeting between Abdellatif Chebbou, President of the Tunisian Red Crescent (TRC) and Kais Saied on Saturday July 8 in Carthage.
"All of this is simply crucial if we are to avoid a human catastrophe. (...) What we need today is a complete political solution for the people trapped on the Algerian and Libyan borders", comments Romdhane Ben Amor, spokesman for the Tunisian Forum for Economic and Social Rights (FTDES).
Romdhane Ben Amor reported that humanitarian aid was delivered on the Algerian border, near the Tamerza region. "We haven't had any issues providing assistance, so we often go there. But it's a challenging situation since the Tunisian authorities won't let them enter Tunisia, and the Algerian authorities also won't let them into Algeria", he explained.
The people interviewed reported that they had been transported from Sfax by either the police, the National Guard or the army. In Sfax's Beb Jebli square, migrants confirmed that buses came to pick them up during the night.
"They came at 2 a.m. yesterday to drag us off into the desert. They'll be back," predicts Abderrahmane, a 17-year-old Guinean. "There are possibly 800 or 1000 of us here. There were four buses, and the police were trying to capture us. Someone called to say how horrible Libya is, there's no water, there's nothing. They sleep on the ground. Buses drop them off and head back. There are over 600 people in this situation".
The deportations are carried out without consideration for the individuals' vulnerability or administrative status. The deportees "included at least 29 children and three pregnant women, interviewees said. At least six expelled people were asylum seekers registered with the UN Refugee Agency (UNHCR), while at least two adults had consular cards identifying them as students in Tunisia." stated a Human Rights Watch report.
"What's currently happening affects everyone," affirmed lawyer Wajdi Aydi. "There are sub-Saharan students who have all their papers in order. There are also refugees who have valid asylum cards. Even black Tunisians have been impacted by this situation. It is an unparalleled state of anarchy."
While it is not unprecedented for migrants to be deported to desert areas, the current expulsions have reached unprecedented extremes, blatantly disregarding established human rights conventions. Human Rights Watch has condemned these actions as a clear violation of the African Charter on Human and Peoples' Rights, as well as the United Nations Conventions on Refugees and Human Rights, both of which were ratified by Tunisia. "You, as a State with international commitments, are throwing people into the Sahara?" said the lawyer in disbelief.
This is not a surprising occurrence in the region. "It has been practiced in Algeria for the past twenty years at least, as a form of structural migration management, fully supported by the State", commented a migration specialist who wished to remain anonymous. "While sporadic cases have been reported in Tunisia since 2012-2013, such extreme measures haven't been a common practice until now."
The specialist emphasized that the recent wave of massive deportations represents a significant departure from previous practices, even though the official authorities, including the Ministry of the Interior, have not acknowledged this shift in approach. In Sfax, local deputy Moez Barkallah has reportedly celebrated his role in deporting over 1000 migrants to the borders since Eid al-Adha.
The questionable role of law enforcement
Law enforcement agencies have had a strong presence in the city since the violence broke out. "Can you hear the helicopters? In my seven years in Sfax, I've never heard so many," said Franck.
Police officers regularly patrol the area around the Beb Jebli roundabout, to prevent any potential disturbances. Once night falls, they surround the square, seemingly to protect the migrants. But these are the very officers who arrive with buses to deport them to the Tunisian-Libyan border in the dead of night.
Multiple witnesses have observed a stark contrast between the police's nocturnal presence and their behavior during the day, when they turn a blind eye to the frequent assaults on sub-Saharan migrants. The majority of those interviewed expressed their bewilderment at the authorities' unwillingness to take action against the marauding gangs of assailants, sometimes consisting of as many as 50 or 60 individuals, brazenly plundering their homes.
"They may not be directly burning down our homes, but their deliberate indifference is even more troubling," says a young man.
Franck Yotedje emphasized that the police's failure to act shouldn't be overlooked. He pointed out, "What disturbed me was that people were targeting and stoning migrants... And in the videos, I noticed a police vehicle's flashing light in the vicinity." This means that the police are keeping an eye on the clashes, seemingly "protecting" the migrants. However, Yotedje asserted that mere protection "is not enough. Anybody throwing stones must be apprehended. That's a crime, not a misdemeanor."
"People are bragging about having taken part in the deportation or what they refer to as the 'purging' of blacks. People are boasting, live streaming. Even the nation's elected representatives are live streaming," underlines the activist.
Sadly, some migrants have tragically made their choice between the aggressors and the police. Although the police are unwilling to take action, sub-Saharan Africans also testify that their relationship with law enforcement, while not ideal, can still be preferable compared to the behavior of their attackers. I., who arrived in Tunisia less than a year ago, commented "I feel somewhat protected by the police because my main risk is getting arrested, whereas the others could kill me." 
This young Sierra Leonean is sitting on the ground near the edges of Beb Jebli's second-hand market. His little sister and three nieces are in front of him, offering caps to passers-by and asking for coins. A woman approached them and kindly handed the children some sandwiches. Touched by the situation, she could only manage to whisper, "It's not humane."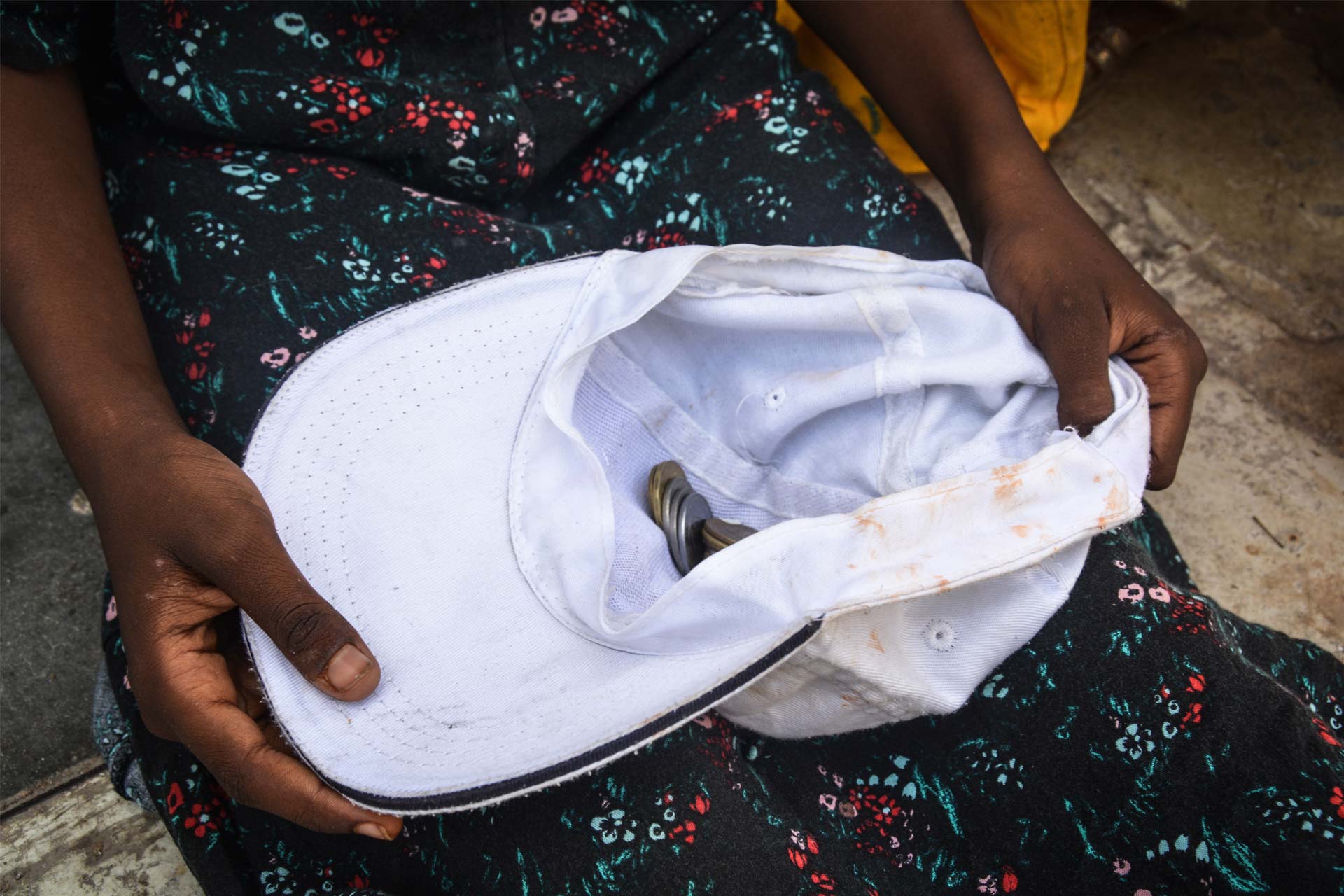 M., a Sierra Leonean child, handing a cap to passers-by for some coins. Photo credits: Haifa Mzalouat
Sfax, a migratory city in disarray
Kais Saied issued a statement against irregular migration last February, referring to it as a demographic threat to the country. This intervention paved the way for an outburst of hatred against sub-Saharan Africans.
Several acts of violence had previously been reported in Sfax. These tensions are compounded by the absence of effective governance, as the region has been without a Governor since his dismissal by President Kais Saied in January 2023. The Municipal Councils were subsequently dissolved, further contributing to the lack of local authority. Lawyer Wajdi Aydi explained, "There's the President's discourse, the absence of a local authority, be it the municipality, which intervenes as mediator and facilitator, or the Governorate on the security side." These deficiencies have had a significant impact on the city, which has been facing major waste management problems, and grappling with the socio-economic crisis like the rest of the country.
Several changes have also been observed on the migration front. The lawyer pointed out that an increasing number of migrants are now flocking in from Algeria through the Governorate of Kasserine. A migration specialist also mentioned the presence of migrants from diverse backgrounds, including Sudanese and Gambians, among others. "This influx of migrants has transformed Sfax into a city with diverse groups and has also witnessed a rising number of departures [to Europe]."
A garden adjacent to the Beb Jebli roundabout serves as a camp for the Sudanese who came to Tunisia after the war broke out. Equally unsanitary, the garden is fenced off and hidden from plain view. Mohamed, a law student who has volunteered to assist, asserted that there is a noticeable difference in the way Tunisians treat Sudanese migrants compared to other sub-Saharan groups. In the taxi stand situated between the two camps, some drivers' remarks reflect this distinction. One driver declared, "These are Sudanese, not Ivorians. The Sudanese are like us. They're Arabs, they speak Arabic. They're calm and wise. The others wreak havoc."
Many Sub-Saharan Africans report that cabs are now refusing to take them as passengers.
For Sudanese migrants, however, this preferential treatment does not grant them immunity. While some view them as "Arabs" and "Muslims", and "just like us", others discriminate against them solely based on their skin color. Two men are engaged in a conversation near the Beb Jebli roundabout. While one is advocating for the protection of the Sudanese population, the other believes they have "no place in Tunisia." According to the latter, during times of war, people should stay in their own country to defend it, as a matter of principle.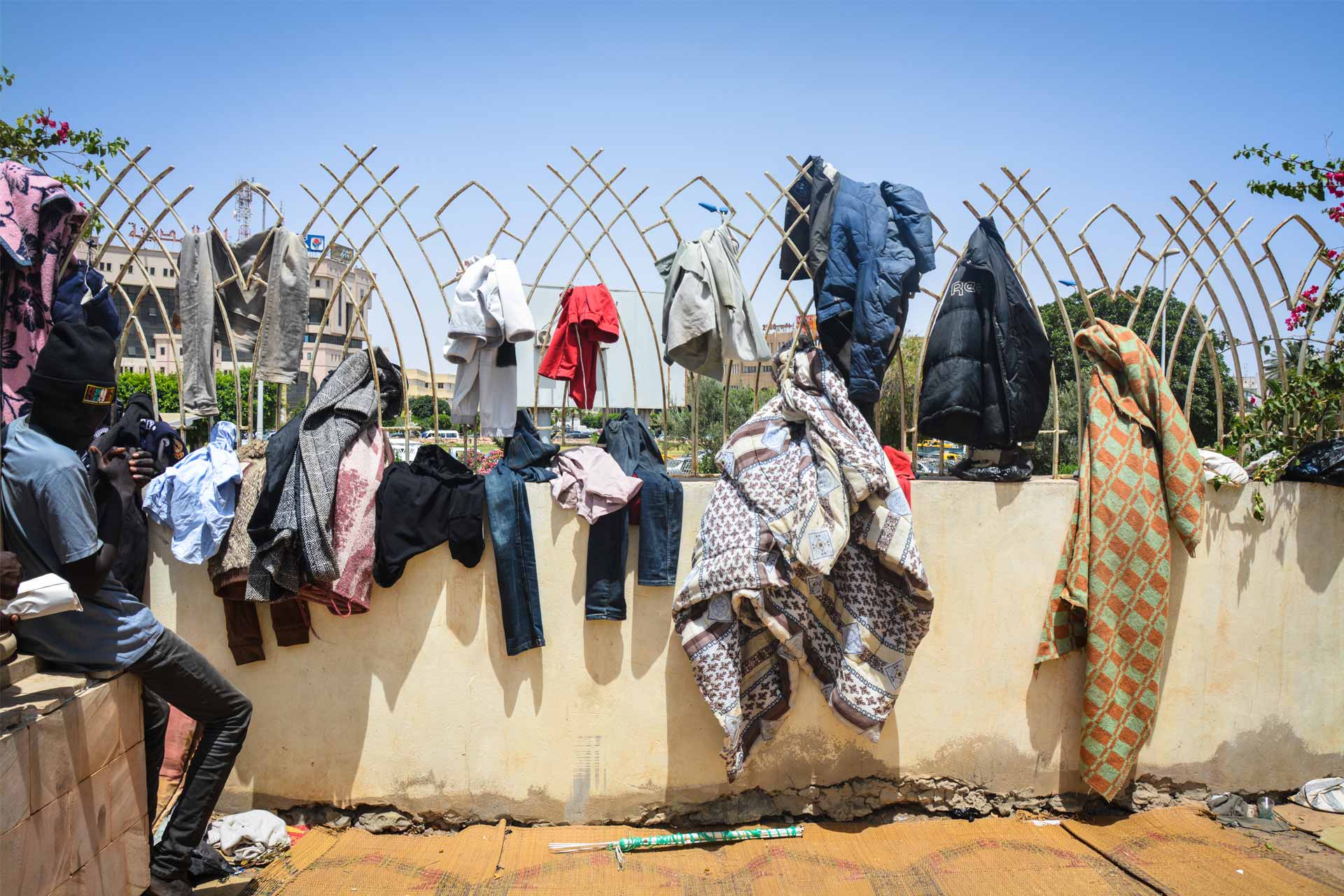 Hundreds of Sudanese and a few other migrants hanging their clothes on the fence surrounding the makeshift camp. Many have been there for several months. Photo credits: Haifa Mzalouat
In addition to becoming a city of departure for migrants, Sfax now also receives a significant number of migrants intercepted at sea. Over the past decade, the city has emerged as a model for migration management among various humanitarian organizations. The latter have worked in Sfax to assist in organizing and supporting the sub-Saharan foreign communities that have chosen to settle and work there. However, migration researcher Camille Cassarini believes that the assumption by some Tunisian authorities that this established system would effectively manage the intercepted individuals has proven incorrect, since they're completely distinct issues. 
These interceptions are taking place against a backdrop of important negotiations between Tunisia and the European Union, notably on migration issues. One of the issues at stake is the sub-Saharans' "voluntary" return from Tunisia to their countries of origin.
"For nearly six months, migrants have been trying to cross the Mediterranean around 2 am, only to be intercepted at around 4 or 5 am. By 8 am, they're brought back to shore. But do you know what happens next? They're simply released. They're left stranded at the port without any guidance or direction," testified Franck Yotedje. He further emphasized that these individuals often find themselves penniless after having paid for the crossing.
Many of those interviewed by inkyfada are now planning to venture to Europe, despite being aware that the central Mediterranean route is one of the most perilous in the world. But given their situation, they feel that leaving is their only viable choice, even though they would prefer to stay in Sfax.
"The State is in total denial"
According to Franck Yotedje, Tunisia has been in a state of "slow chaos" over the past two years. This mayhem has touched every aspect of people's daily lives, ultimately impacting the entire system. The murder case served as a catalyst for the underlying racism to escalate into explicit racism, fueling hatred. Yotedje emphasized that delving into this murder case only serves the interests of those wishing to sow further discord. He also noted that the roots of this problem go far beyond this specific incident.
In the face of the city's difficulties, the State's contradictions are striking and its silence is deafening.
"We're left wondering: where are the police? Where are the border guards? Where is the State? We find ourselves in a world of contradictions in terms of what is said, what is done, and the overall direction. Just a week after his speech, the President wants to present another version of his statements. He visits Sfax, hugs the children that he's now throwing across the border," stresses lawyer Wajdi Aydi.
The Presidency's press release issued on July 8 asserted that the migrants were being "treated humanely (...) and in alignment with Tunisia's core values", contradicting the scenes of emergency that have been circulating on social networks. Carthage denied the authenticity of the images, alleging that "colonialist groups and their agents are spreading misinformation."
The suffering experienced on the field in Sfax is undeniably real. As a representative of the Cameroonian community in Sfax, Francis is used to engaging with the media and sharing his insights on the migration situation in the city. However, he has now become reluctant to meet journalists due to the increased risks involved. He shared "I've been living in Sfax for four years. I feel safe now because I haven't left the house in four days."
Living in Tunisia is no longer an option for Francis. "I wanted to settle in Tunisia, work, and lead a quiet life. Things have changed in the past few months. I no longer have the strength, or the desire to carry out this project in Tunisia, I have nothing to protect me."