In May 2016, Sadok Mzabi took steps to open a company in the British Virgin Islands, an overseas territory of the United Kingdom, ranked number 1 on the Tax Justice Network's Corporate Tax Haven Index. To help him do this, he hired the Trident Trust Company, a firm that takes a central role in the Pandora Papers, the new ICIJ investigation that uncovers the confidential data of 14 firms specialising in opening offshore companies and setting up ambiguous financial arrangements. 
SADOK MZABI 
IN THE BRITISH VIRGIN ISLANDS

From these files, inkyfada discovered the existence of the company "El Bahar Limited", a company registered in the British Virgin Islands, a notorious tax haven. The sole beneficiary of this company is "Mohamed Sadok Mzabi", yet it was not possible to determine whether he used the company to open bank accounts or to transfer any money. Sadok Mzabi did not respond to any interview requests from inkyfada.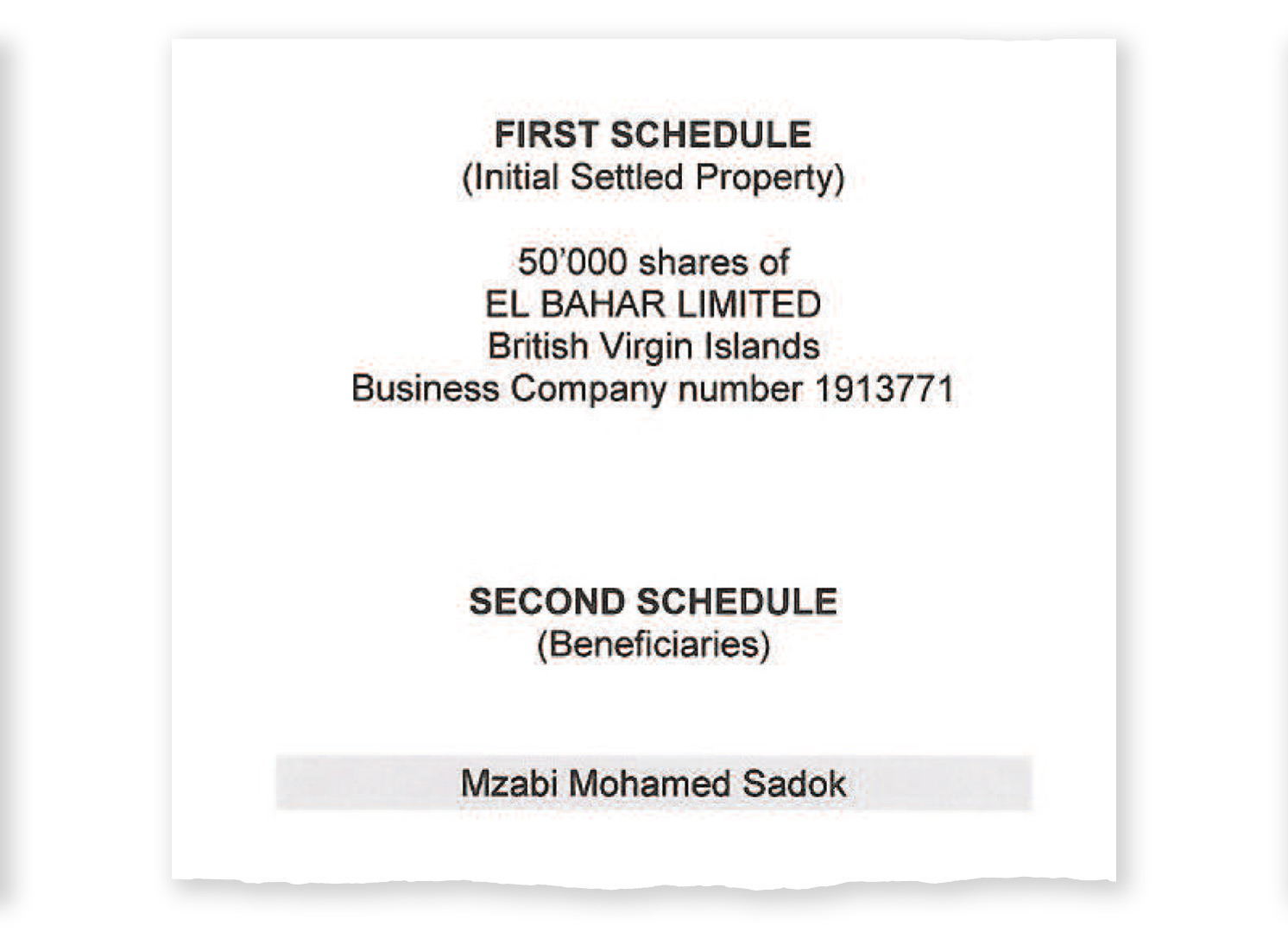 The executive director of Afrivisions (a company specialised in creating electronic products), the owner of numerous hotels (such as Palmazure, Royal Garden, etc.), and the majority shareholder of the ARTES concessionaire… Sadok Mzabi is one of the wealthiest businessmen in Tunisia. On February 21, 2021, he acquired more than 200,000 shares from ARTES for nearly 900,000 dinars, and is in the Top 20 of the most important investors on the Tunis Stock Exchange, along with his two brothers, Mzoughi and Moncef Mzabi.
TAX HAVENS, A FAMILY AFFAIR
The documents from which this information was obtained were issued on May 12, 2016. Barely three days earlier, as part of the Panama Papers investigation, inkyfada had uncovered how almost 30 years earlier, Mzoughi Mzabi, Sadok's businessman brother, had been able to open an account in Switzerland in complete secrecy. Through clever arrangements by the Panamanian firm Mossack Fonseca(which specialises in the creation of offshore companies), the businessman was able to take advantage of a bank account, without his name appearing anywhere. 
Only a few months earlier, as part of the Swiss Leaks investigation, inkyfada had revealed how a third brother, Moncef Mzabi, had opened a bank account with HSBC in Switzerland in January 2004, the value of which was close to 10 million dollars.
Thus, Moncef, Mzoughi and Sadok Mzabi have all succumbed to the call of the tax havens. These three brothers, who are among the most influential businessmen in the country, were able to take advantage of ambiguous arrangements and legislation, allowing them to evade the Tunisian tax authorities for years. For the time being, neither Moncef nor Mzoughi Mzabi have been held accountable before the Tunisian justice system.