Chokri lives in the governorate of Siliana in Northern Tunisia. Since retiring, he has decided to cultivate a few hectares of land next to his house to help make ends meet. But at the beginning of October, one of his fields lies empty. The tomatoes he was growing could not withstand the harsh weather that had decimated the year's crop. Yet, Chokri had done everything he could to preserve his plants, regularly applying the necessary pesticides to help grow his tomatoes and protect them from disease. 
"I apply these every fortnight... I put this one on for mites," Chokri says, as he gathers his bags and bottles of pesticides from a shed next to the field that borders his house. Farmers source this "plant medicine" from a salesman who supplies them on credit. Each pesticide is designed to combat a specific threat: insects, fungi, weeds, etc. Epidemics are recurrent and vary according to the season, with each crop having its own share of diseases and pests. Chokri believes that without these products, it would be impossible for him to achieve a sufficient yield.
But these pesticides come at a cost and provide no guarantee. For his last order, in August 2019, Chokri bought nearly 10,000 dinars worth of pesticides, fertilizers, and equipment on credit from his supplier. Unfortunately, this year's purchases were not enough to save his tomatoes.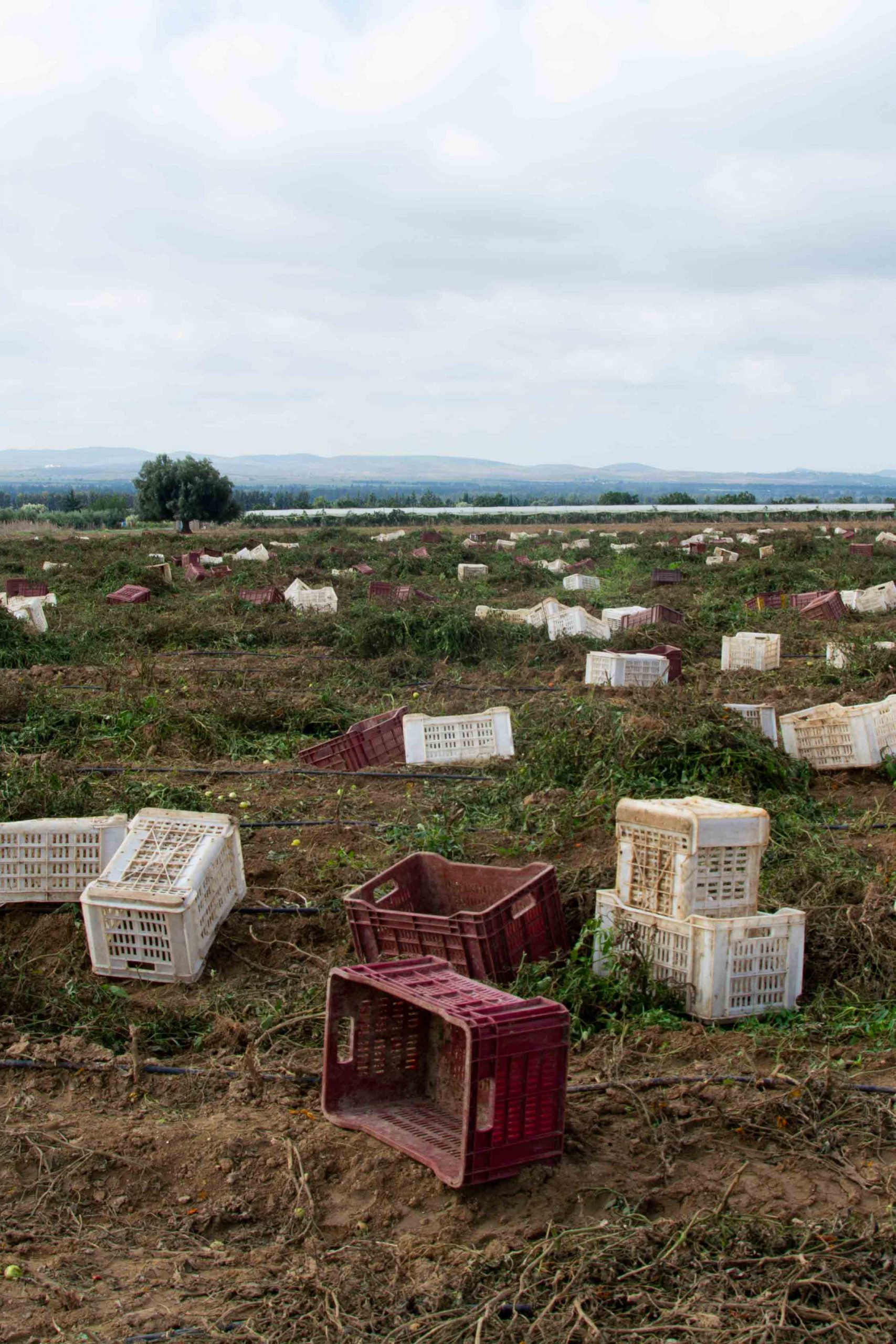 In a field close to Chokri's, the tomatoes withstood the climate better. The crates remain on the field after the farmworkers have picked the crops.
Delivered to their fate
The use of pesticides for agricultural purposes must be supervised by representatives from the Ministry of Agriculture. In every Regional Agricultural Development Commission (CRDA), an extension worker is made responsible for helping farmers oversee their crops; this involves offering advice and recommending treatments. In Siliana, Chokri says he almost never sees this extension worker. Instead, he relies on his pesticide supplier to tell him what products he needs to buy. 
A few kilometers away, Ahmed*, who owns two hectares of vines, confirms Chokri's statements. He is critical of these state representatives. "They're completely absent, they never come," he says, disillusioned. 
Like Chokri, he deals directly with his pesticide supplier, who advises him on what products to buy. However, Ahmed is not convinced by this method of doing things.
The supplier is "both the doctor and the pharmacist," claims Ahmed.
Once a report is complete, the pesticide supplier will "prescribe" you with the products. "Maybe you don't really need them. He is free to give you the most expensive and dangerous products."
In total, Ahmed spends a third of his vineyard's budget on pesticides. "I apply products every 12 days to ensure my crops are to be protected at all times.'' But, sometimes he reduces the prescribed dosage to save money. This can be risky; one year, he didn't protect his vines sufficiently during the winter and an epidemic ravaged his crop. 
Like many Tunisian farmers, Ahmed can't afford to pay for the pesticides upfront. "Every 10 days, I order 500 TND of pesticides (on credit)." Only in autumn, when his crops are sold, does he have enough money to pay his supplier. But this delay comes at a price: an interest rate of up to 50% on the cost of the original order.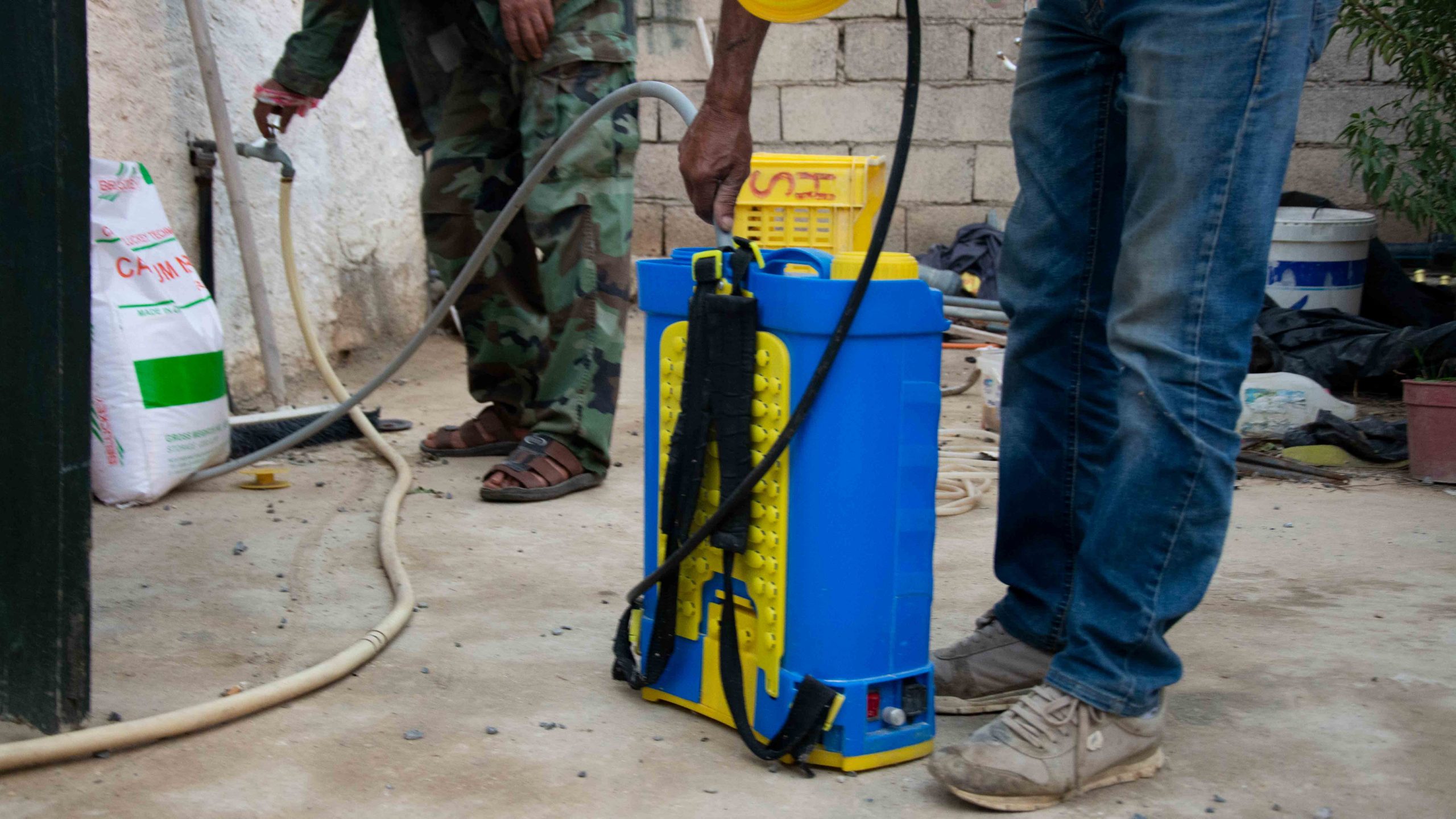 Chokri dilutes the pesticides in the sprayer he usually uses to treat his tomato plants.
Potentially irreversible Damage
Ahmed is aware of the health and environmental risks associated with the use of pesticides. He never applies chemicals without wearing gloves and a mask. "As soon as I use insecticides, I can feel it... My health is affected," he says, pointing to his vineyard. 
Not all farmers take as many precautions as Ahmed when handling these chemicals. When using his own pesticide sprayer, Chokri wears neither gloves nor protective clothing, only a mask - contrary to what is recommended by both manufacturers and suppliers. "Protective equipment is too expensive,'' he says. 
Chokri lives right next to his land and stores his bags of pesticides and fertilizers in his house when he is not using them. It is not advisable to leave pesticide products outside. Varying weather conditions can alter their chemical properties, either reducing their effectiveness or increasing their potency.
But not all products work in the same way. In several fields nearby, the bottles and packaging of pesticide products remain outside at all times. In a study* published in 2016, the National Agency for Health and Environmental Product Control (ANCSEP) details the effect of pesticides on human health. 
It concludes that the active substances used to make pesticides can have a toxic effect on human health, resulting in cancer, endocrine disruption, etc. The health problems associated with the use of fungicides (designed to eliminate fungi) are particularly targeted by the study, especially since they are the most widely sold type of pesticide in Tunisia.
Nationally, pesticides are the second leading cause of body poisoning after drugs.
The report adds that environmentally, there is a risk that these chemicals are contaminating the country's air, soil, and water. But although the ANCSEP highlights these risks, they say it is impossible to know to what extent the environment may have already been impacted. "There is no mechanism to measure and monitor the development of pollution," and "no national study has been done to date," states the 2016 report. Four years later, no new study has been made public, and nothing has changed: the promised vigilance system has yet to be implemented.
According to the agency, these harmful consequences are due to a lack of information, training, and awareness about pesticides. The report states that "special attention should be paid to the handling [of pesticides]." 
When left to their own devices, farmers have to rely on suggestions from their suppliers, often estimating the required dosage by themselves without any precautionary control. A farmer who is accustomed to a certain dosage may not be aware of a new recommended usage when buying a different product. "Individuals who run small farms cannot necessarily read and write," says Aymen Amayed of the National Observatory for Food Sovereignty and the Environment (OSAE).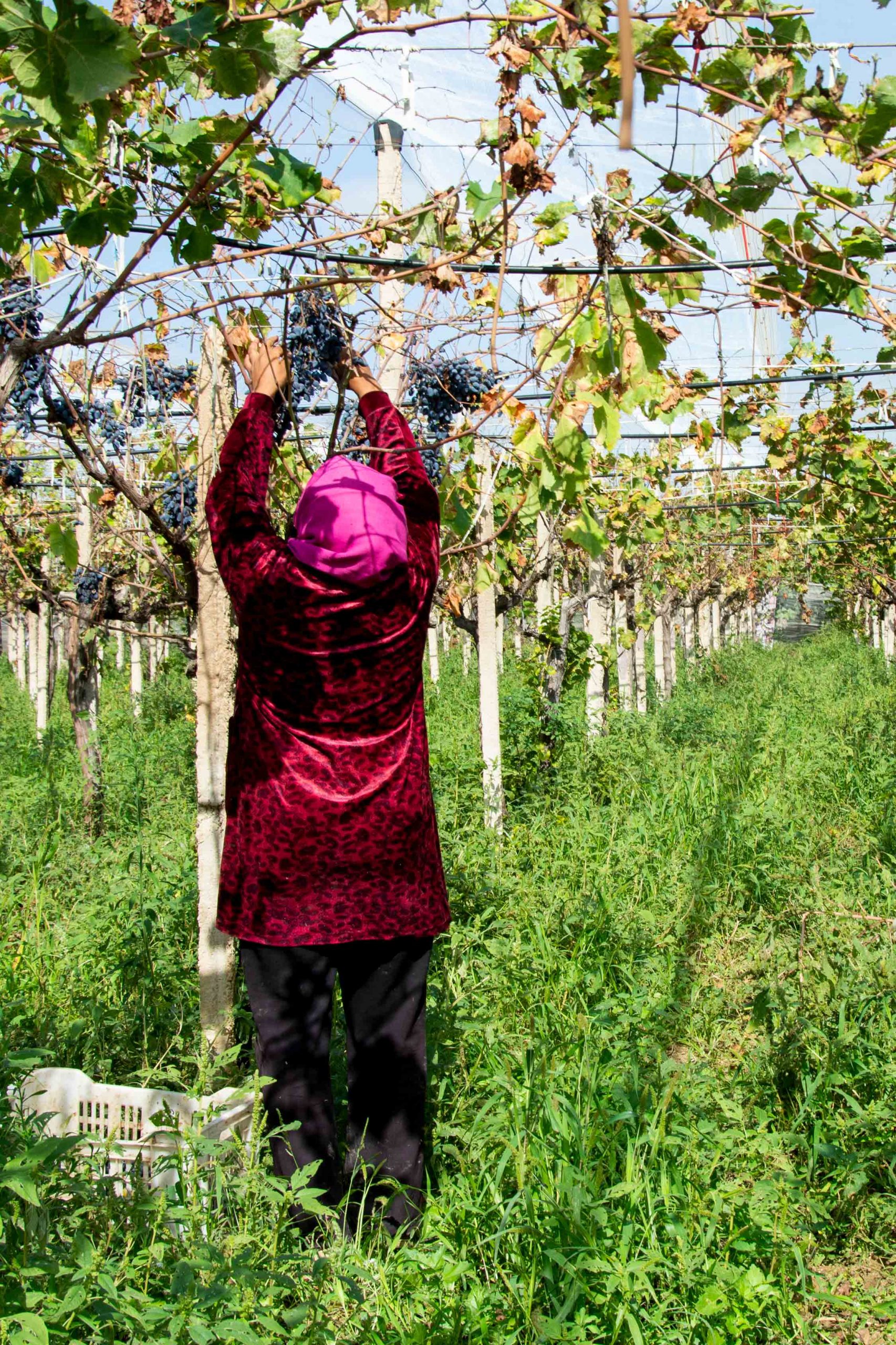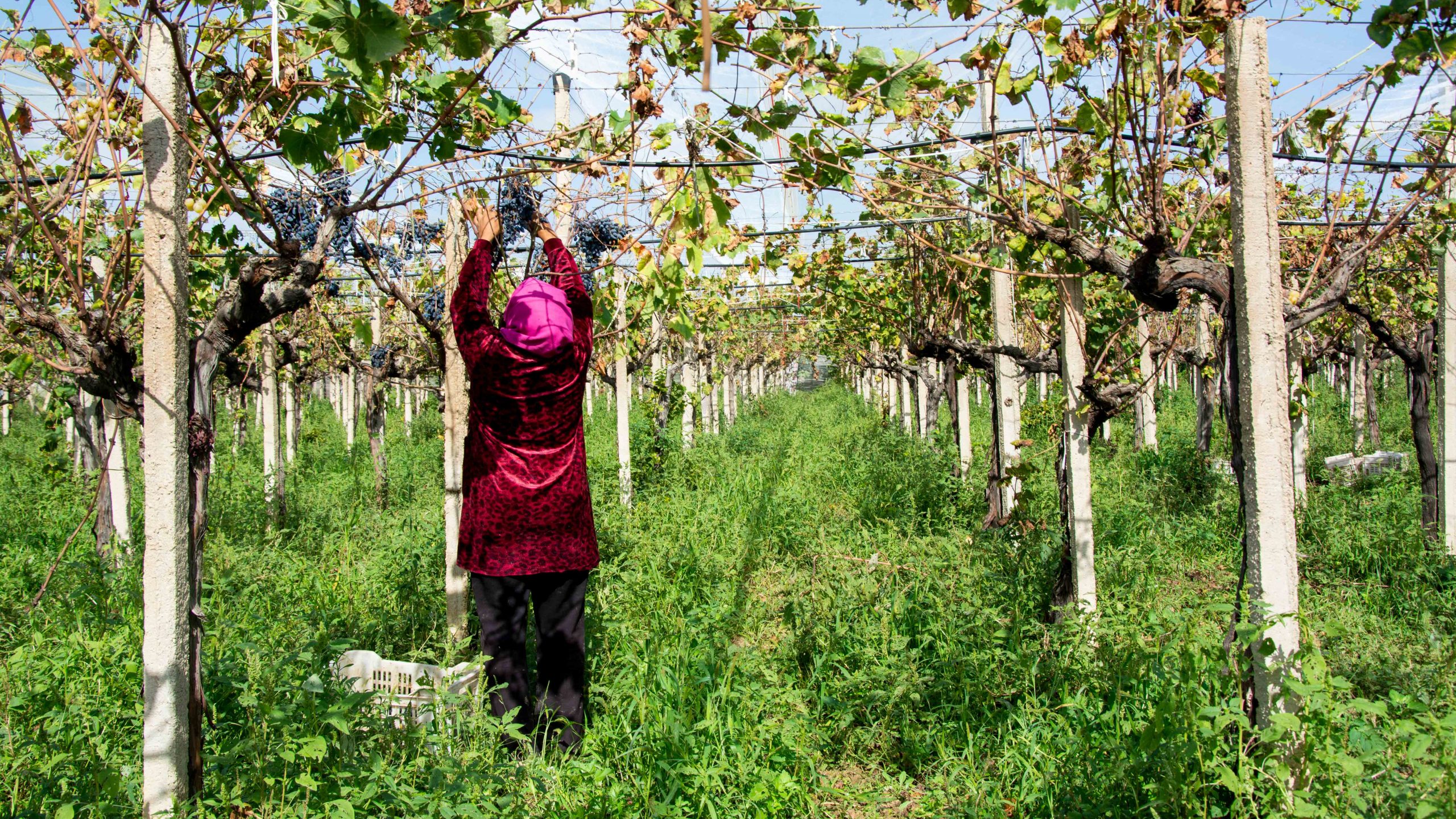 A farmworker picks grapes from Ahmed's vineyard.
FROM FIELD TO PLATE
The risks associated with the use of pesticides threaten more than just the farmers and their local environment. Residents who live up to several kilometers away are also at risk. These chemicals can pollute groundwater by seeping into the soil. "Their residue can go as far as several hundred kilometers away," explains Aymen Amayed of the OSAE.
Consumers are not spared either. Sometimes crops that are put on the market are not fit for consumption. Chokri explains that farmers are advised to stop using a fungicide three days before harvesting his tomatoes.
This pre-harvest interval (PHI) is not always respected by farmers, often due to ignorance or because farmers believe they are better protecting their crops by applying the pesticide all the way through cultivation. From a legal stance, Emna Mornagui of the OSAE explains that these crops are deemed safe to consume because there is no legal requirement to test their composition before they are sold off. 
But according to the ANCSEP, even when pesticides are applied correctly, they leave residues. "This is indisputable and well established," says the report. When consumed, these residues can cause digestive and neurological disorders, including convulsions and even the loss of consciousness. 
"Only some cases of vomiting or a few headaches," reports Moussa Chebaane of the General Directorate for the Protection and Quality Control of Agricultural Products at the Ministry of Agriculture.
If a person wishes to know the levels of residue in their agricultural products, they can turn to a laboratory attached to and located within the Ministry of Agriculture. Here, for 200 dinars per batch, it is possible to carry out detailed analyses.
Due to the high cost of this procedure, food hardly ever undergoes testing and is sold without any investigation into its chemical composition.
Only fruit and vegetable exporters and certain supermarkets pay for this service, says Moussa Chebaane, as they want to find out/test whether their products meet international standards and can be sold abroad.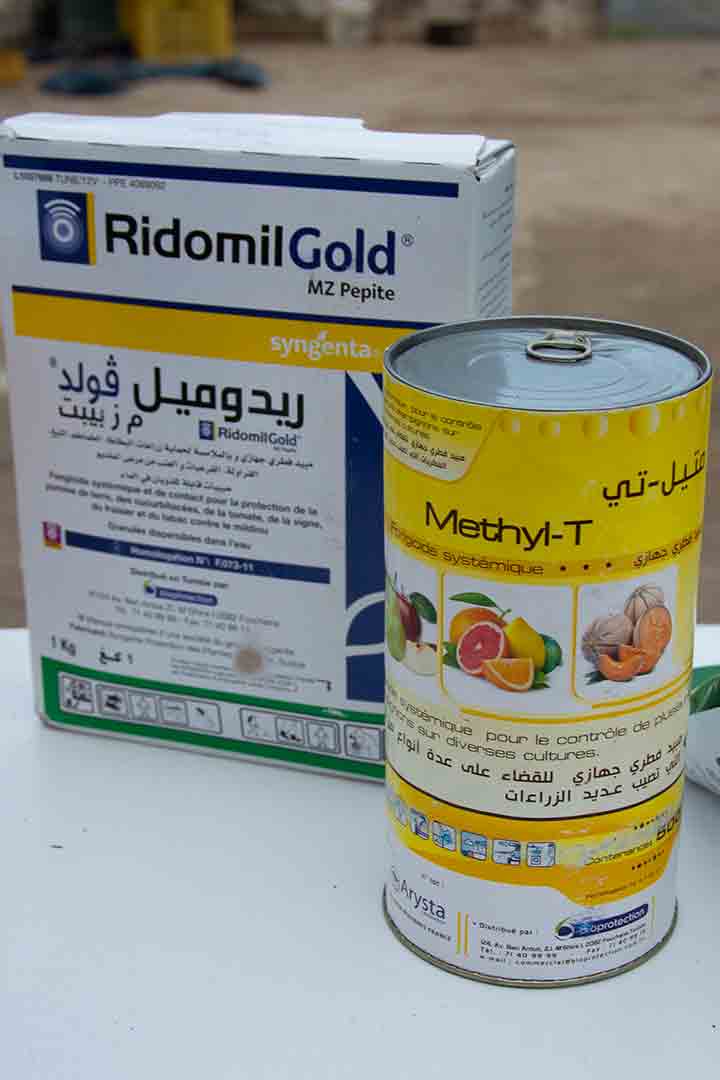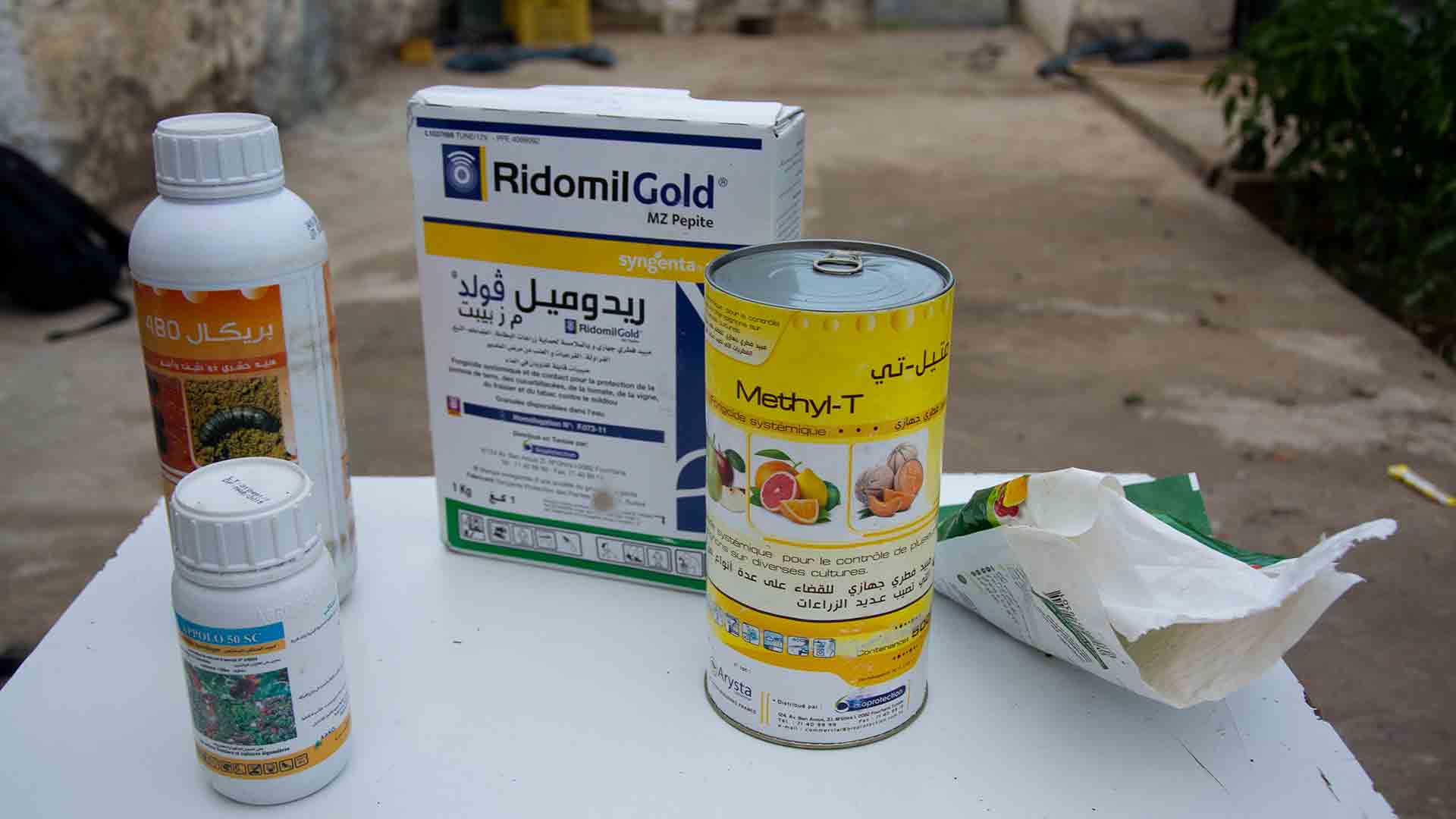 Chokri uses no fewer than five pesticides, along with additional fertilizers and growth promoters, to help cultivate his tomatoes.
Des pesticides venus d'ailleurs
All of the products purchased by Chokri, Ahmed, and the other farmers are manufactured by multinational corporations such as Bayer, Dow Chemical, BASF, etc. Imported in bulk, they are bottled and sold by Tunisian partner companies. In total, about 700 agricultural pesticides are available in Tunisia, which constitutes a "small market," says Moussa Chebaane of the Ministry of Agriculture. 
Because they are imported, these products are expensive. But Ahmed and Chokri say they have "no choice" and are forced to buy them. Without pesticides, their crops would not survive because, like most farmers in Tunisia, they rely on hybrid seeds. Hybrid seeds, manufactured by the same multinational corporations, do not reproduce nor are they always adaptable to different climates. Unlike local farmers' seeds, which were used up to a few decades ago, hybrid seeds are vulnerable to climatic variations and diseases. Ahmed recalls that the latter was not reliant on pesticides or fertilizers to grow and could last for more than one season.
But after a few years, the price of hybrid seeds began to rise. In the meantime, the practice of using local farmers' seeds had been abandoned by many who then had no choice but to continue buying imported seeds and pesticides.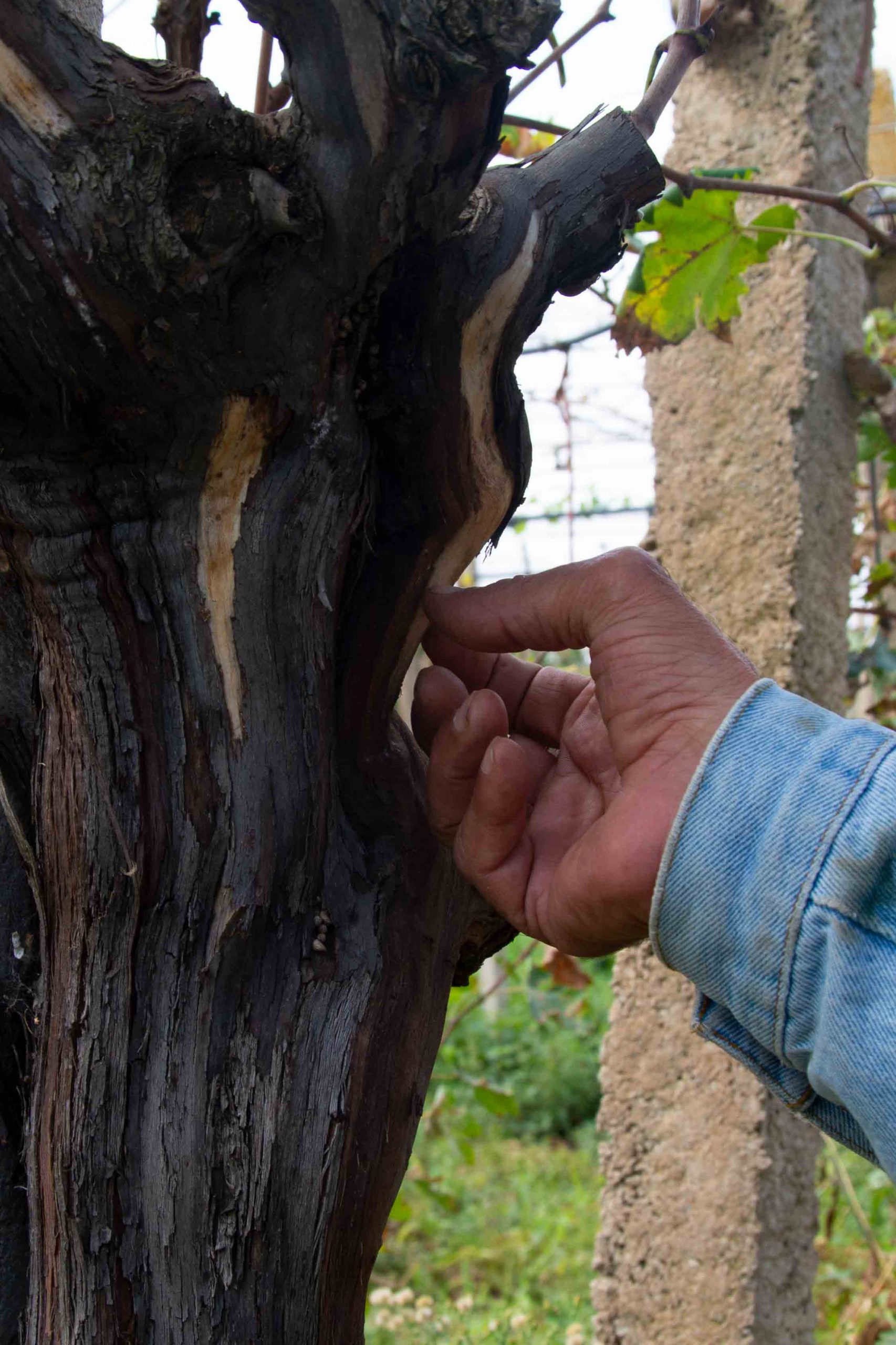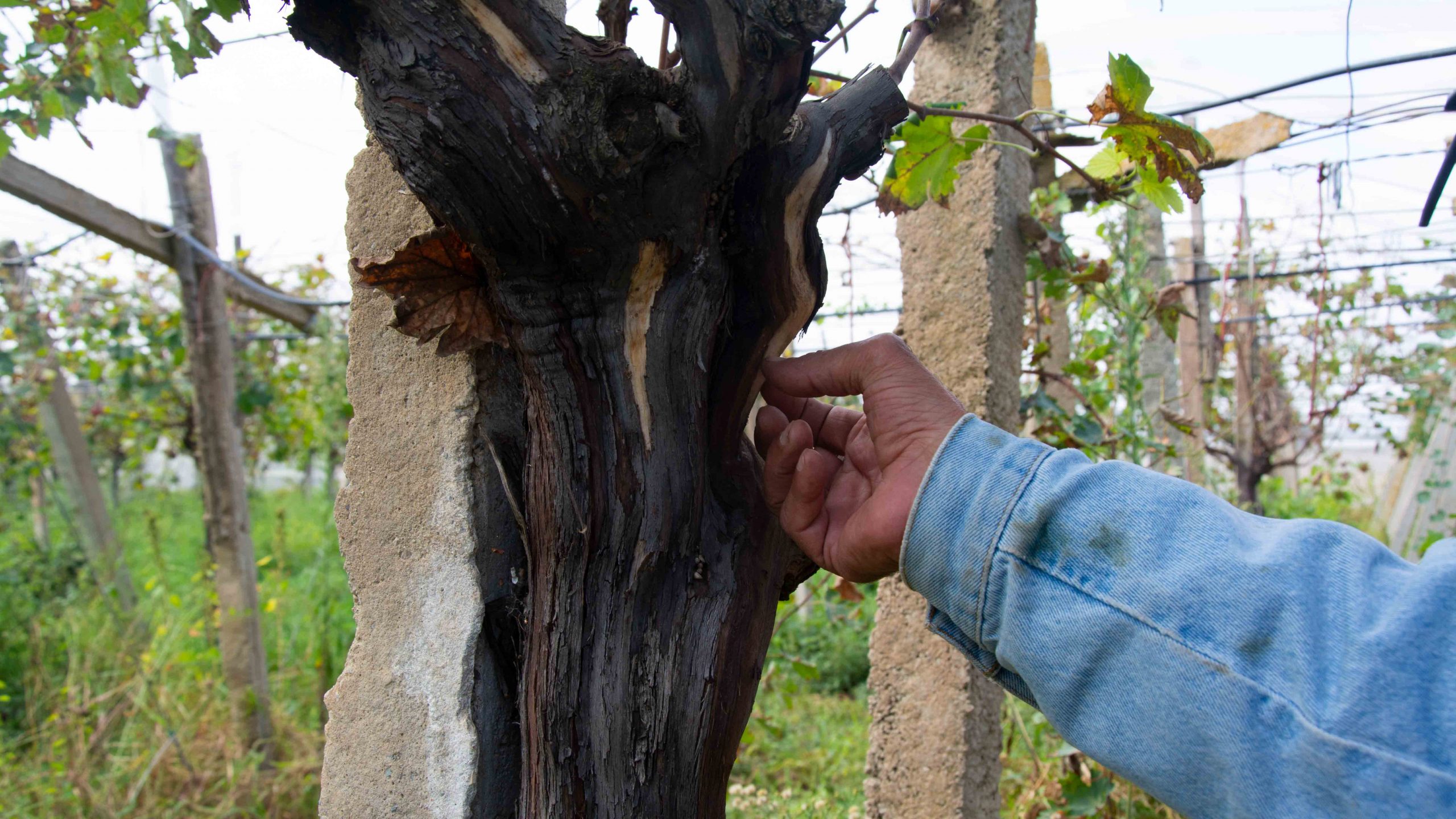 Ahmed regularly takes samples from his vines to check for pests.
A botched approval procedure
In order for a pesticide to be placed on the market, the Ministry of Agriculture is required to run several tests on the product, verifying its compliance, effectiveness, environmental impact, and effect on human health. One sample is taken to a laboratory and undergoes various examinations, while another is placed under real conditions with 'test/control' crops to measure its composition and effects.
But in practice, half of these examinations, including the toxicity check, are not carried out. 
Currently, the only test carried out in the Ministry of Agriculture's laboratory is an analysis of the concentration of the active substance in the pesticide. Although other substances in the pesticide may present health risks, "other components are not analyzed',' details the ANCSEP report.
The Ministry is also supposed to verify the quality of the product through an "effectiveness test." The substance must be applied to 'test/control' crops to observe its effects. But at the Ministry of Agriculture, they admit that a lack of human resources keeps them from conducting this test. "With people having retired, we no longer have the manpower to do it," explains Moussa Chebaane.
To make up for the lack of staff, the Ministry has made some 15 agreements with agricultural research institutes. Students are now offered the opportunity to run these tests - which can last more than a year - as an end-of-study project.
In theory, further tests should also be carried out to measure the damage pesticides inflict on the environment and wildlife. But due to a lack of resources, they are not.
"The Ministry asks companies to run these tests in their country of origin," explains Emna Mornagui of the OSAE, "except it's not the same climate, not the same soil, not the same plant varieties... so it doesn't make sense!"
In addition to all the absent pesticide tests, the state has not conducted any further investigations into pesticide residue on crops since 1999, says the ANCSEP in its report. This test is designed to determine the pre-harvest interval (PHI), indicating when the farmer should stop applying a pesticide to their crops in order to limit the concentration of chemicals in ready-to-eat food. 
This lack of quality control does not prevent the Pesticide Registration Commission from validating pesticides. This commission is made up of several permanent members from ministries linked to the pesticide industry, as well as observers from various associations who defend consumer interests and ensure that the commission is properly managed. 
But Emna Mornagui claims that there is a clear conflict of interest at play among some of the representatives. For example, the vice-president of the Tunisian Association for Plant Protection (ATPP), Naceur Chouikh, wears many hats.
In addition to participating in the Pesticide Registration Commission as an "observer member," he is also, the rest of the time, the manager of a pesticide resale business. For several years, he has also been a representative for Bayer in Tunisia.
This multinational company, a producer of pesticides and hybrid seeds, bought Monsanto, a firm singled out for its marketing of glyphosate. Glyphosate is a controversial herbicide, regularly accused of being "potentially carcinogenic" by the World Health Organization (WHO), but still available on the market.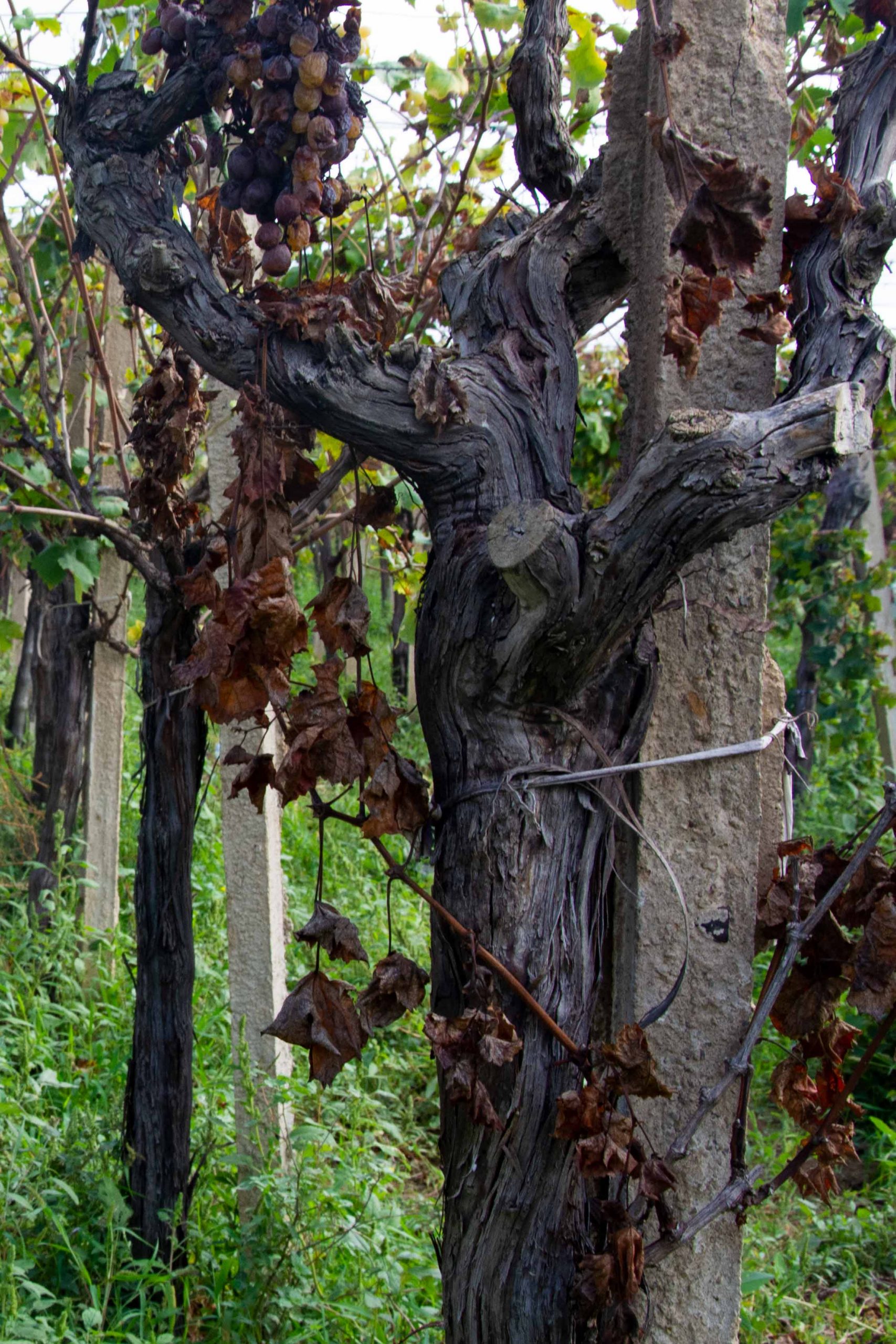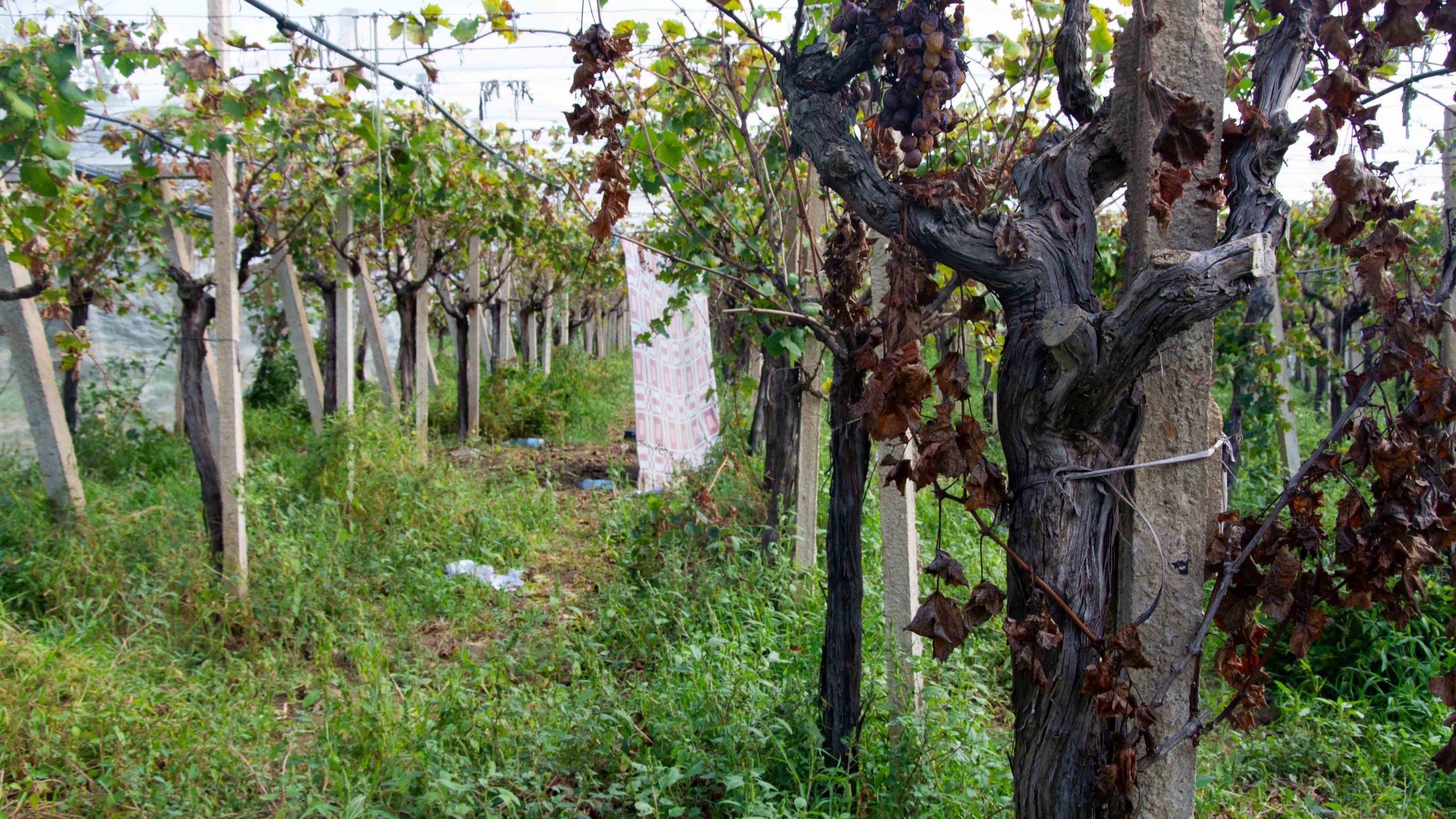 The Immobility of the state
Once a pesticide has officially entered the market, the Ministry of Agriculture is supposed to carry out checks on the entities that sell the product. Mainly, this is to ensure that the products that are sold to farmers are not outdated or chemically unstable. 
The insecticide Appolo 50SC that Chokri applies to his tomato plants every 15 days was manufactured in 2015. In theory, this product should have been inspected in 2017, two years after it was released on the market. But in reality, Chokri's supplier, who is based in a remote area of Siliana, is beyond the control of the State. " You can't monitor everything," defends ministry employee Moussa Chebaane. Only those with large warehouses are visited by inspectors, provided that their premises are accessible and sufficient quantities are available for inspection. " A chemical product, as long as it is stored in its original packaging in good conditions, can be kept for about 10 years," he says.
If the quality control test shows that a product is no longer stable, it should be reported or withdrawn. But such actions from the Tunisian authorities are very rare according to the Ministry official. Since all pesticides are imported, the Ministry of Agriculture only responds to alerts issued abroad.
When a product is withdrawn from the market in its country of origin, its importation is usually stopped. However, if a pesticide withdrawn in another country has no equivalent available in Tunisia, it may remain on the Tunisian market. " You can't withdraw a product without a substitute," justifies the ministry employee, stressing that Tunisia is not the only country to respond in this way. He would not, however, provide examples of any flagged products that remain in use in Tunisia due to a lack of an equivalent product. Countries that ban the use of a certain product do not always prohibit its manufacturing and may continue to export it abroad.
If the product is effectively withdrawn from the market, distributors with large quantities  of the pesticide in question must find a way of disposing of their inventory. " There is a waiting period to liquidate the product," explains Moussa Chebaane. According to law, the pesticide must be withdrawn in less than a year.
But according to the Ministry employee, it is sometimes better to continue to use the product until the inventory is depleted. " Get rid of it? What are we going to do with it?" he says ironically. If the vendor sells the pesticide in small quantities, they feel it should be easier to sell the remaining stock.
Another reason pushes Moussa Chebaane to recommend selling the remaining product. In theory, recalled pesticides should be recovered for destruction according to the standards set by the Food and Agriculture Organization of the United Nations.
" We don't have the technique," concedes the ministry employee. A few companies licensed by the National Waste Management Association (ANGED), under the Ministry of Agriculture, are authorized to recover stocks and destroy them in other countries. Sellers have the option of asking manufacturers to recover their stocks, but this service is subject to a fee.
The same problem arises with pesticide packaging. As they are contaminated, they have to go through the same process. But according to various testimonies, farmers throw leftover bottles and packages just outside of their fields, or they burn them. Without necessarily knowing it, they are subsequently polluting the surrounding soil and groundwater.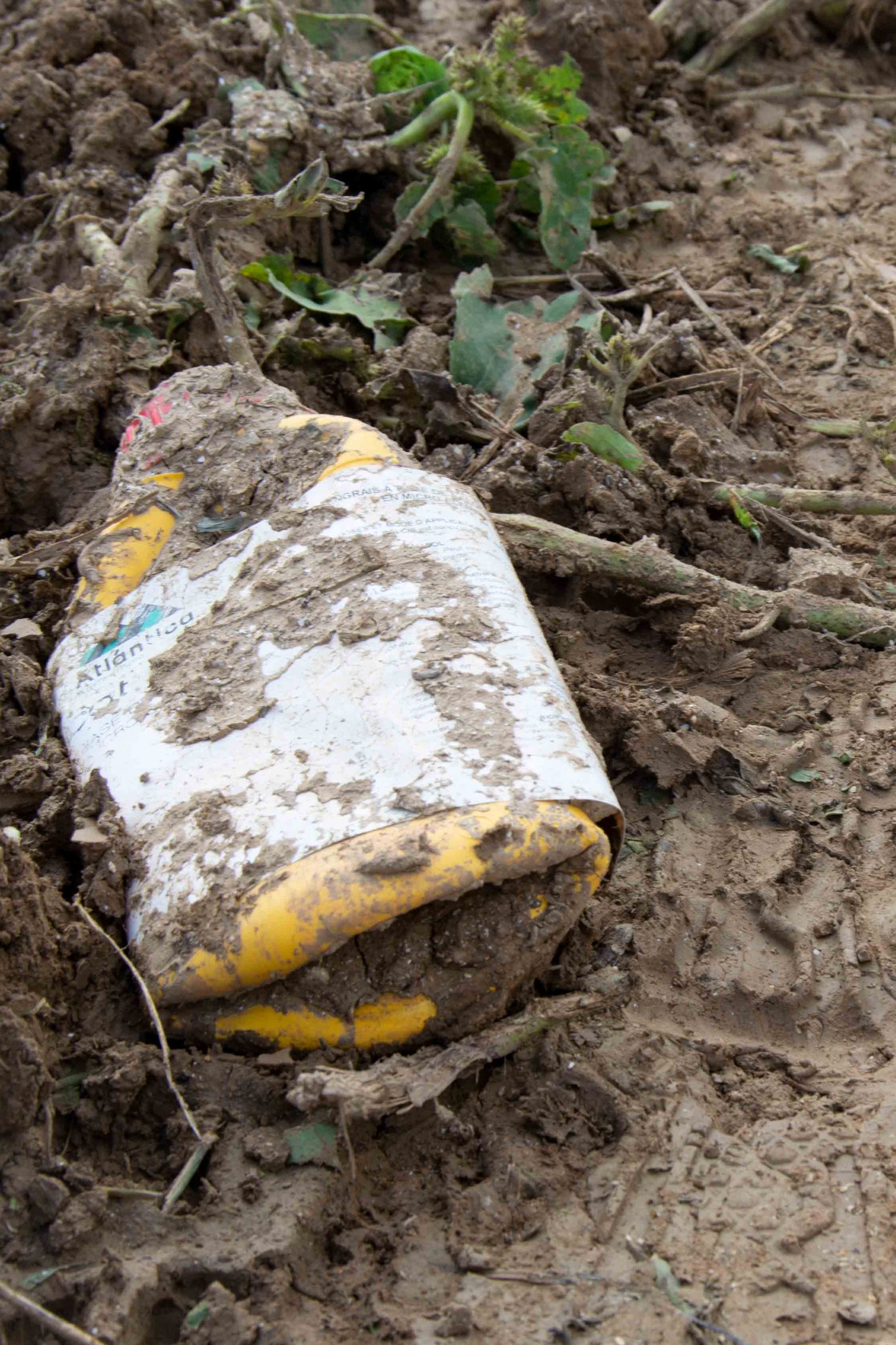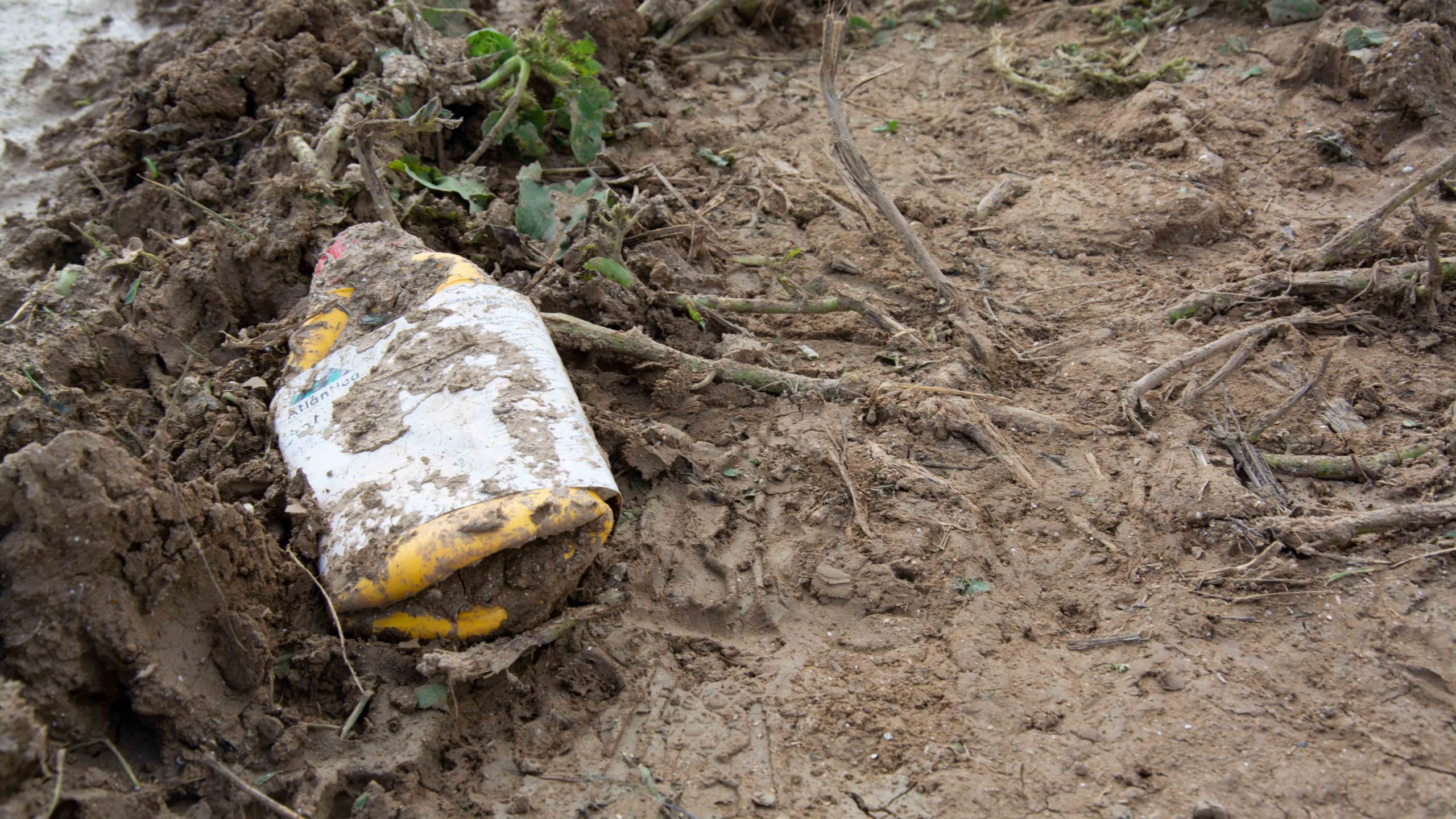 An empty pesticide bottle is left behind on a field. According to strict standards, pesticide packaging is considered contaminated and should be destroyed.

In 2002, the Tunisian government received financial support by joining the African Obsolete Pesticide Stockpile Programme (PASP - Tunisia). This program aimed to reduce the quantities of obsolete pesticides while finding solutions to dispose of non-compliant products. It led to the creation of a national vigilance system to control pesticide risks in Tunisia (SNVP). Despite requests, no information has been provided on the progress of this project.
In addition to the lack of resources, new legislation related to this sector is slow to be implemented. A National Authority for Food Safety and Quality is expected to be set up soon to oversee the pesticide sector. Moussa Chebaane hopes this will lead to the creation of " a department that monitors pesticide residue and carries out systematic analyses." 
Confirmation of its implementation was affirmed in February 2019 by the parliament. " It's going to be done," says the Ministry official, before adding sarcastically, " but it will take another two or three years to create it."
At the Siliana market, where Ahmed sells his grapes, consumers have no idea about all the problems and risks involved in the production and consumption of locally-sourced fruits and vegetables. " Pesticides make the fruit better," one customer says.