Mahmoud Trabelsi created a company by the name of Tradepro Investments Group Limited in 1994 in the British Virgin Islands. Two years later, in September 1996, Noomane Fehri — Trabelsi's friend and associate — joined the team as director of the company, and it was renamed Information System Services Limited. 
At the time, Fehri was based in Algeria with oilfield services giant Schlumberger. He bought 25 shares of the company valued at one dollar each. He confirmed this during an interview with Inkyfada on April 13th.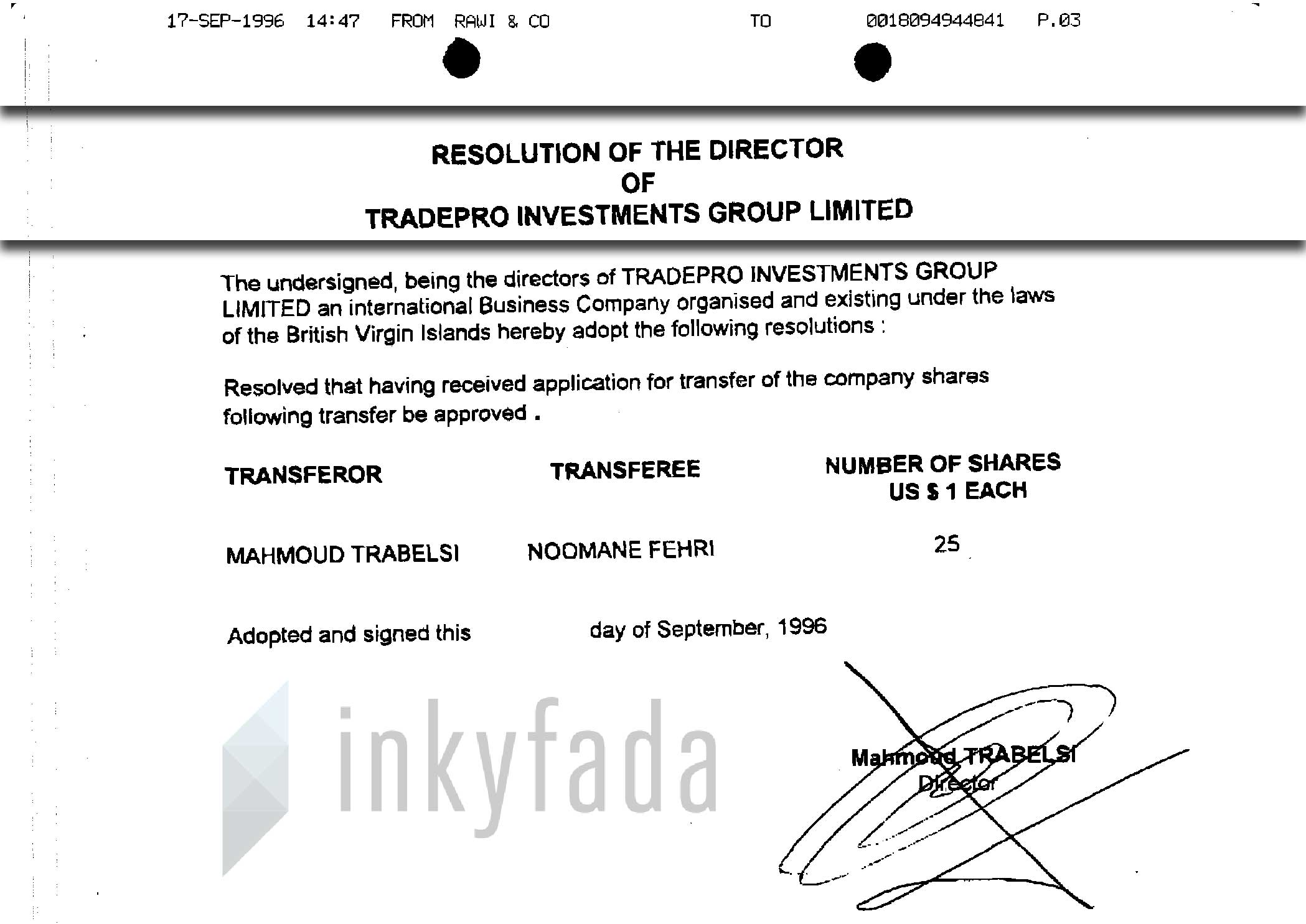 Resolution to transfer 25 Information System Services Limited shares to Noomane Fehri
The paper trail leaked from Panama-based law firm Mossack Fonseca reveals that two years later, in 1998, Fehri resigned and the company reassumed its former name.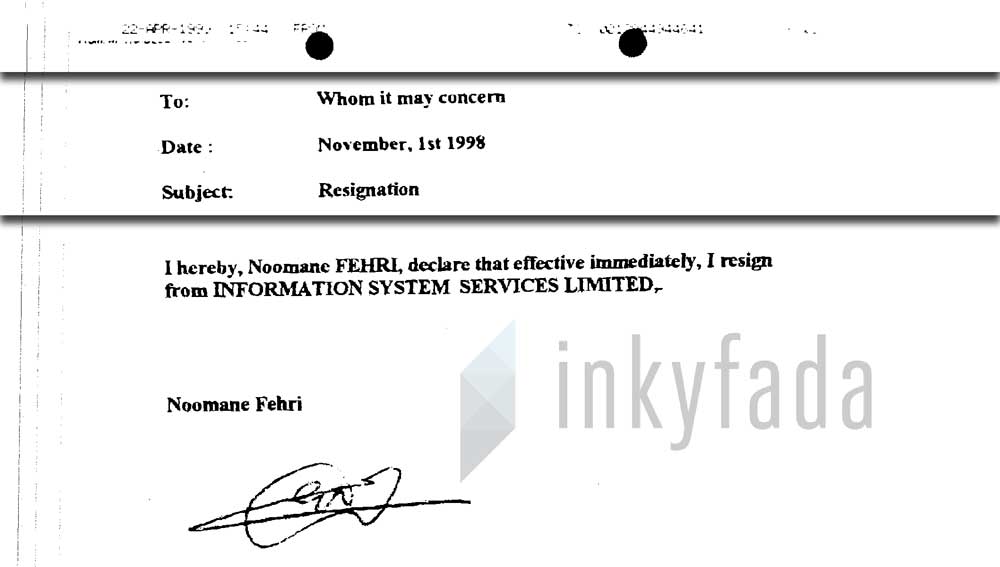 Noomane Fehri's resignation from his position as Director of Information System Services Limited
A FORGOTTEN COMPANY, DISSOLVED IN 2011
Fehri no longer appears in company documents until 2011, when the company shuts its doors. On the same paper, he and Trabelsi sign, both as 'director,' and the company is dissolved. 
Noomane Fehri had just been elected deputy after running on the Afek Tounes party's list. Fehri and Trabelsi would later explain that the timing of their offshore company's closure was a simple oversight.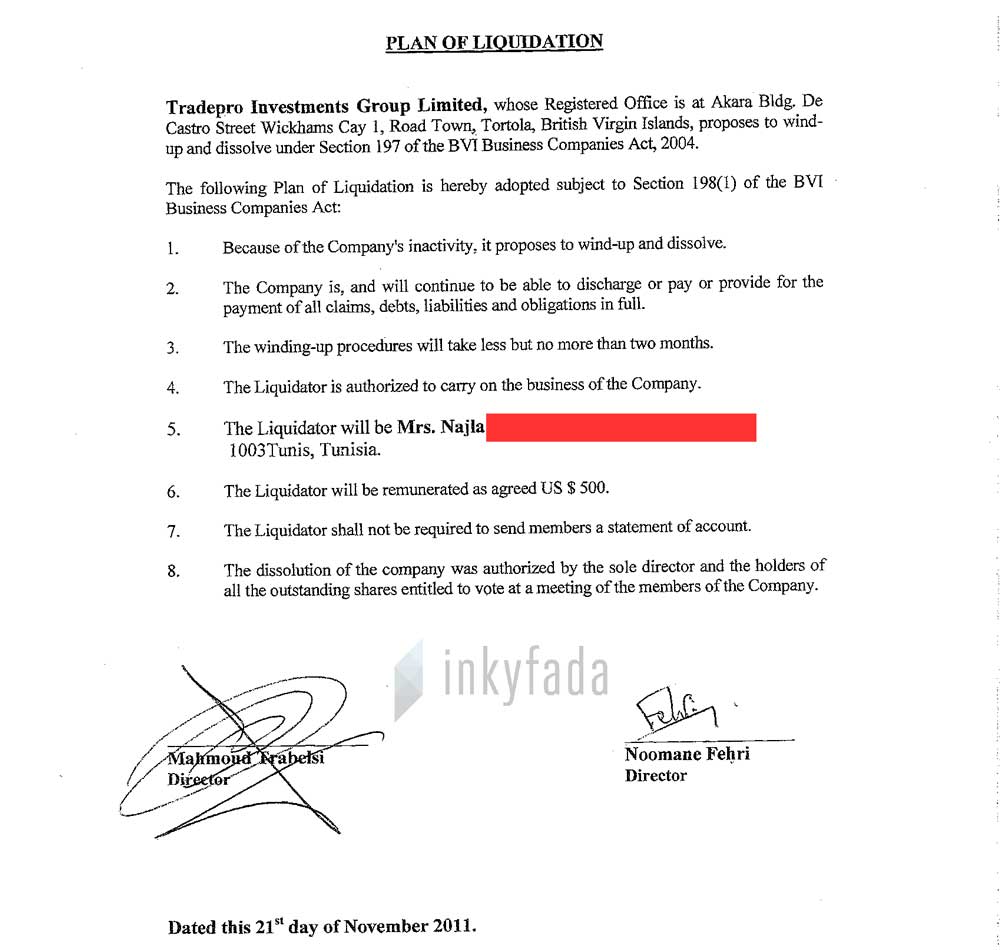 Plan of liquidation as Tradepro Investments Group Limited proposes to dissolve, jointly signed by Mahmoud Trabelsi and Noomane Fehri on November 21st , 2011
Before taking up politics in post-revolution Tunisia, Noomane Fehri held senior management positions in several multinational companies, including Schlumberger and KPMG Consulting. 
These positions placed him in France, Libya, Norway, Algeria, Indonesia, and England. Fehri recalls that it was in Libya in the beginning of the '90s where he first met Trabelsi. They became close friends and shared frequent holiday trips back to Tunisia.  
In 1996, while Fehri was stationed in Algeria, Trabelsi suggested that they become business partners for IT (information technology) projects. " It is a story that goes back about 20 years; I do not remember it well," said Fehri. " But we never followed through with the project and the company never functioned," he said. 
He then claimed to have forgotten about the existence of this company and says he was surprised to hear that his name appeared on company documents. " I suppose that the liquidation process dragged on and that Mahmoud thought it would be better to officially dissolve the company after my election to the Assembly," he said. " He was right." When asked why he appeared on the documents as the director despite having resigned more than 10 years prior, he replied, " Honestly, I do not know."
" Noomane was never re-appointed director after his resignation in 1998. Apparently, his resignation, while received by Mossack Fonseca, wasn't registered and taken into consideration," said Trabelsi in an email sent to Inkyfada on the first of May. 
" The company was dormant, with no business activities and no real reason for existence. It was slow to be dissolved. It was done in 2011. The late dissolution was an oversight and the result of my negligence," he added.  
Why the British Virgin Islands?
Mahmoud Trabelsi is originally from Sfax, Tunisia. He is involved in many Tunisian companies, either as a director or shareholder and has worked in sectors ranging from international trade in air transport services, to information technology, to event management. 
According to the documents leaked by Mossack Fonseca, Trabelsi opened a company called TradePro Investments Group Limited in 1994 in the British Virgin Islands through a London-based intermediary. " At the time, all of my business activities were related to exporting," he said during an interview with Inkyfada, declining to say more because " it is not the subject."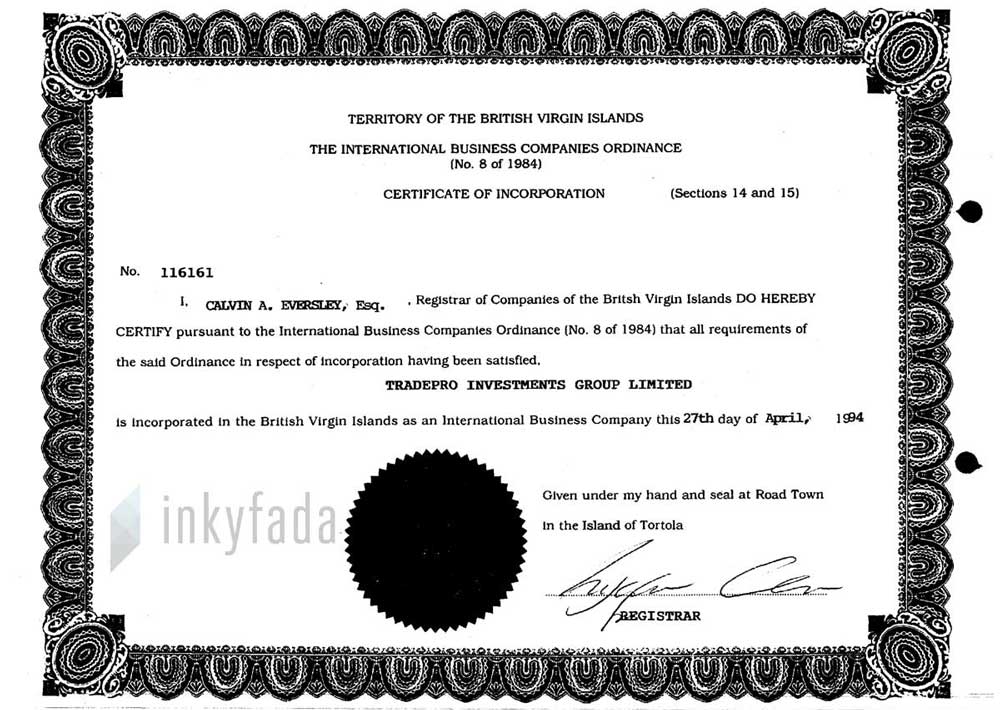 Certificate of Registration for Tradepro Investments Group Limited
Trabelsi claims to have opted with the British Virgin Islands for its image. " Partners would not take a company registered in Tunisia seriously. And so the choice of the Virgin Islands was simply to add an international dimension when dealing with potential clients. Believe me, that was the only reason," he said. 
Trabelsi insisted that the company never really functioned and called it an "empty shell." He added that as his business activities were completely export-orientated, they were never subject to taxation. 
According to Neila Chaâbane, specialist in tax law, associate professor of public law, and former secretary of state for women, children and family,  
" What defines a tax haven is not only the fact that taxes are low, but also, and especially, the opacity that characterizes these zones." 
According to Chaâbane, companies registered in the Virgin Islands or other tax havens are often 'undercapitalized' and serve more to reduce taxes for companies coming from countries with higher tax rates. These financial arrangements, she says, take advantage of the complexity of offshoring and crossing over different jurisdictions, without necessarily breaking the law. In terms of regulation, she says, the Tunisian authorities are not sufficiently equipped to monitor these arrangements, thus deferring to the jurisdictions of the other countries concerned.
The Question of Residency
Neila Chaâbane further explained that under Tunisian jurisdiction (i.e. once a business owner resides in Tunisia), businesses are obligated to report any remunerated activity, export transactions, transfer authorizations, payment of commissions, and other company related expenses.
Foreign Trade and Exchange Code
Article 16 of the Foreign Trade and Exchange Code states, "When the assets to be declared by the same person do not exceed an amount to be fixed by decree, their owner is exempt from the prescribed declaration."
Moreover, Article 20 of the same Code, which was amended on October 24th, 2011 states that there is an "exemption from the obligation of repatriation of income of Tunisian nationals returning from abroad to Tunisia . . . for their assets constituted abroad before the date of change of residence."
After residing abroad for years, Fehri came back to Tunisia and turned to politics. He eventually joined Afek Tounes, a liberal party created shortly after the revolution, and was elected as a deputy to the National Constituent Assembly on October 26th, 2011. 
Upon returning to Tunisia, Fehri did not declare remunerated activities from his position as director of Information System Services Limited from 1996 to 1998. 
In 1997, Mahmoud Trabelsi became a resident in Tunisia once again. " At the time, I had no participation to declare," he said. And as to when the company was established in 1994, he claims to have resided in Dubai. We also learned that Trabelsi's wife was the secretary of the company and resided at the same address.
When Tradepro Investments Group Limited was dissolved, both Trabelsi and Fehri were residing in Tunisia. 
Who owns TradePro Investment Group?
There is no public information regarding who contributed the seed money to TradePro Investments Group. This type of company grants full authority to the directors to make decisions on their own remuneration and benefits, how registered or bearer (i.e. anonymous) shares are authorized, and how dividends are distributed. 
For example, in 1996, Trabelsi transferred 25 shares to Fehri. As director, Trabelsi could do this without necessarily owning shares himself. 
When Fehri resigned as director in 1998, Trabelsi reached out to Mossack Fonseca to request that the company name be returned back to its original. Through this communication, we learn that Trabelsi was "not involved any more in Information System Services" and that his company "belongs to an anchor company" by the name of TradePro International (T.P.I.).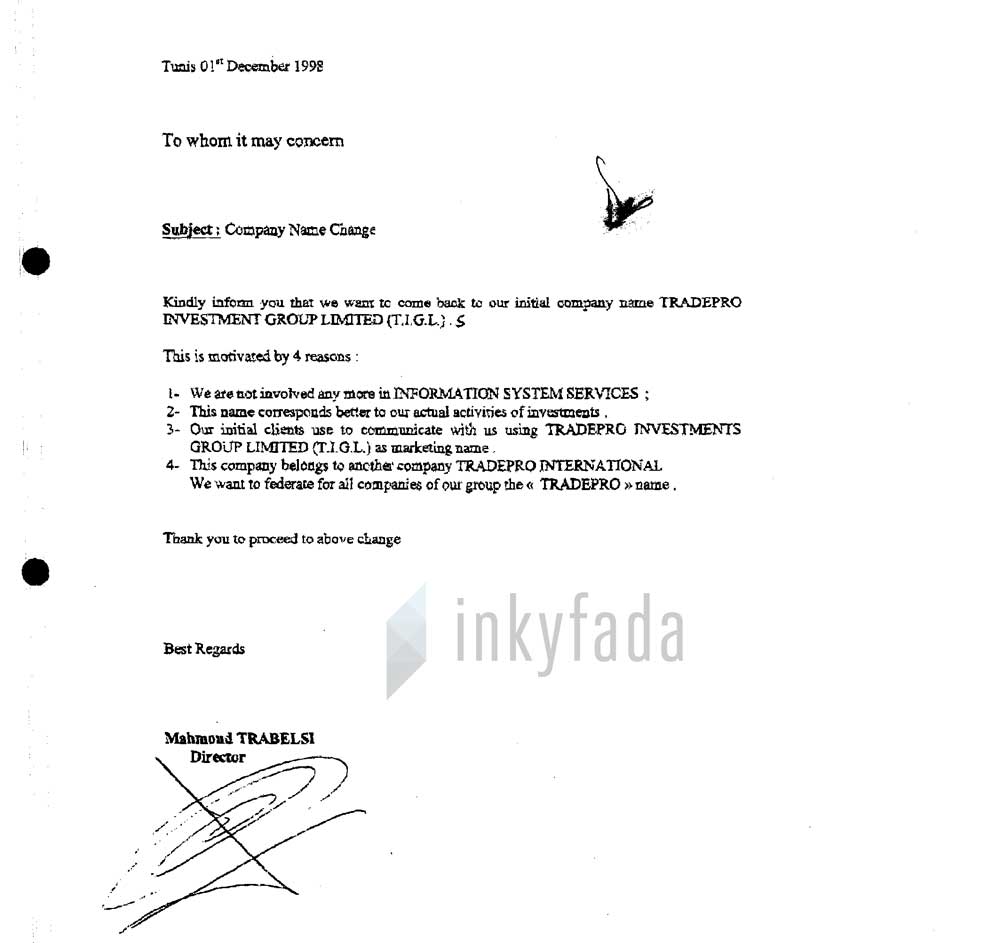 In a letter to Mossack Fonseca, Mahmoud Trabelsi explains his motivations for changing the company name back to Tradepro Investment Group limited from Information System Services. Trabelsi states that this company belongs to an anchor company called Tradepro International.
Another document shows the redistribution of the company's capital: 99% (49,500 shares) given to T.P.I. and 1% (500 shares) to Trabelsi's sister. " As a non-resident, she had the right to own shares in this company. She did not have any role in the company," he said.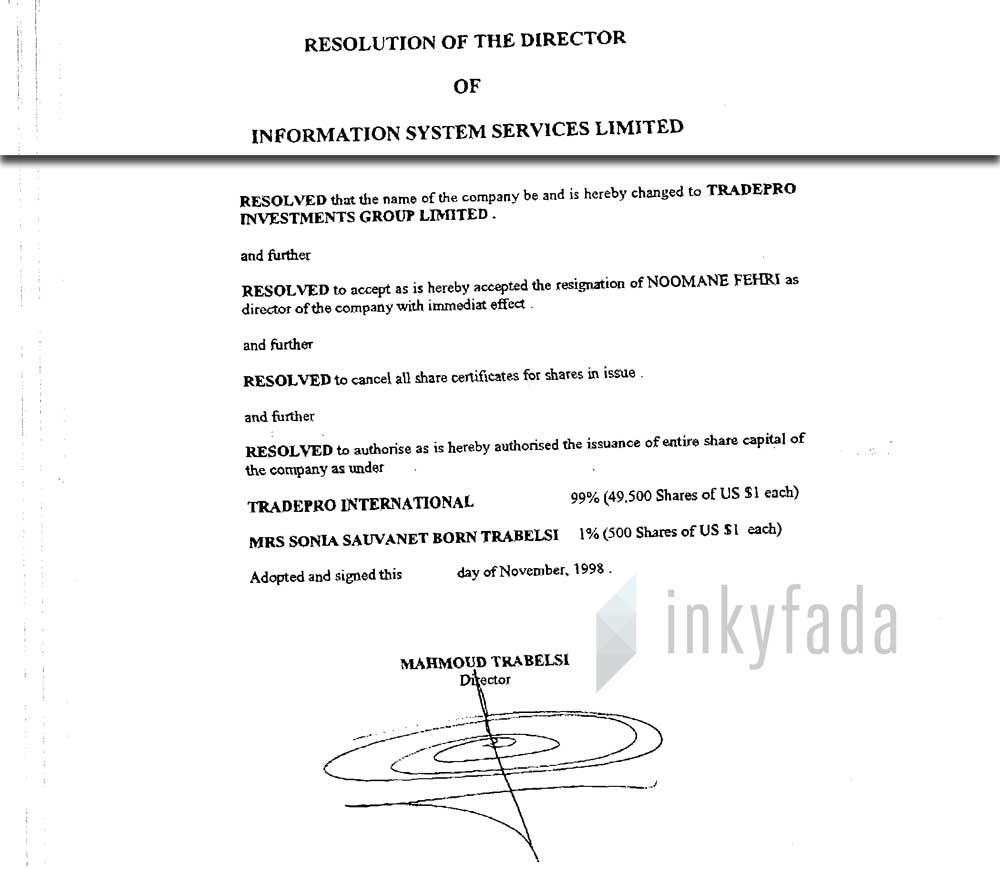 Tradepro Investments Group capital redistribution report: 99% (49,500 shares) for Tradepro International and 1% (500 shares) for Mahmoud Trabelsi's sister
Trabelsi declined to explain the nature of Tradepro International's activities, nor did he reveal where the holding company is registered or how much it is worth. 
T.P.I (Trade Pro International) was registered and eventually incorporated in 2003, in Tunisia.
T.P.I was owned by Mahmoud Trabelsi (32.5% of the shares) and his French sister (67.5% of shares), with a net worth of 200,000 Tunisian Dinars. According to the statutes given to the trade register, it was registered as an offshore (non-resident) company intended for international trade.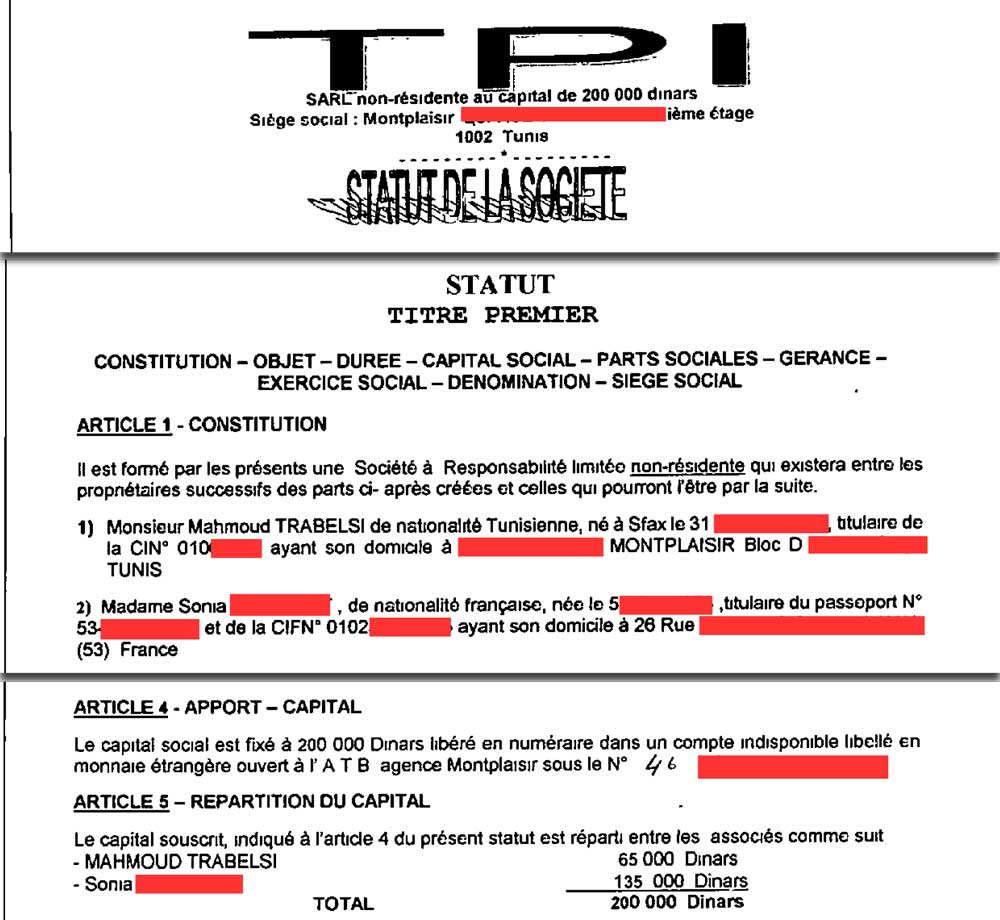 Excerpt from the Tradepro International statutes filed within a Tunisian registery
The TradePro group's activities
Requests for quotes (RFQs) sent to Mossack Fonseca between 1995 and 1997 reveal a few details regarding the activities of TradePro Investments Group and Tradepro International (T.P.I).
In 1995 and 1996, Trabelsi sent two RFQs to aviation companies concerning the purchase of parts and other articles for small planes (short take-off and landing planes) no longer in circulation.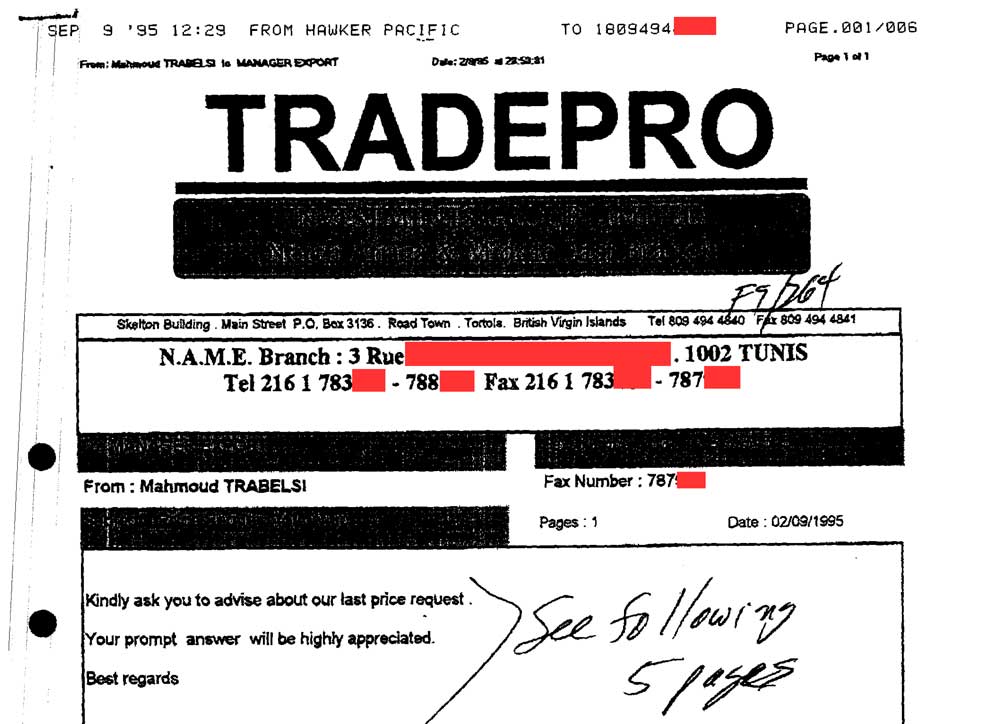 A request for a quote sent to an aviation company in which addresses in both the British Virgin Islands and Tunis are listed
Within these requests, Trabelsi provided two addresses: one for TradePro Investments Group in the British Virgin Islands and one for the "North Africa Middle East" branch in Tunisia.  
In another correspondence from 1997, Trabelsi confirms that TradePro paid two invoices totaling 6,000 USD and requests another quotation. Despite Fehri's role as director at this point (when the name was changed to Information System Services), Trabelsi continues to write on TradePro's behalf.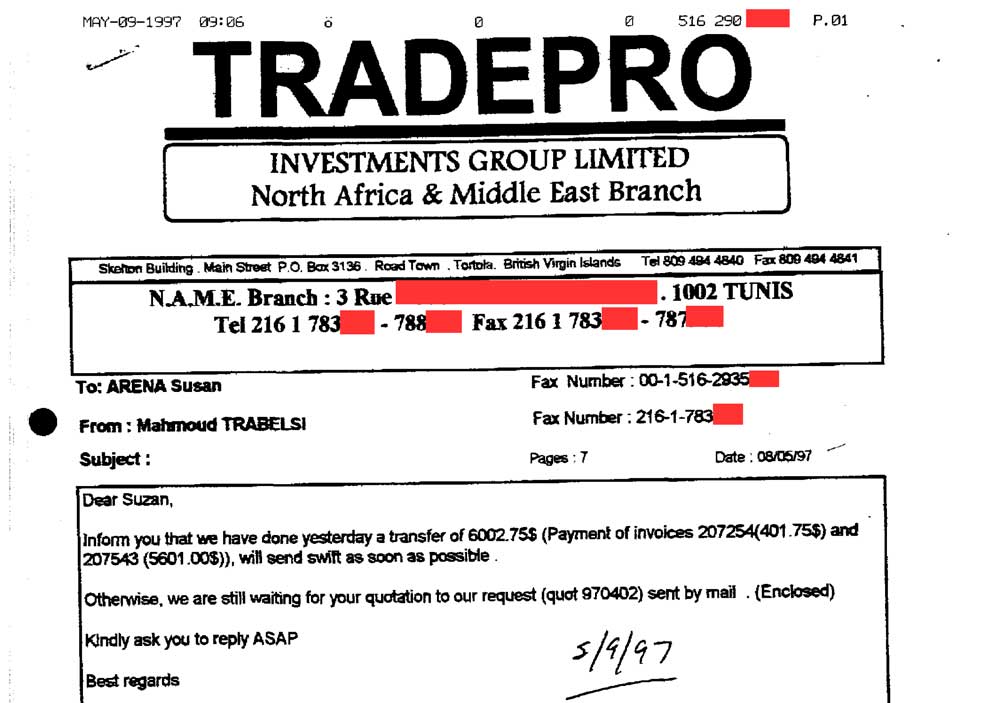 Tradepro Investments Group claims to have paid two invoices and requests a new quote
No other reports kept by Mossack Fonseca discuss the commercial activities of TradePro or its parent company TradePro International. However, documents submitted to the trade register in Tunis between 2003 and 2007 tell us more about Trabelsi's Tunis-based company T.P.I (Trade Pro International). For this company, we see the profits were shared between 3 actors — the two shareholders and a 'non-resident' company called H.S.C. (High Speed Cable) — in the form of interest loans.
H.S.C would go on to change its name to Lake Forum, acquiring 2,000,000 Tunisian Dinars by 2010 in activities mostly related to room rentals for large-scale events. Trabelsi appears to be both the director of and an investor in this company. Later, T.P.I. becomes a minority shareholder in Lake Forum. 
No link could be established between the non-resident company T.P.I., registered in Tunisia, and TradePro International, the parent company of TradePro Investments Group Limited (based in the British Virgin Islands and dissolved in 2011). Between the companies with the same name, the connecting link is clear: Mahmoud Trabelsi and his sister, who does not reside in Tunisia. 
Tax optimization, capital flight, and opaque financial arrangements ... this case reveals just the tip of the tax haven iceberg.