"C itizens are being detained just because they demanded their right to water", chanted a small crowd on the steps of the Municipal Theatre of Tunis. "Companies sell water while we're dying of thirst!", they shouted.
They gathered on July 21. That same week, the temperature across the country would continue to climb, before it reached a peak of 50 degrees - triggering catastrophic wildfires in Tabarka and intensifying the desperation wrought by the country's water scarcity. 
"We plead for the president of the republic to send a government representative in the region and witness the catastrophe in Bargou by themselves", implored the protestors.
Bargou is a small town of around 400 families in the Siliana governorate, a two-hour drive away from the capital, where residents have been suffering from an acute water shortage. Despite limited access to drinking water and threats to their livelihoods, which depend on agriculture, their request to drill a new well was denied by the Siliana authorities, confirmed the Tunisian Forum for Economic and Social Rights (FTDES).
So, when a private water company was instead approved to do the same to bottle and sell mineral water, the residents of the parched town mobilized and protested.
Grassroots activists targeted
In response, the state charged 28 inhabitants with "intent to obstruct traffic", and "participating in a gathering causing public nuisance, with intent to commit a crime and hinder the ability to work" this March. Still waiting for the outcome of their appeal, they face the possibility of imprisonment for their activism.  
According to a FTDES briefing, the grounds for prosecution should be reformed and are often used to sue peaceful protestors who reclaim their rights. 
Tunisia's excessive use of its penal code and "abusive laws" targeting activists has been denounced by Human Rights Watch (HRW) for years. Mariem Klouz, a lawyer at Avocats Sans Frontières* (ASF), puts the system at fault: "In Tunisia, there is no legal framework that allows for the activity of human rights defenders". As a result, "they are always against the boundaries of the law, even though, in truth, they didn't do anything that should be illegal".
Against the broader backdrop of the erosion of rights and liberties, environmental activists are being targeted. But as Tunisia grapples with the intensifying effects of the climate crisis, the fight for environmental justice is all the more urgent.
This June, 38 environmental activists in the Sfax governorate were hit with similar charges. Four members of the movement Manish Msab ( "we are not a dumpsite") face 8 months in prison. One of them, Thameur Ben Khaled has been accused of assaulting an employee of the dumpsite. He denies the accusation and is awaiting a court date for his appeal.
"I'm not a criminal because I said I want a healthy environment for myself, my family and my country".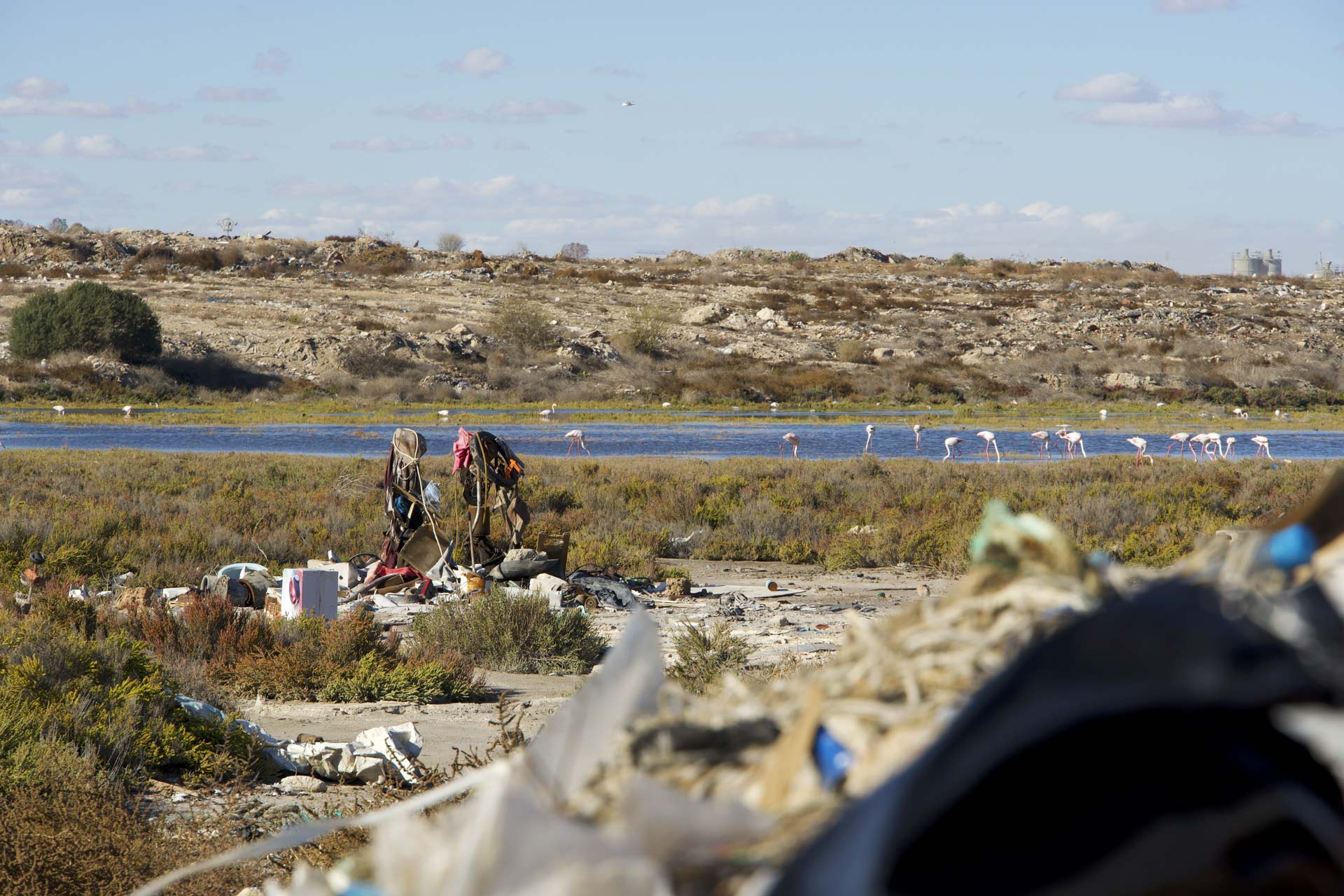 An illegal landfill behind the Sfax harbor. November 2021. Credit: Arianna Poletti
Since 2016, the activists have engaged in peaceful, artistic demonstrations to protest the plight of Agareb's inhabitants, beleaguered by years of inhaling polluted air emanating from a nearby garbage dump. Residents blame the dumpsite for a host of health issues - including increased rates of various cancers. "The town has become a cemetery for its inhabitants", Ben Khaled tells inkyfada. 
"They're environmental terrorists", he says of the Agence Nationale de Gestion des Déchets (ANGED). Yet they are "punishing Manish Msab to teach other environmental activists a lesson". 
The rest of the activists were targeted for protesting against the improper treatment of toxic substances and pollution caused by an olive oil company located on the same site as the dumpsite, confirmed Ines Labiadh, head of the environmental justice division at FTDES, who is working to support their appeal process. Others were prosecuted after protesting against the National Sanitation Office (ONAS) for discharging wastewater into the heart of the El Gonna nature reserve. All of the activists deny their charges and await court dates.
Ben Khaled, who lives and works in France, is now afraid to visit his family in Tunisia; "If I come to visit my children, I risk being arrested at the airport right away, I risk going to prison–for a crime I didn't commit."
Thameur Ben Khaled's testimony highlights the risks taken by those who fight against water shortages, pollution and waste management. "From the start, we knew we were up against an environmental mafia". Taking on hostile private companies and domineering state agencies, grassroots environmental activists face an unequal, uphill battle.
"They're fighting alone, and when they get arrested oftentimes nobody hears about it", reflects environmental activist Raouf Ben Mohamed Goffa. 
Because of his work on water rights, Ala Marzougui, the head of the Tunisian Observatory of Water, told inkyfada the SONEDE is pursuing him and his organization. "We're well protected: we have lawyers who can help us, and we're known by the media", he says. "We can defend ourselves". 
Some aren't so lucky: it's the "small, spontaneous protest movements", facing down gargantuan polluters which, for Marzougui, are the "most affected by this repression".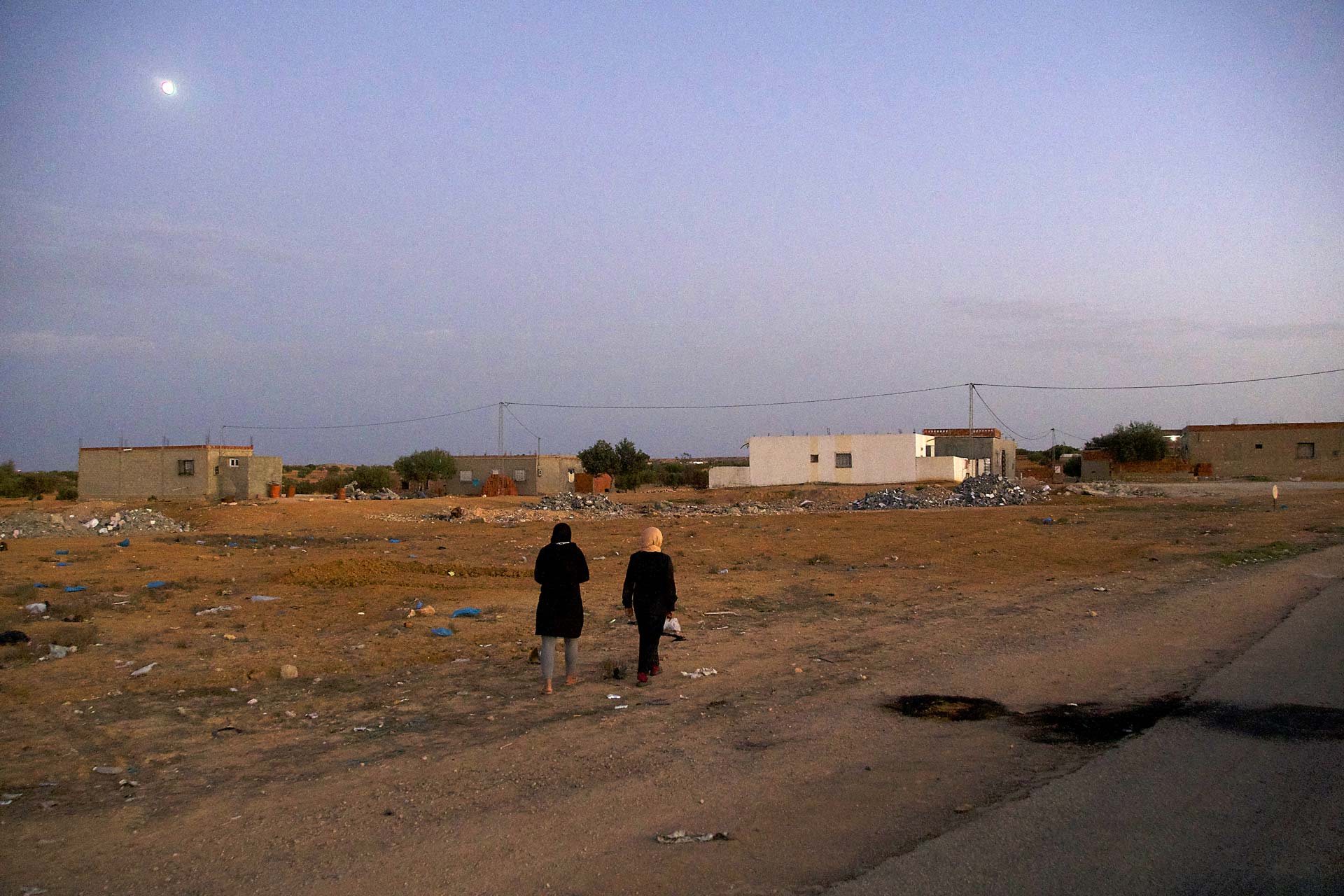 Inhabitants of the "Msab" a neighborhood between the public garbage dump and Agareb. November 2021. Credit: Arianna Poletti
Their struggles, and the suppression they face, often go unreported. Ines Labiadh emphasizes that this lack of visibility makes environmental activists vulnerable targets for security forces. Police violence is common, especially away from the capital. The most tragic instance, the 2021 death of Abdrazek Lachheb as a result of clashes with the police in Agareb underscores its prevalence.  
Raouf Ben Mohamed Goffa, who was active in protests against the Chemical Group in Gabès in 2019, remarked a stark difference : "It's really clear that the police are a lot more aggressive there than they are in Tunis". 
"We have been released, but we don't know if we are truly free", an activist who wished to remain anonymous, tells inkyfada. He was arrested temporarily due to his involvement in protests over water cuts in Gafsa in 2019. Although he remains critical, the fear of further persecution keeps him away from any political activity.
"They make people believe that they have to choose between employment or the environment"
Using, or misusing, the law criminalizes and silences environmental defenders. But a laggard economy and inadequate policy are structural obstacles that they must also contend with. 
Manel Benarfia Bahri, a fellow member of Manish Msab, recounts incessant harassment from workers of the now-closed dumpsite, who blamed her movement for causing them to lose their jobs. " They showed up at my work, they harassed my family". Raouf Ben Mohamed Goffa, who was active in the protests against the Chemical Group in Gabès, tells of fellow demonstrators being offered jobs by the very group they were fighting against. Faced with few alternatives, many accepted; "They give people jobs and wipe out the protestors. They make people believe that they have to choose between employment or the environment", he says. 
"We have the right to both: the right to work and the right to a healthy environment", Raouf Ben Mohamed Goffa concludes. 
In many regions, these large factory groups often represent one of the few job opportunities available, in an increasingly difficult socio-economic context with high unemployment. This has contributed to the destruction of the diverse agricultural sector in Agareb and the profitable tourism and fishing industry in Gabès*, according to Ines Labiadh.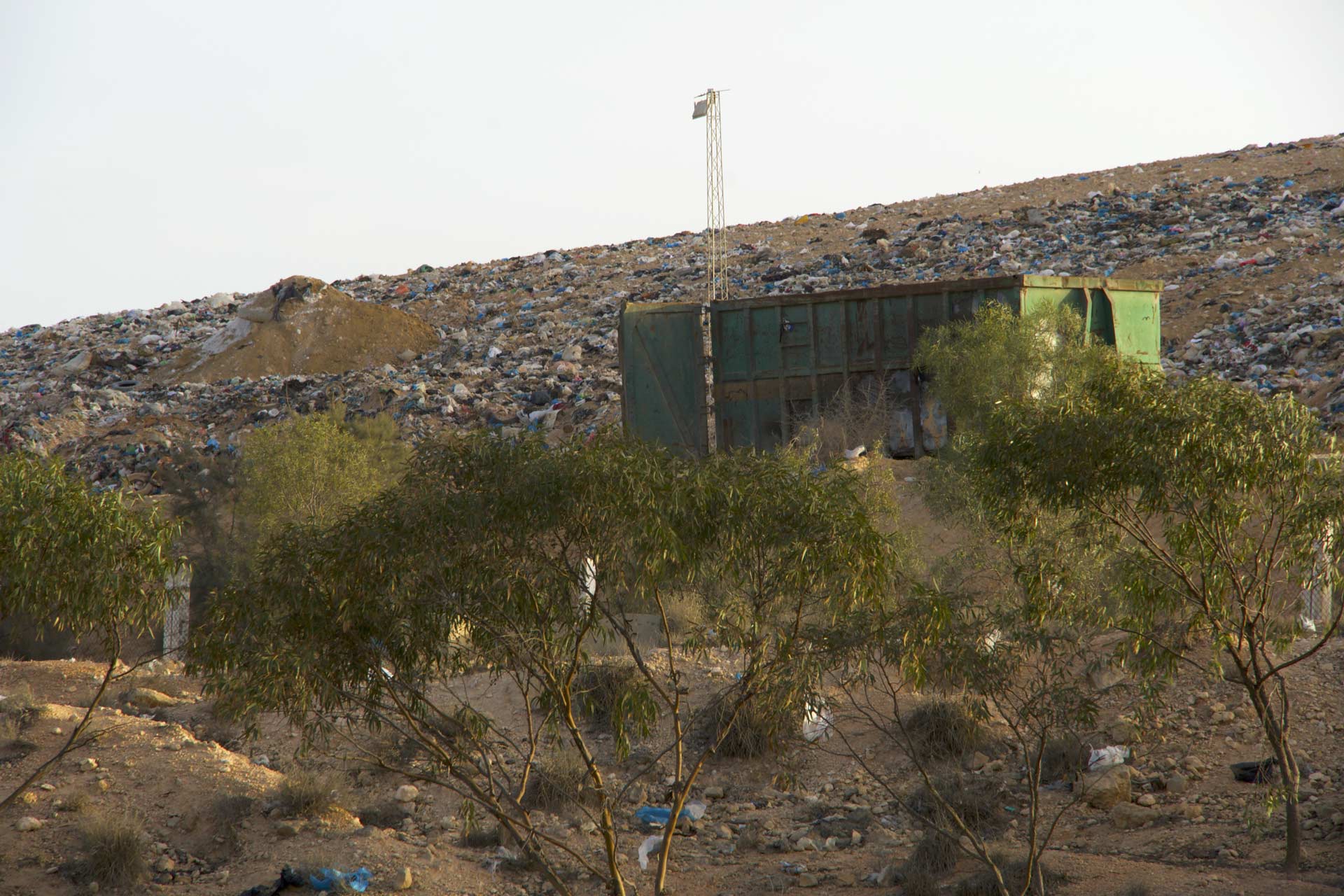 The entrance to the Agareb garbage dump, a week after the November 2021 protests. Credit : Arianna Poletti
Labiadh is not optimistic about the new Environmental Code, which has not yet been seen by the government or the National Assembly, either. Along with others, she highlights the lack of robust controls for businesses. Should this Code be passed into law, enterprises would not be legally constrained: 'environmental and social responsibility remains voluntary'. 
She also bemoans the Code's lacking "social dimension". In particular, the omission of a mechanism for consultation with citizens when it comes to the approval of public landfill sites. This is a huge oversight, and will only result in a repeat of Agareb down the line, she believes. "How can we expect residents not to protest?"
Environmental activists take to the streets because dialogue is simply not an option. During recent demonstrations over water cuts, Raban Ben Othman, head of the Gafsa section of FTDES, was met not by members of the SONEDE but by security forces–sent to negotiate in their place. For Ben Othamne, this showed not only the administration's weakness but also a "failure to take responsibility for the violations they have committed". Activists and civil society members believe that change will not come from within the system. 
"Protecting its population against environmental harms is just not a priority for the state", attests Ines Labiadh.
It might take some time for citizens to consider water and a clean environment as a right, rather than a service, believes Ala Marzougui. In a political context where many other liberties are increasingly under fire, environmental rights are often forgotten. But if these small environmental movements are allowed to mature, free from repression, and foster this political consciousness, Marzougui is confident more ambitious demands can be made. 
"The environment has become a new frontline for human rights defenders". Thameur Ben Khaled told inkyfada. "But unfortunately, we are sometimes forced to fight for our rights, in order to live."