With his straw hat tightly screwed on his forehead and his pitchfork in his hand, Elyes bends down to pick up a handful of dried posidonia* strewn on the ground. "Some people say that I must be crazy to put this in my garden", he regretted while pointing out the seagrass that he himself picked up on the beach of Chebba.
Last year's drought did not spare the region, but Elyes' garden is still thriving. He said that his plants get their resilience from the posidonia cover that he spread all over the ground, which limits the water evaporation. "It hasn't rained for 10 months, but here we are, bracing ourselves for much worse ... Permaculture offers us realistic solutions for the future". By the end of the century, severe heat and drying soils will be the norm for Tunisian farmers.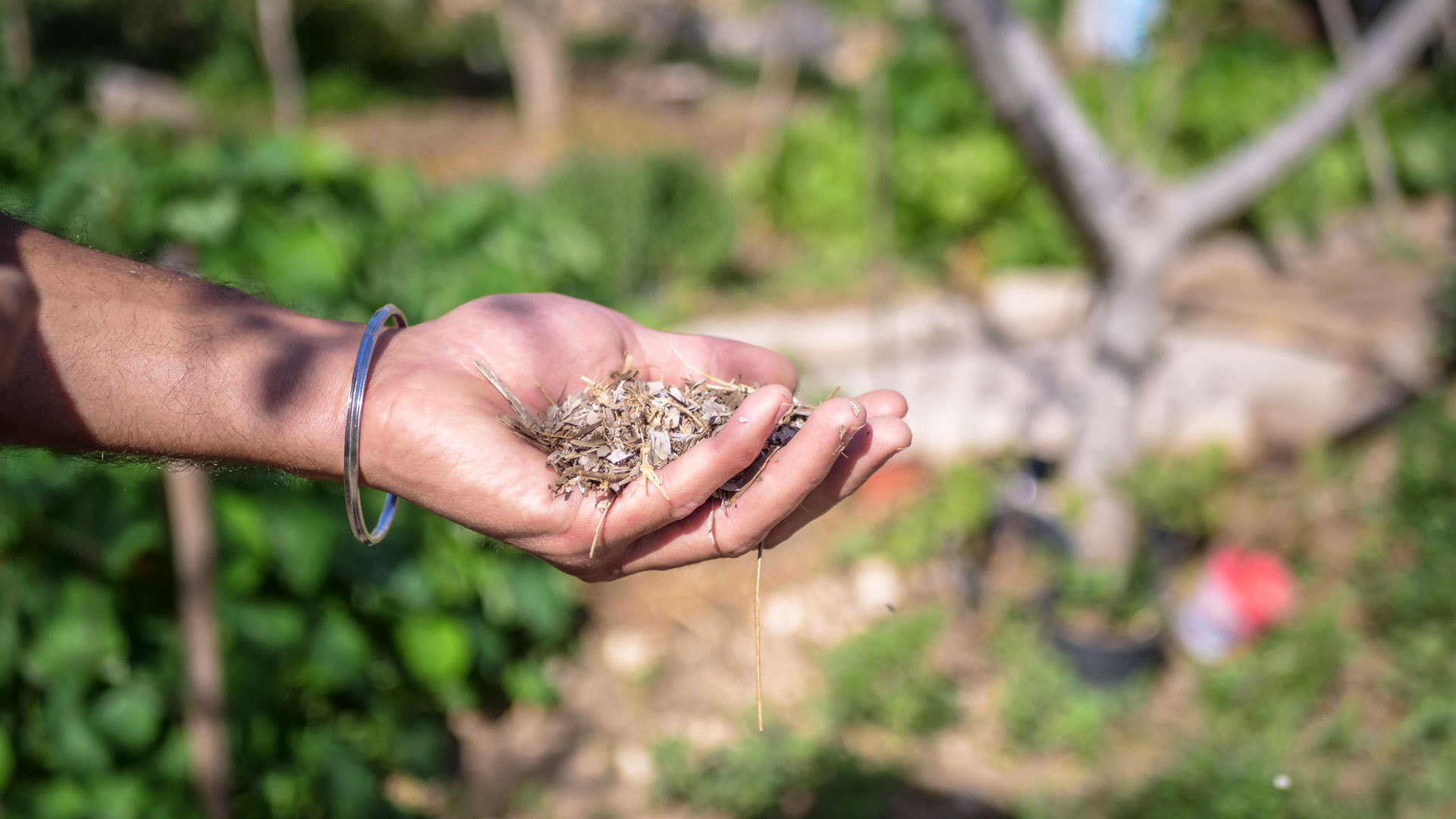 Dried posidonia, spread throughout the Dar Emmima garden, help mitigate the effects of drought. Credit: Driss Rejichi
An abandoned house converted into a permaculturalist's paradise
At Dar Emmima (in English, the grandmother's house), life is centered around a unique concept: permaculture. Coined by Australian intellectuals in the 1970s*, permaculture is "the art of creating an environment that is conducive to human life, by making do with the resources available", in Elyes' own words. Built around a philosophy of self-reliance, sustainability, and regeneration, permaculture "is more than just gardening". The property owner was keen to point out that "we're not hippie farmers".
Coming from an urban environment, Elyes Mkacher is well aware of the clichés that weigh upon permaculture farmers in Tunisia. Born and raised in the capital, he studied computer science and management control. His parents told him that he could do whatever he wanted once he had his Master's degree. "I literally did just that, I got my degree and did what I wanted ... I bought a one-way plane ticket to India". Elyes stayed there for six months, and then continued to travel: to Malaysia, China, Brazil, and the United States.
"I went on a three-year journey of initiation in search of freedom. I experienced it by living a nomadic life, moving every two or three days from one family to another. I also tried to live with people, to get involved", recalled Elyes.
Once back in Tunisia, he kept on traveling throughout the country by bike, until he came across a permaculture farm in Kairouan. They welcomed him as they were organizing a training session which allowed Elyes to learn valuable lessons, and above all fueled his desire to put them into practice as soon as possible.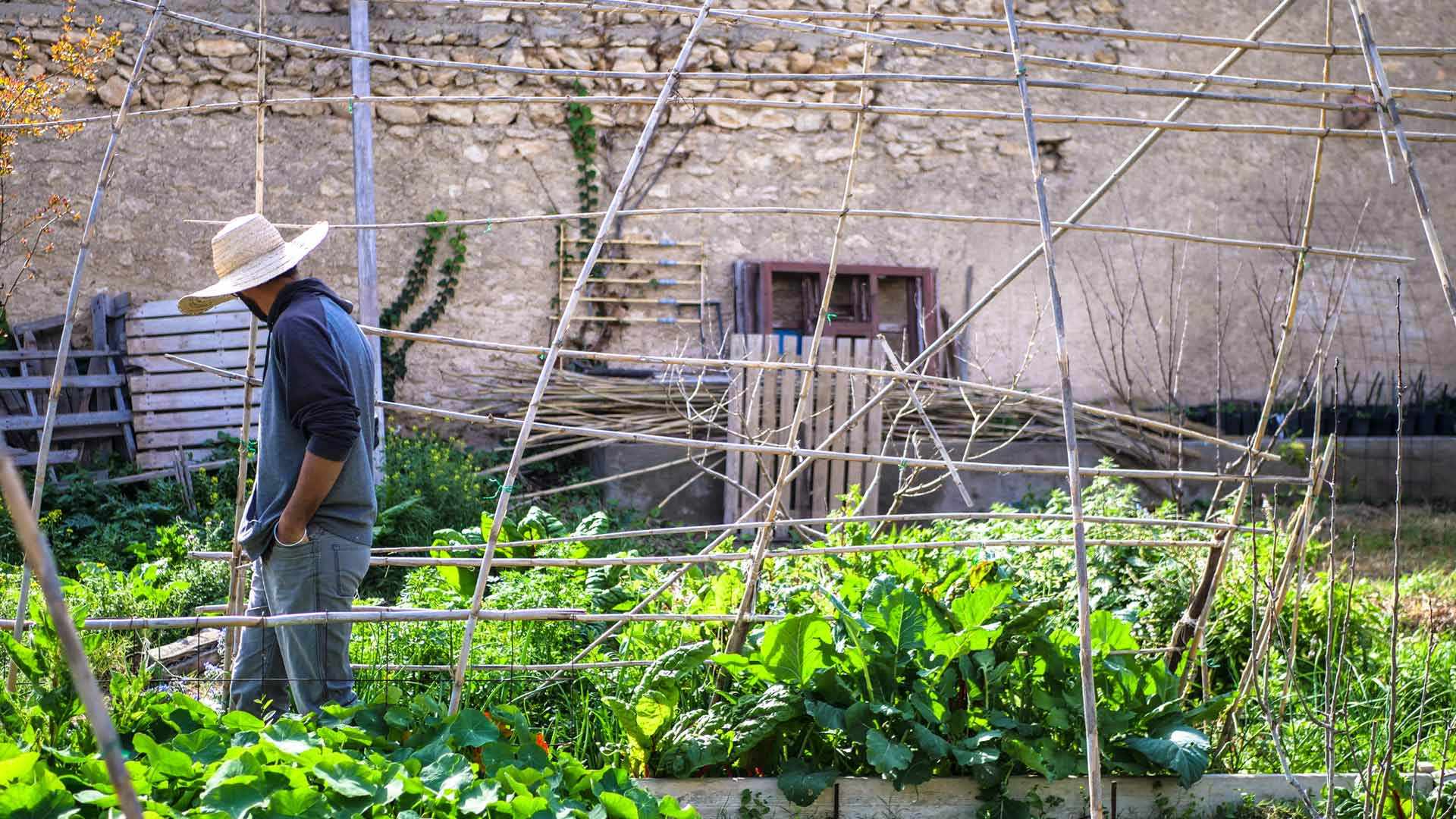 From nomadic traveler to sedentary permaculture farmer, Elyes Mkacher continues to claim a certain kind of freedom through self-reliance. Credit: Driss Rejichi
"I wanted to create my own paradise, but I thought I was in a situation where I had nothing, where I had no resources," he explained. But one day in 2016, Elyes remembered his grandmother's house in Chebba, which had been abandoned since her death a decade earlier. "It was empty, there was nothing, except for some dying trees in the garden," recalled the young man. In just a few months, he and his wife managed to restore the place and turn it into a temple of permaculture, in all its forms.
Caring for the land, the key to abundant resources
Although permaculture can be defined in a variety of ways, it always hinges on three principles: caring for the land, caring for people, and sharing the surplus. The first of these pillars quickly starts to make sense to anyone visiting Dar Emmima. Behind the bright white facades and the clear blue shutters, a small wooden door leads directly to an 800m² garden, that Elyes has been growing for almost seven years.
Along the way, the permaculture farmer proudly points out the wide variety of plants he has managed to grow: an almond tree, beets, a strawberry tree, a banana tree, pomegranates, and even bamboo. Many of the fruits in his garden don't normally grow in this region, in the southern part of the Tunisian Sahel (coast).
The paths are also littered with nettles and an algae-covered pond where fish swim. "Everything is useful in nature", explained Elyes. The garden is also home to a turtle, a dog, chickens, and even a nest of blackbirds whose eggs have just hatched and "will soon be able to eat the pests so that there aren't too many of them". Everyone has a role to play in maintaining a natural balance.
"Our cat is the only one who makes a mess out of things", said Elyes with a smile, "he is a 'killer', he doesn't kill to eat but to have fun".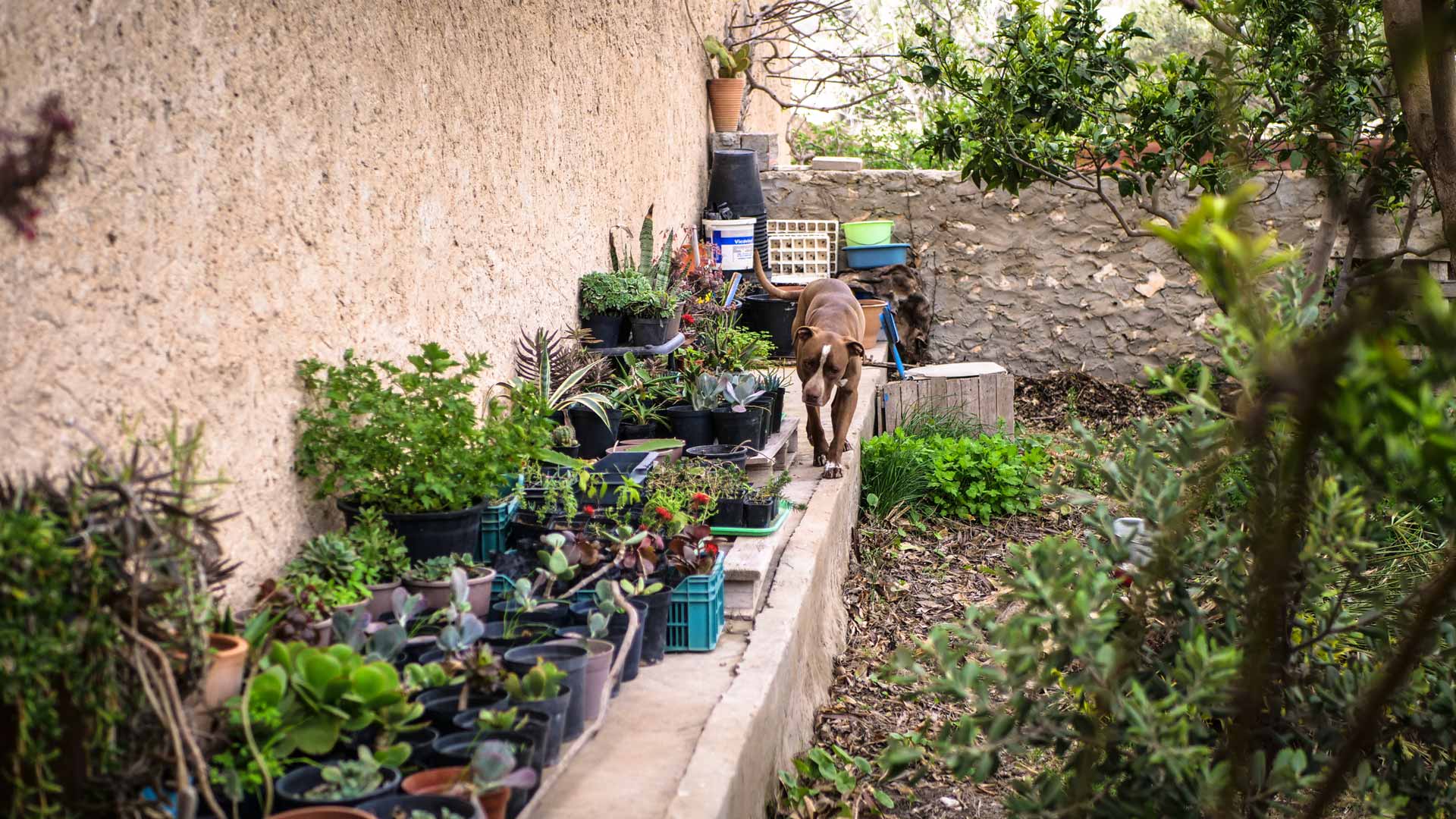 The garden's design itself, which follows permaculture principles, allows plants and animals to live in synergy. Credit: Driss Rejichi
Elyes spent seven years studying natural ecosystem dynamics in order to replicate their properties at Dar Emmima. "The first pillar of permaculture is 'caring for the earth'. It means taking care, but also taking an interest in and understanding the earth".
By imitating nature in their way of working the soil, permaculture farmers are primarily seeking to achieve food self-sufficiency. "Soon, I won't need to spend nearly as much time gardening, everything will autonomously regulate itself," explained Elyes. However, permaculture aspirations aren't just about self-sufficiency, but ultimately about creating more resources. For this reason, permaculture farmers are looking to compete with industrial production methods, which have a far more detrimental effect on the soil.
Just outside the city, olive groves stretch as far as the eye can see. Nestled within the hectares of land, a small plot of land that Elyes and his family inherited from their grandfather, was where the permaculture farmer began working last year. Getting there requires a ten-minute zigzag drive through the uniform and monotonous plowed land.
"I call it the olive desert," says Elyes. "The land here has been flayed, it's like its skin has been removed to plow it. The soil is dead".
The striking difference between Elyes Mkacher's permaculture olive trees and his neighbors' monoculture ones. Credit: Driss Rejichi
Elyes' field stands in stark contrast to the rest of the scenery. His land is not plowed, which allows the soil to come alive and bloom in early spring. He has also planted cacti and aloe vera around the olive trees, which will enable him to "diversify his sources of income" and avoid relying solely on the olive sales to sustain the economy of the field. He explained that this is yet another principle of permaculture. 
The objective is to produce as many resources as possible, without compromising the balance of the ecosystems. "Permaculture is not a hobby you do for fun, it can create a whole professional economy," he stressed. Every permaculture farmer is working towards "resource abundance," a stage that will allow the surplus to be distributed equitably afterwards.
Going back to the roots of social organization
Dar Emmima is about more than just its garden and olive trees. If the first pillar of permaculture involves focusing on nature, the other two address the ways in which society is organized. For Elyes, caring for others and sharing the surplus are also sustainability imperatives: "If we want to have a long-lasting culture, we need a just society... if it's unjust, it'll eventually collapse".
Permaculture implies the sustainable distribution of any resources, even the immaterial ones. Elyes, who "loves education and pedagogy", has chosen to make Dar Emmima a training ground. Each year, groups of trainees can come and follow a permaculture design course (PDC) including theoretical and practical workshops, while being housed on site for about twelve days.
For Elyes, allowing trainees to come and live with him while he shares his knowledge with them is also consistent with the logic of permaculture, on a human scale. "We share all the privileges we have: a quiet place, healthy food made with love, a clean room".
To keep this model stable and to be able to accommodate the trainees in the best conditions, Elyes has developed a two-step pricing system: before the training, the participants pay a fixed amount (between 600 and 1000 dinars), then, after the training, a variable amount "based on their satisfaction and their means". Elyes believes that this system doesn't clash with the principles of permaculture, quite the opposite: "I've provided free training in the past, but it's not sustainable. Nothing is for free in nature, there is always an exchange".
Bringing people together must also serve a long-term vision. "Our goal is to create a community around us," Elyes emphasizes, "and I think all human beings should practice permaculture."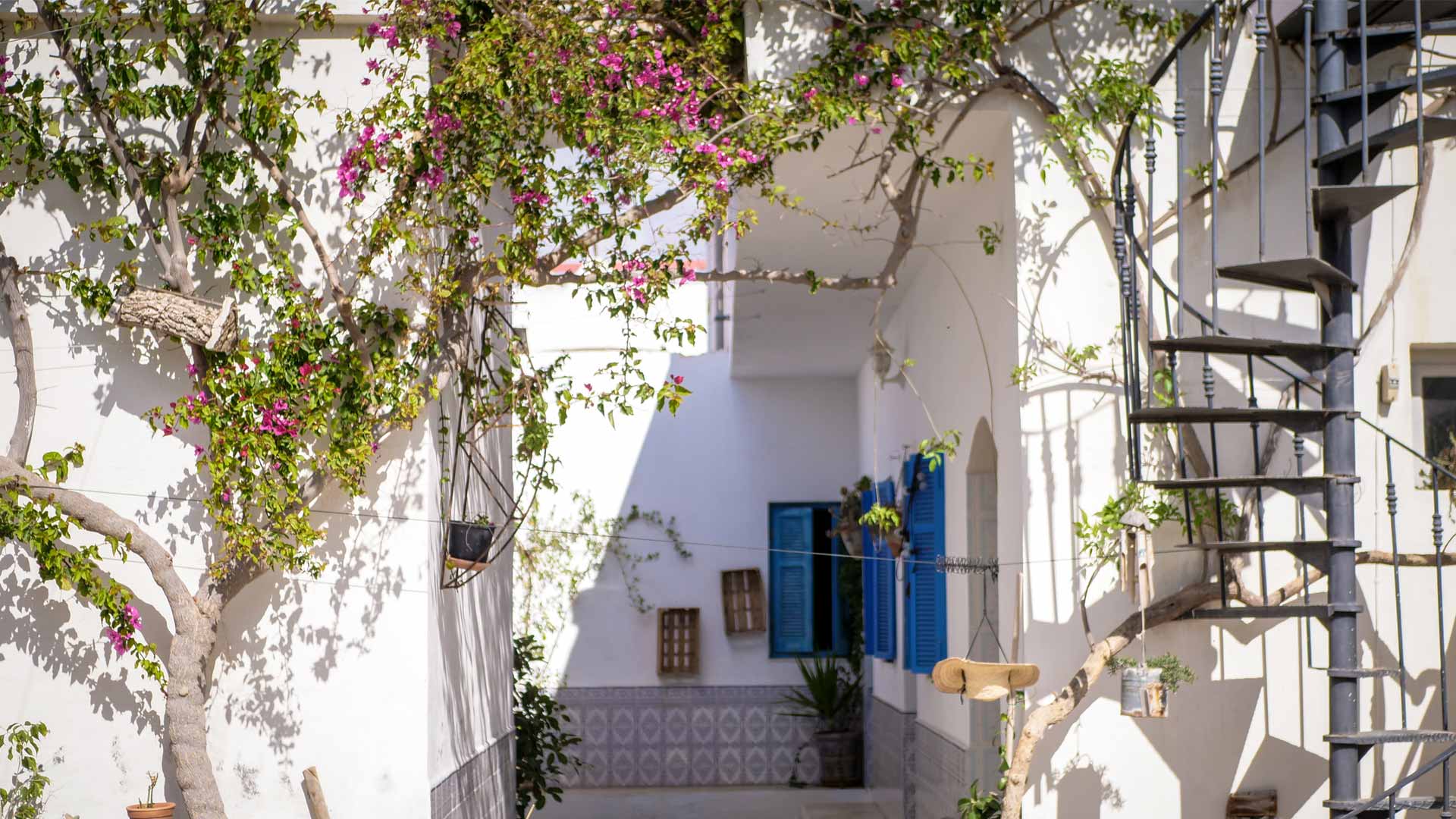 At Dar Emmima, Elyes brings permaculture to life by sharing his home and food with his students. Credit: Driss Rejichi
Elyes is now looking to fill a void through his training courses. "There are almost no trainers in Tunisia who speak the dialect", he regretted. The situation is no better in other North African countries, where there are only a handful of local trainers. "It's not enough," deplored Elyes.
The lack of local trainers is all the more unfortunate since permaculture is far from being a new invention, since it is essentially "based on ancestral knowledge that has been lost," said Elyes. And if the concept's Australian founders observed the indigenous societies of their country to theorize their ideas, then Tunisia is also marked by a permaculture tradition according to Elyes.
"Until the 1970s, all Tunisian farmers were practicing permaculture," explained Elyes. The young man is not only referring to the industrialization of agriculture but to the social organization itself: "At that time, everything was shared. When I was a child, in Chebba, people never closed their house doors... You could come in and they would give you food and drink". In other words, the ethics of permaculture existed in the country, before it was even theorized.
"The best example is the oases," says Elyes. "Until the 1980s, it was a circular economy, with available and shared resources, manual labor... All that is vanishing for the sake of monoculture."
Dar Emmima, a beacon for future generations
Elyes believes that by making Dar Emmima a place for sharing and learning, he is preparing his country for the challenges of the future. Permaculture is first and foremost a matter of self-sufficiency and food sovereignty on a national scale: "The people here are dependent on the system, on fertilizers and seeds. Imagine if a war were to break out in Europe: we would no longer receive anything, we would no longer be able to cultivate".
Permaculture also addresses global issues by offering solutions to the current climate crisis: "A whole capitalist system is crumbling. After this collapse, people will turn to permaculture", according to Elyes. He believes that preparing for this way of life is a necessity today. "In Tunisia just like everywhere else in the world, permaculture is a need".
"We need an army of permaculture farmers, to create a possible future," enthuses Elyes, who explains that this way of life has given him "an optimistic vision of the future".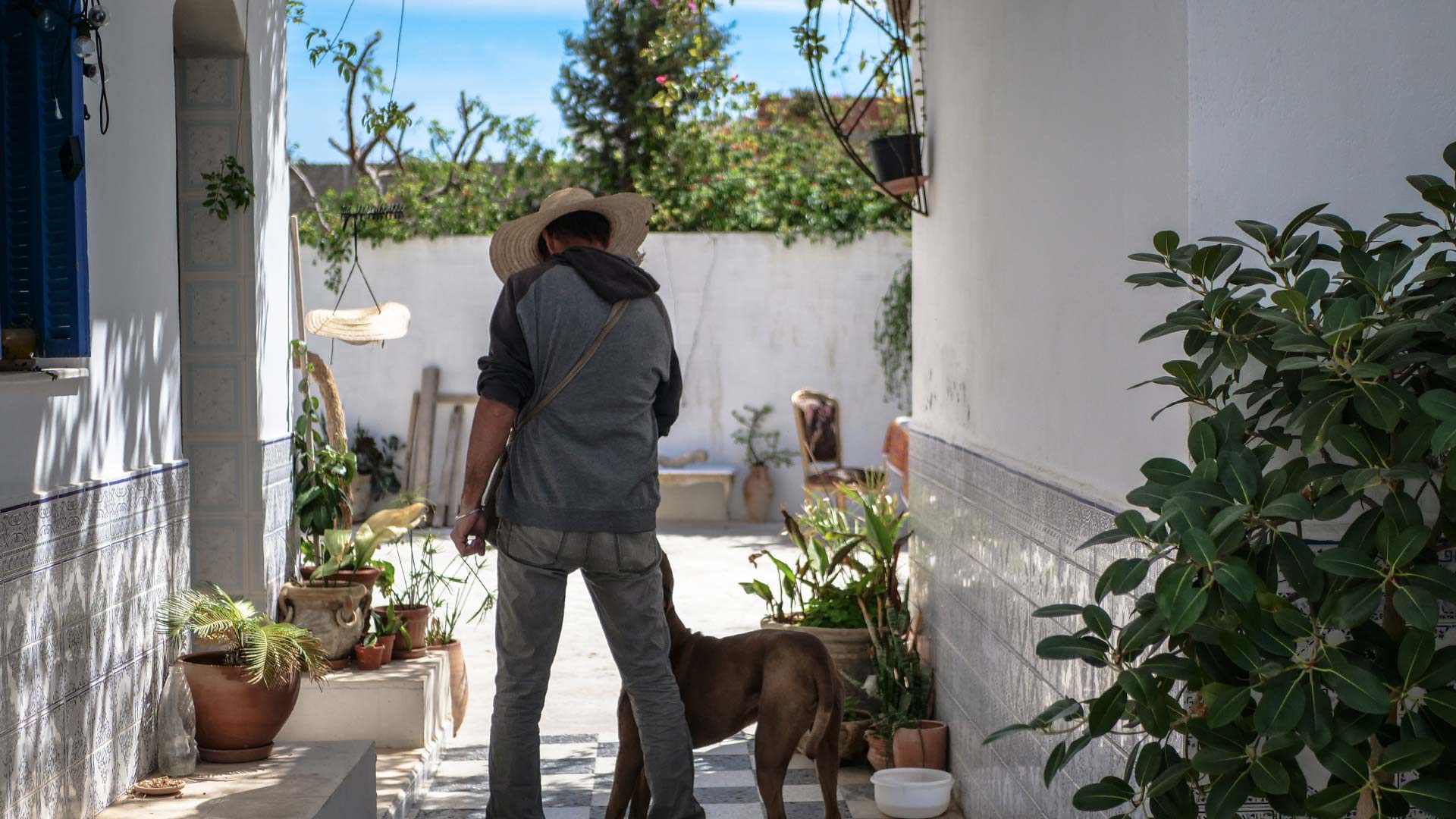 Elyes wishes to provide more training and diversify the production of all kinds of resources at Dar Emmima. Credit: Driss Rejichi
Elyes is also reassured to see that "an increasing number of Tunisians" are turning to permaculture, "especially the younger generation". Despite the clichés and the funny looks, people "are realizing the importance of this matter". Despite the obvious limitations of the current system, initiatives promoting the values of the "Commons" such as the redistribution of resources and the sense of community are gaining momentum and are carried out by individuals or associations.
Elyes thinks of Dar Emmima as an example for young Tunisians, whom he would like to see follow the same path as him. "You know why I kept this name for the house?", asked the young man with a smile on his face. "It's because more than half of Tunisians have one, a dar emmima, a grandmother's house that they have forgotten... If they're looking for it, they too can find it and create their paradise there".