| EPISODE 2
Ali Weld Essoltane
In the second episode, Saida El Khadhra (the well-known dancer and choreographer) narrates the adventures of Ali, the son of a Sultan, who sets off on an adventure and is cautioned by his father to be aware of the dangerous ogress. Terrified, Ali is then kidnapped by this very ogress who ends up falling in love with him and holds him captive. The story of Ali Weld Essoltane is full of elements and symbols that contribute to both establishing and upholding social norms
27 May 2021
series [{"title":"Introduction","start":"00:00","thumbnail":"https:\/\/inkyfada.com\/wp-content\/uploads\/2021\/05\/Cover-IjaYaZman-Episode02-1920.jpg"},{"title":"Tale","start":"02:12","thumbnail":"https:\/\/inkyfada.com\/wp-content\/uploads\/2021\/05\/Ija-Ya-Zmen-Ep2-Ali-Weld-Essoltane-mp3-image.jpg"},{"title":"Comment","start":"20:27","thumbnail":"https:\/\/inkyfada.com\/wp-content\/uploads\/2021\/05\/Cover-IjaYaZman-Episode02-1920.jpg"}] [{"user_id":"1425","role":"Directing"},{"user_id":"1511","role":"Voice-over"},{"role":"Editing, mixing and sound design","user_id":"1473"},{"role":"Music","user_id":"1512"},{"role":"Editorial Support","user_id":"1429"},{"role":"Illustration","user_id":"1519"}] https://inkyfada.com/wp-content/uploads/2021/05/Ija-Ya-Zmen-Ep2-Ali-Weld-Essoltane.mp3 https://inkyfada.com/wp-content/uploads/2021/05/Ija-ya-zmen-ep-2-ali-weld-essoltane-fr.srt
Created by
Inkyfada Podcast
Directing
Hazar Abidi
Voice-over
Saida Elkhadhra
Editing, mixing and sound design
Oussema Gaidi
Music
Rehab Hazgui
Editorial Support
Bochra Triki
Illustration
Atelier Glibett
As Ali, the Sultan's son, feels that he is becoming a man, he announces to his father that he is setting off on an adventure. Just before his departure, the Sultan cautions him that one of the camels will be giving birth to an ogress, whose throat Ali will have to slit. The adventure turns into a tale filled with everything from horror and magic, horsemen and banquets, to love and power dynamics.
Narrated by the well-known dancer Saida Al Khadhra, this tale is the legacy of a dying female oral tradition. 
With the help of both history professor Mohamed Tlili, and art critic and immaterial heritage specialist Haikel Hazgui, Hazar Abidi questions and deconstructs the tale of Ali Weld Essoltane. She attempts to trace the origins and examines the symbolism (primarily the fantasy of abundance and the primitive fears with which the tale is imbued), as well as deconstructs the portrayal of a woman in love.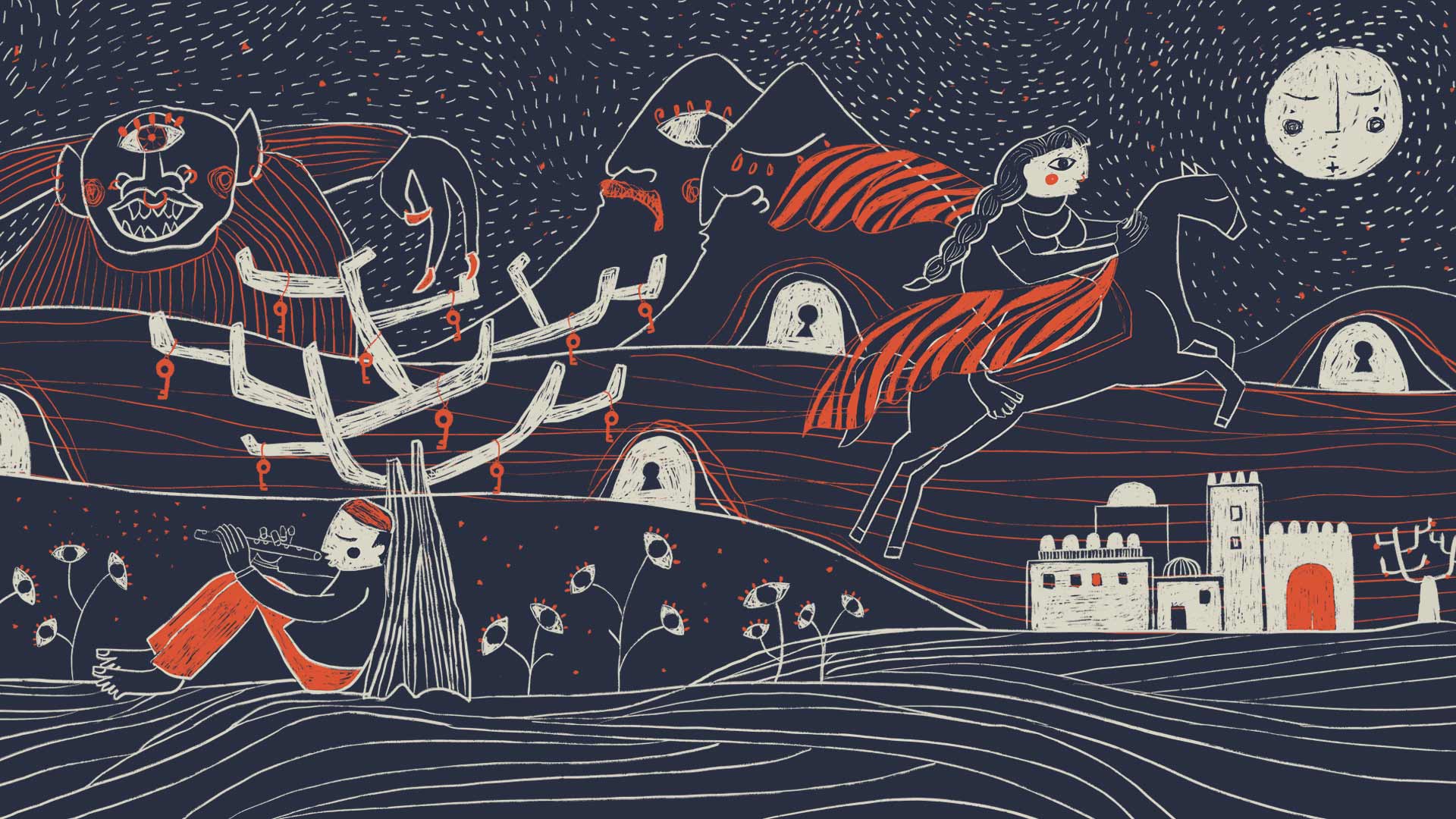 Ija Ya Zmen is a series of Tunisian tales narrated by the well-known dancer and choreographer Saïda El Khadhra, with commentary by Hazar Abidi. These tales, part of a disappearing oral tradition, have been collected by the Inkyfada podcast team in order to preserve them and offer a sociological, anthropological, feminist and alternative reading.
Latest episodes
| EPISODE 1
In the first episode, the well-known dancer and choreographer Saida El Khadhra recounts the adventures of Wadaa, the Sultan's daughter, who sets off in search of her seven brothers. Mistreated and tricked by her sisters-in-law, abandoned by her brothers, and saved by her future husband, Wadaa's story is replete with elements and symbols that enforce and maintain social norms.
ABOUT
Inkyfada Podcast is the first platform entirely dedicated to original Tunisian podcasts, and was conceived by Inkyfada media in collaboration with the in-house research and development laboratory, InkyLab. Inkyfada joined the global podcast boom in 2017, when the team produced the first Tunisian audio documentary, diving deep into the belly of the El Kamour struggle taking place in the desert. Since then, Inkyfada Podcast has produced a wide variety of documentaries, investigations, and podcast series, as well as articles accompanied by music; covering a multitude of contemporary issues in order to offer an immersive and alternative podcast experience. Whilst exclusively offering audio content, the Inkyfada Podcast team upholds the same core values and principles of inkyfada.com, and is committed to producing high quality content though a dynamic and meticulous production process. In addition to the permanent team, Inkyfada podcast works closely with various journalists, artists, illustrators, musicians and other content creators in order to diversify the platform and support artistic creativity. These podcasts differ from traditional radiophonic content in that the applied production and editing process is more akin to cinematographic techniques, in addition to being web-based, downloadable and accessible on demand. Additionally, Inkyfada Podcast uniquely offers subtitles in French, Arabic and English for all audio content, the majority of which is recorded in Tunisian or in the preferred language of the speaker in question.
More information